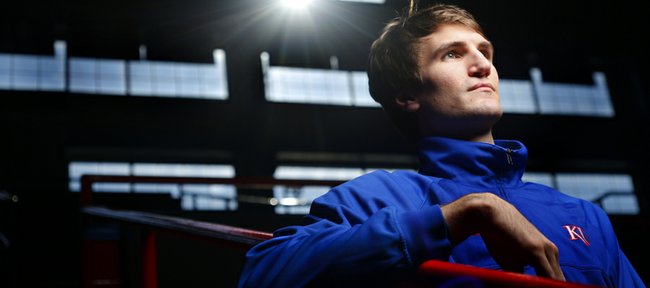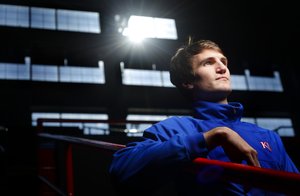 Grace had a secret.
At 90 years old, she wasn't able to walk, spending most of her time in a wheelchair. She'd also check in with the hospital almost every week for a variety of ailments: recurring pneumonia, high blood pressure and diabetes, to name a few.
Grace hated the hospital. More than anything, she hated the fact there was no ESPN and no way to watch the games that had made her want to fight through sickness to live another day.
So this would have to remain her secret for now.
Watching Jeffree play basketball was worth it.
* * *
Jeff Withey walked into the office and took a seat across from his coach, a jittery freshman with a lot on his mind.
"Do you want to stay here at KU or leave?" Kansas coach Bill Self asked him.
It was spring of 2010, and Withey had just completed a season during which he was at the bottom of the Jayhawks' big-man rotation. In his first semester of eligibility, he'd barely seen the floor, averaging just three minutes per game.
Worse, basketball had become routine, and Withey knew he wasn't putting in the extra work needed to get better. Kansas was cold compared to his home in San Diego, and he missed the beach and hanging out with old friends.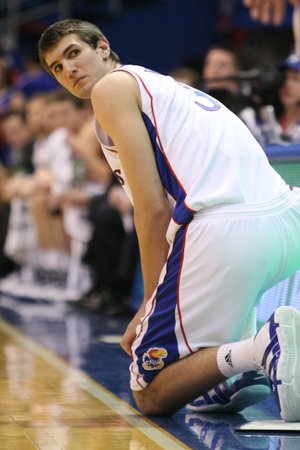 During the last half of the 2008-09 season and the first half of the 2009-10 season — when he sat out because of transfer rules — Withey wasn't able to travel with the team, and because of that, he drifted apart from teammates.
"I felt really alone," Withey said later. "I just didn't know if I wanted to keep on playing basketball or go back home."
Self had texted Withey to set up the year-end meeting, and Withey had been nervous about it all day.
At a crossroads in his life — stick it out or go? — Withey was unsure how Self would respond when he told him he didn't know what he wanted to do.
"If you were to stay here, I'm going to ride you. I'm going to make you work," Self said. "Either you're going to fall in love with the game again, or you're going to quit and be a failure."
The words stung Withey.
"Well," he said, looking at his coach, "I'm not going to be a failure."
* * *
Few could have blamed Withey — KU's 7-foot senior center — for wanting to give up on the game he once loved.
After growing more than five inches in one summer in San Diego, Withey sat down with his high school coach, Waheed Mitchell, and decided to give up volleyball to focus on basketball.
At the time, it wasn't much of a sacrifice. Withey loved basketball.
As a sophomore, Withey led his Horizon High team into the state semifinals against San Joaquin Memorial, a team that featured current NBA 7-footers Brook and Robin Lopez and 6-6 wing Quincy Pondexter — currently a member of the Memphis Grizzlies.
With Horizon up one in the final seconds of double-overtime, Withey denied a pass to the post, then stepped up to block a shot at the buzzer to seal a 68-67 victory.
"It was definitely one of those moments," Mitchell said, "like, 'Yep, he has it.'"
After defeating Sacred Heart Cathedral to win the state championship, Mitchell saw an even more dedicated Withey in the next two seasons.
Before every home game his senior year, Withey — who knew he needed to bulk up his skinny frame before college — would go through a half-hour of intense weight-lifting before coming into the gym to play the game.
Withey briefly committed to Louisville, then Withey's grandfather David Withey died, and his grandmother Grace moved into his parents' home because of health issues.
Jeff Withey re-evaluated the decision to play so far from San Diego, eventually reopening his recruitment before committing to coach Lute Olson at Arizona.
His time there was a disaster from the beginning.
On one October day early in his freshman year, Withey learned from ESPN that Olson had abruptly decided to retire; the hall of fame coach never contacted Withey about his decision.
A new staff took over, and suddenly Withey was getting screamed at by coaches with whom he didn't feel comfortable.
The freshman left the basketball team and decided to transfer, but Arizona refused to give him his release.
Withey began to hate the game that had put him in his situation.
As he walked to class, students would come up and lecture him about how he was doing the school wrong. One of his Facebook status updates, "whats a man to do????" showed up in an editorial in the Arizona school newspaper.
"I was just like, 'This isn't what I wanted at all,'" Withey said. "'I didn't sign up for any of this.'"
With no other options, Withey took a hard stance with Arizona.
Give me my release, he says he told the school, or I'm going to fail all my classes. If that happened, UA could potentially have lost a scholarship based on APR guidelines.
Arizona eventually granted Withey his release.
Self received a cell-phone call from Withey on Christmas Eve morning in 2008. The center was ready to become a Jayhawk.
* * *
After sitting out two semesters because of transfer rules, Withey couldn't wait for the Jayhawks' Dec. 19, 2009, home contest — the first one he was eligible to play.
"There's no way I'm not getting into this game," he told himself.
He was wrong. Withey didn't get off the bench in KU's 75-64 victory over Michigan.
Afterward, he called his parents, angry and confused.
"I don't know what the deal is," he said. "I don't know what's going on."
It was his worst day at Kansas.
"Looking back at it," Withey said, "it was really selfish of myself just to have that mind-set."
Withey rarely made it in past garbage time his freshman year, averaging 1.3 points and 1.4 rebounds in 15 games.
After his postseason meeting in Self's office, though, something shifted. He rededicated himself to the game, working harder in the weight room and gym than he had before. His parents also moved to Kansas, which cured most of his homesickness.
Though he was still behind Marcus and Markieff Morris and Thomas Robinson in the rotation the following year, Withey was determined to prove to Self — and to himself — that he belonged at KU and was good enough to play.
"Those words stuck with me. Even now — today — I still think about that," Withey said. "... He just challenged me, and he made me want to keep working at this."
* * *
The beach house was located on the Mission Beach Boardwalk in San Diego, with volleyball courts outside and the beach just a stone's throw away.
Michelle Withey and her younger brother, Jeff, always enjoyed going to their grandparents' place on the weekend growing up, watching cartoons like "Rocko's Modern Life" on cable TV they couldn't get at their home in the mountains of Ramona, Calif.
More than anything, though, they loved to visit their grandparents. That included their quirky grandmother Grace, who would do things like save purple Crown Royal Whisky bags so she could use them as purses.
Grace always said how proud she was of her only three grandkids, which included Michelle's older brother, Chris. Once Jeff started playing basketball in high school, Grace kept every article from the San Diego Union-Tribune he appeared in, placing the clippings in a scrapbook for safe-keeping.
Grace cheered Jeff from the sideline at his high school games, and after he moved on to college, Michelle watched many of KU's games with her grandmother, who loved to give high-fives and wink following good plays.
Michelle often would have to explain when Jeff was close to a triple-double.
"What? A triple-triple?" Grace would ask, not fully understanding the concept.
Grace would call Jeff every once in a while, telling him she was watching every game and that she was happy.
Jeff knew his biggest fan was in San Diego, cheering from a wheelchair in her customary KU shirt.
Jeff wouldn't understand how much she cared, though, until a few weeks later.
* * *
Bill Self remembers talking to all sorts of big-man recruits before Withey's junior season.
His pitch went something like this: You have a great chance to start at KU as a freshman. Really, the only center you would have to beat out is Withey.
Self missed out on every one of those players.
"Looking back, some kids probably made some wise decisions to go somewhere else," Self said with a smile, "because Withey would be very difficult to beat out."
Withey's confidence skyrocketed last season as he started to experience success.
Self saw Withey transform into a tough player. Though physically he's not as big as some centers — he has gained about 20 pounds since coming to KU — Self saw a kid who wasn't nervous or scared to put his body on people.
He still needed to be challenged, though.
After scoring double figures in his previous six games, Withey was held scoreless in 23 minutes during the Jayhawks' 74-71 road loss to Missouri last season.
Self left the game frustrated that KU had a size advantage it couldn't utilize.
Had Withey been more aggressive, Self believed the Jayhawks would have won.
The frustration carried over to KU's next practice. After not seeing full effort from Withey, Self lit into him, making him run every stair at Allen Fieldhouse while his teammates watched.
"He challenged me as a man, got me pissed off," Withey said. "I just wanted to show him that there's no mistake. I deserve to be a starter, and I deserve to play."
The next game, Withey scored a career-high 25 points on 8-for-10 shooting in a 68-54 victory at No. 6 Baylor. He scored 18 points in the next two games after not scoring more than 15 in any other game that season.
"The next thing you know, he realizes he is good," Self said. "From that point forward, he was terrific."
Withey went on to have one of the best defensive postseasons in NCAA history, blocking an NCAA Tournament-record 31 shots in KU's run to the national championship game.
He's set to break the school blocks record with one block tonight against Kansas State — Self calls him the best shot-blocker he has ever coached and the most pleasant surprise of any player he has had at KU — and has even gained enough fame that people who haven't seen him in years are calling him up just to tell them they saw him on ESPN's "SportsCenter" the night before.
Withey, who graduated in December with a degree in American studies and a minor in education, admits that basketball now is almost always on his mind.
He thinks of how he can get better, how he can beat his opponent and about how he can improve from his previous game.
Sometimes, he forces himself to play video games just to get a break from basketball.
"I want to be the best in the game," Withey said. "Hopefully, people see that."
* * *
Michelle heard her grandmother call to her from her bedroom, and when she opened the door, she immediately noticed the blood on Grace's wheelchair.
Michelle called 911, then later texted her brother Jeff, telling him to call her after practice.
Jeff didn't think much of it. He walked back to his apartment before calling his sister.
Grandma has lung cancer, Michelle said. She only had a little time left to live.
After being taken into the hospital, doctors had determined the source of the bleeding: Grace had a golf-ball-sized tumor on her chest.
Michelle was sobbing, but she knew she had to get the next part out.
You might want to call her, tell her how much you love and care about her, Michelle told her brother.
The reason grandma didn't tell us about the tumor was because she didn't want to go to the hospital.
She didn't want to miss any of your games on TV.
The voice on the other end of Michelle's line went silent.
Sitting on the edge of his bed in the bedroom in his apartment, Jeff Withey broke down and started to cry.
* * *
Jeff Withey received the call from his mother, Debbie, a few days before the Ohio State game on Dec. 22.
While trying to get into bed, Grace had forgotten to put the lock on her wheelchair. She fell and broke her hip, later passing away during surgery.
Though Withey had prepared himself for that moment, it was still tough to cope. The next day in practice, when Landen Lucas hit him with an elbow, Withey swung back with an elbow of his own. The two players had to be separated by teammates.
"I was just overwhelmed with emotion," Withey said.
His teammates knew about Withey's loss when the team arrived in Columbus, Ohio, with most of them realizing he needed some time to himself.
The week before, Withey had called his grandmother, who told him not to worry about her.
Just worry about basketball. I'll be watching you no matter what.
Withey wrote the name Grace on the outside ankle of both of his shoes, then scored 14 points and grabbed 10 rebounds in KU's 74-66 victory at then-No. 7 Ohio State.
He flew to San Diego the next day, his family staying at his grandmother's beach house. Chris even brought a purple Crown Royal bag.
On Dec. 27, the Withey family took Grace to the cemetery, placing her ashes next to those of her husband.
Michelle took her grandmother's scrapbook home with her. If she decides to fill in the final pages, there should be plenty to document: the KU shot-blocking record, a potential first-team all-league selection, another chance for a Big 12 regular-season title and maybe even a deep run in the NCAA Tournament.
Whatever the future holds, Withey knows he can move forward with a free mind.
He didn't quit. He's not a failure.
And once again, basketball has become a blessing and not a burden.