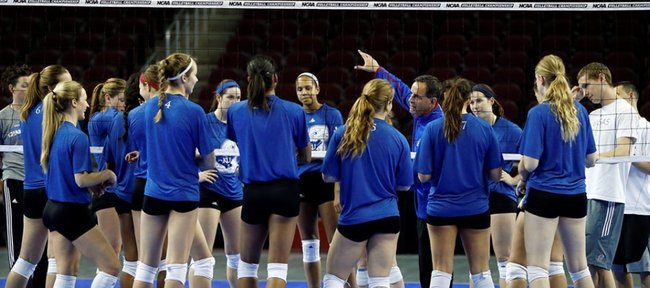 Los Angeles — One of collegiate volleyball's perennial powers stands between Kansas University and its first appearance in the NCAA regional finals.
Third-seeded Washington, briefly the nation's top-ranked team in October, faces 14th-seeded KU in the regional semifinals at 7 tonight, Central time, in USC's Galen Center.
A victory would put Kansas (25-7) into Saturday night's regional final against either the sixth-seeded Trojans or Brigham Young, and a second win would send the Jayhawks to Seattle for the Final Four.
"I just want to tell you how excited we are to still be playing volleyball in the middle of December," said KU coach Ray Bechard, the Big 12 conference's coach of the year. "It's been a very eventful year for us, one where we've accomplished a lot."
The Jayhawks recorded their second consecutive 20-win season — and just their third in the past decade — three years after this year's seniors lost 12 of 20 conference matches as freshmen.
"The group of girls on the team this year has been through the lowest of lows together and now to the highest of highs," senior libero Brianne Riley said. "I like to think that we've really come a long way since we were freshmen. We went from being ranked in the RPIs of 150 to now (when) we're top 25.
"When you go through that as a team, it makes you just as strong."
Fortifying that sense of cohesion was what Bechard called "an extremely difficult" nonconference schedule that helped KU compile a winning Big 12 record for just the third time since 2003.
"I think it was really important for us to come out strong in the preseason," said right-side hitter Caroline Jarmoc, a returning All-American. "We hadn't faced a lot of those teams in the past, especially on the road is even more difficult. It was really important for using our experience and our maturity to bring the team together."
The Jayhawks will need those elements against the Huskies (28-2), who won the Pac-12 and reached the regional quarterfinals for the eighth time in 12 seasons.
Leading Washington is Krista Vansant, the conference's player of the year. The junior outside hitter amassed 456 kills (4.34 per set), 281 digs (2.68 per set) and 32 service aces while hitting .321 and averaging 5.04 points per set.
"They also have great balance," Bechard said of the Huskies. "In their system, they always have three attackers come at you at all times so the minute you forget about the other kids, (Lianna Sybeldon) and (Kaleigh Nelson) will make you pay.
Nelson contributed 322 kills (3.10 per set) to make the all-conference first team. Sybeldon averaged 2.01 kills and 2.71 blocks each game.
Washington uses two setters, Katy Beals and Jenni Nogueras, to enhance that balance. Beals passed for 580 assists (5.42) while Nogueras finished with 692 (6.44).
"With the tempo and the rhythm that they play with, I think you could switch numbers on the two setters and you probably wouldn't be able to tell them apart," Bechard said. "The fact that they're that balanced means that they can change their lineup, and that creates opportunities for Washington to get the type of matchup they want."
Vansant's serving contributes to a squad that led the Pac-12 with 190 aces. Four Huskies accumulated at least 30 aces, led by Cassie Strickland's 40.
"Washington does try to create offense with their serve," Bechard said. "If you neglect the first contact — the pass or the serve — in any of these matches or any of your preparation, it will come back to bite you, for sure."
Regardless of the Huskies' strengths, the Jayhawks' coach believes his players can confront the challenge successfully.
"I think we're prepared to take on whatever comes next," Bechard said. "I know we still feel like we've got a lot of work to do, so I'm excited about the opportunity."