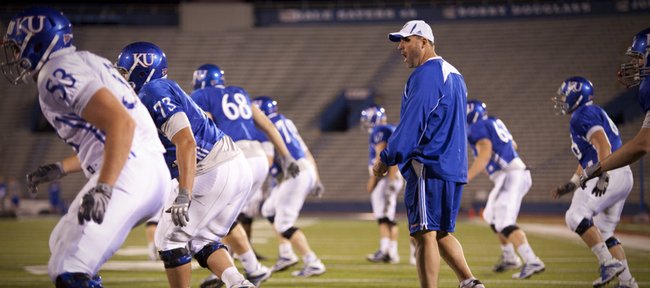 Former Kansas University offensive line coach Tim Grunhard was not out of work long.
Twelve days after resigning from his post with the Jayhawks after spending two seasons working in Lawrence, Grunhard was announced as the new Bishop Miege High offensive line coach by Stags coach Jon Holmes.
Grunhard, who was the head coach at Bishop Miege for six seasons prior to joining Charlie Weis' staff at Kansas, enjoyed a lot of success at Miege and helped put several of his players at Div. I programs throughout the country.
Although his new salary figures to be a mere fraction of the $150,000 per year he made at KU, it also figures to be a better fit given that Grunhard will have four children enrolled at Miege next year, including two sons who play on the football team.
Six leaving Florida
According to a story by Jeff Barlis of ESPN.com, six players are leaving the University of Florida football program to pursue playing opportunities elsewhere.
While the report did not mention Kansas as a possible destination, it makes sense to speculate that Lawrence could be a landing spot given the fact that Weis spent the 2011 season as Florida's offensive coordinator and coached a few of the departing players. Weis also has shown that he is more than willing to bring in transfers.
The most intriguing player of the bunch is 6-foot-5, 306-pound offensive lineman Ian Silberman, who will graduate this month and, therefore, would be free to play immediately at his new school. Silberman, a junior reserve guard who once was ranked as the No. 3 offensive tackle in the high school class of 2010, made seven career starts at Florida.
The others named in the report are: red-shirt freshman fullback Rhaheim Ledbetter, 5-9, 219; true freshman quarterback Max Staver, 6-6, 238; sophomore tight end Kent Taylor, 6-5, 224; and freshmen offensive lineman Quinteze Williams, 6-4, 280, and Trevon Young, 6-4, 272.
Visinia targeted
Grandview (Mo.) High offensive lineman Apa Visinia, who committed to Kansas last June, recently had an in-home visit with the Oklahoma State coaching staff, which offered him a scholarship. Despite continued interest, the 6-5, 380-pound Visinia relayed his commitment to KU via Twitter, saying simply, "I'm still a Jayhawk!"
Visinia recently met with new KU offensive line coach and offensive coordinator John Reagan and told Jon Kirby of JayhawkSlant.com that he was impressed.
"His resume is very good," Visinia said. "I can't wait to get up there and get to work with him."