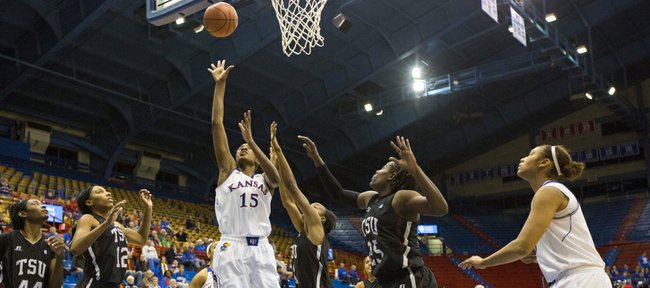 After spending much of the season waiting for others to make things happen, several younger members of the Kansas University women's basketball team decided to shoulder more of the load Thursday night against Texas Southern.
The result was a perfect storm of offensive efficiency in which the Jayhawks tied a school record for three-pointers made in a game (12), saw three players set career-highs in points scored and ended a three-game losing streak, 105-78, at Allen Fieldhouse.
"It was really bad," junior forward Chelsea Gardner said of her team's mentality following three straight losses. "We've been moping, and we needed this win to pick us back up."
During an initial first-half surge that put them firmly in control, the Jayhawks shot 56 percent from the floor and drilled four of six three-point attempts. Natalie Knight (14 points) was 1-for-2 from downtown and Asia Boyd hit all three she attempted.
KU's hot shooting opened up an 11-point lead and the Jayhawks (5-4) never let up from there.
"We had good rhythm early," KU coach Bonnie Henrickson said. "Our discipline, how we shot and when we shot, was really good."
In all, Kansas, which entered the game shooting just 27 percent from three-point range for the season, made seven of 16 first-half treys, which sparked the offense and loosened up the paint for Gardner, who led Kansas with 30 points and eight rebounds on 13-of-16 shooting.
Asia Boyd hit three of six first-half three-point attempts and had 18 points in 17 first-half minutes.
Boyd's success from the perimeter had a positive impact on her all-around game. She finished with 25 points on 7-of-13 shooting and looked more aggressive getting to the rim when she decided to put it on the floor, which resulted in a 7-of-8 night from the free throw line.
"We just had to get into a groove offensively," said Boyd. "But it wasn't just the scorers. (Senior) CeCe (Harper) had 11 assists and she was really looking for us."
It was clear early that the Jayhawks believed they could run on the Tigers. After every defensive rebound, steal or scoop of a loose ball, multiple people on the Kansas bench would wave their arms or yell "run, run, run," at the five Jayhawks on the floor.
"We want to play that way," Henrickson said. "Because we talked about, 'How do you get to the free throw line?' and we want to have a more aggressive mentality. ... I thought we had more people contribute and more people play with better energy."
Freshman Keyla Morgan, who had played in just four games all season, made the first start of her college career as Henrickson went with a four-guard starting lineup to counter Texas Southern's quicker lineup.
"She brings energy," Henrickson said. "It doesn't mean (she'll) score, but, offensively, she's been more aggressive."
Morgan finished with four points, three rebounds and a steal in 21 minutes.
Thursday's victory also was significant for another KU freshman, as Dakota Gonzalez finished with a career-high 18 points on 7-of-10 shooting — including three-of-five from three-point range — and started the second half.
"She's one of those that was in the gym (working on her shooting)," Henrickson said. "And it's good to see them rewarded because that's what you want."
Sophomore guard Lamaria Cole did not suit up for Thursday's game but was on the bench. Henrickson said Cole was serving a one-game suspension for failing to live up to the team's "Three E's" mantra.
"Effort and energy by everyone," Henrickson said. "And if you can't bring that to shoot-around then your uniform's not going to be hanging in your locker room when you come back."
Thursday's victory came just in time for the new-look Jayhawks, who welcome nationally-ranked Purdue (6-2) to town at 2 p.m. Sunday for the third game of a six-game homestand.
"It's an unbelievable opportunity for us to get a resume builder, because we need one," Henrickson said of hosting the 18th-ranked Boilermakers. "And we needed this one to feel good about something."