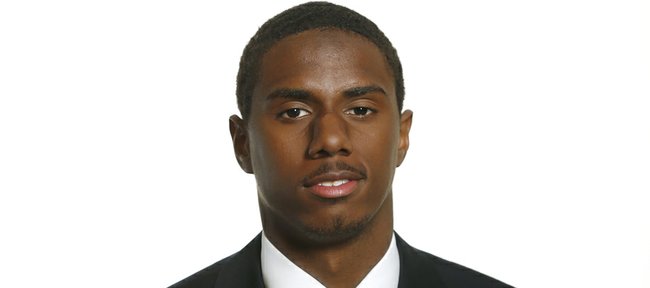 In a world where cornerbacks seem to stand higher above 6 feet every year, 5-foot-10 Kansas University sophomore Brandon Hollomon knows his size makes him an obvious target for opposing passers.
He also knows that the only way to make quarterbacks think twice about coming his way is to use his elite speed and quickness to send their completion percentages plummeting.
"Being not the biggest corner, a lot of people try you deep, so you just gotta get used to it and make plays so people stop trying it," Hollomon said. "You just gotta make yourself known and make sure people see you."
Just a few months into his Kansas career, the transfer from Pierce College in Los Angeles has done enough to catch the eye of his coaches, particularly assistant defensive backs coach Scott Vestal, who recently backed up a claim made by one of Hollomon's junior college teammates. Shortly after Hollomon committed to KU, defensive tackle Marquel Combs, who played with the cornerback at Pierce, said the Jayhawks were getting a steal.
So far, Hollomon has done nothing to make his buddy look bad.
"Brandon is a steal," Vestal said. "People talk about, 'Well, is he too short?' It doesn't bother me. When tall receivers catch the ball, the ball still has to come down and Hollomon always has his hands right there in the pocket. I think he's been a really, really good addition. And I think he's gonna play a lot."
Listed on the August depth chart as a second-team cornerback behind fellow burner JaCorey Shepherd, Hollomon elevated his status throughout fall camp by flashing his air-tight coverage skills.
"He was a reasonably polished kid coming in," Vestal said. "And he has worked to refine his technique. He works on his technique every day."
Asked to identify the sophomore's biggest strengths, Vestal pointed to two things that often bode well for cornerbacks.
"His quickness and his speed," said Vestal of his pupil who lists Hall of Famer Deion Sanders and current Baltimore Raven Lardarius Webb as two of his favorite cornerbacks. "The ability to flip your hips and change directions on a dime, he does those really well."
In addition, Hollomon has thrived because of something he encountered often while growing up in Philadelphia — competition.
"Coaches want to play the best players, so if you're out there making plays you're gonna find your way on the field somehow," Hollomon said. "That's how I think. And I'm never scared of competition. Being from Philly, there's a lot of competition everywhere. I just came here with my head on straight and I'm ready to make some plays and show 'em what I can do."
With confidence and natural talent already on Hollomon's list of pros, Vestal said the next step for the first-year Jayhawk who left Pierce earlier than expected because he was "ready to take the next step," was to hone his mental approach.
"Once you learn our rules, the way we do things defensively, it opens up the chess board to see really how routes develop," Vestal said. "For every in, there's an out; for every over, there's an under. So as he becomes more comfortable in his role, he'll be able to see the chess board more."