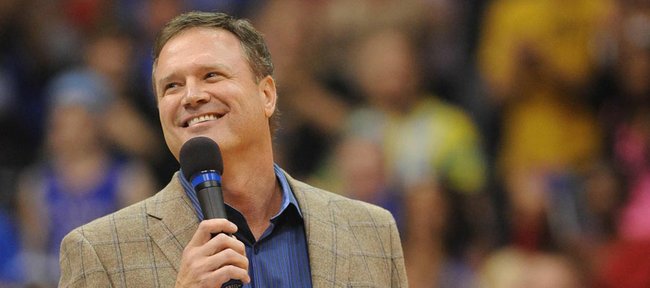 Bill Self and his 18 Kansas University basketball players are ready to get to work.
"Everybody is here. They all look pretty good, and they all are in good spirits. We'll start school in the morning," Self, the Jayhawks' 11th-year coach, said Sunday night, several hours after the first team meeting of the 2013-14 school year.
Classes begin today at KU. Most of the Jayhawks have been off campus, spending time in their hometowns, since the conclusion of summer school in early August.
"We did a couple mandatory things you've got to do for compliance. We talked about sports information, training staff, went over some guidelines. The big thing was to have a meeting to make sure we are all on the same page, how to go about getting books, schedules, all that stuff. We'll start working in the next day or two, get our schedule set up for this week," Self said.
KU is allowed to practice two hours a week in advance of the Sept. 27 start of the season in accordance with NCAA rules.
Self said he plans to start Boot Camp conditioning the week of Sept. 16 and go just one week because of the new, early start of the season. Prior to this year, the starting date was the Friday closest to Oct. 15.
"Then we'll take a week off and have the beginning of practice," he said.
Late Night in the Phog will be Oct. 4.
More on Mudiay: Blue-chip player Emmanuel Mudiay soon will find out if he's a capable recruiter.
Mudiay, a 6-foot-5 senior point guard from from Dallas' Prime Prep Academy, who Saturday orally committed to SMU over Kansas University, Kentucky, Oklahoma State and Baylor, tells ESPN he's going to try to get big-man deluxe Myles Turner to add the Mustangs to his eight-team list of schools.
Turner, 6-11 from Trinity High in Euless, Texas, who is ranked No. 6 nationally by Rivals.com, will visit KU for Late Night and also is considering Kentucky, Duke, Louisville, Arizona, Texas, Ohio State and Oklahoma State.
"I really want to play with a good big man," No. 3-ranked Mudiay told ESPN.com on Saturday from the Under Armour Elite 24 game in New York. "I know Elbert Robinson (7-foot, Lakewood Centennial, Garland, Texas) and Myles Turner well. I know Myles does not have SMU on his list but maybe that can change now," Mudiay added.
Turner was asked by ESPN why he has set up just one visit so far — to KU.
"I picked Kansas because I've always wanted to get out there and see the atmosphere," Turner said. "After this event, I have school. When I get back home I'm definitely going to talk to my parents, try to get some visits set up."