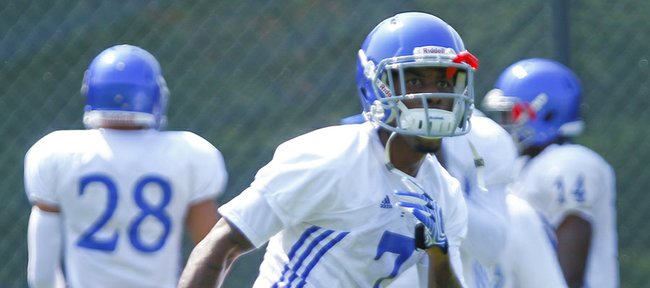 After a long wait, Kevin Short finally made it to campus.
The Kansas University cornerback from Fort Scott Community College, who spent the past several weeks waiting to be cleared academically, was in the building Tuesday morning and took part in his first KU practice later that afternoon.
Although the 6-foot-2, 185-pound athlete who originally hails from Florissant, Mo., missed the first three weeks of fall camp, the fact that he's in Lawrence now has KU's defensive backs coaches smiling.
"I saw him for the first time this morning," Dave Campo, KU's assistant head coach for defense, said during a meeting with the media. "Very happy to have him. He's a bigger athlete. We won't know exactly what we have until he's out there going but hopefully he'll be one of those guys in that mix that we can play and feel comfortable with."
Short certainly has some catching up to do and NCAA practice rules will curb how quickly he can make up ground. But both Campo and assistant defensive backs coach Scott Vestal believe Short will have a chance to work his way into a prominent role on the KU defense by the season opener on Sept. 7.
"He's starting from ground zero right now," Campo said. "But the corner position is one position where that can happen. Skill trumps technique. Obviously, they have to know when we're gonna roll 'em up and do something, they have to be able to do that. But the more athletic and the more talented you are, the less technical you have to be so he can catch up fairly quickly because we don't ask those guys to do a whole lot of different things."
Vestal also got his first look at Short at the football complex Tuesday morning. Asked if he thought the 2012 juco All-American was ready, Vestal flashed his excitement.
"In a T-shirt and shorts, yes. I feel very good," Vestal said. "He's a good player. Him coming in late, it's gonna be more of a challenge for him, more mentally than physically. But he's a good-looking kid."
Although the coaches would have preferred for Short to be in camp from Day 1, Vestal said there may be a silver lining to Short's late arrival.
"It's a sink or swim deal," he said. "At this point, there's no Plan B. You have to get ready and you have to take the extra time. There's meetings all day. There's workouts all day. But he's gonna have to get in the playbook, he's gonna have to ask those questions. He's really gonna have to tighten his focus and I'm confident he'll do it."
Campo said there was more to Short than just his ability to play cornerback.
"He's been an excellent return man," Campo said. "So he's got some things to bring to the table and we've just gotta get him out there as fast as we can and see where we're at."
Short practiced in a helmet, shorts and jersey Tuesday, and will go in a helmet and shoulder pads today and Thursday before donning full pads on Friday, which is scheduled to be KU's final two-a-day session of camp.
Hurry-up unfair?
Throughout the offseason, the KU football defense focused on getting faster and being more flexible in an attempt to handle the up-tempo offenses that have dominated the Big 12 in recent seasons.
Tuesday, Campo expressed his frustration with how the pace has changed the game.
"I know the offensive coaches around this league are going to be mad when I say this, but they're cheating," Campo said. "The game of football is not football; it's fast-break offense. And all they're doing is, a lot of the offensive teams, I truly believe, are trying to outdo the other offensive team on how fast they can run a play and how fast they can get things done. And it's all misdirection, so they're trying to get guys out of their gaps and not be in the right spot. They're taking the rules, and they're bringing it right to the edge of the rules and cheating, so you have to be ready to cheat right along with 'em.
"I'm a Nick Saban fan. Nick Saban said it's ruining football. For the fans, I think it's great. I think if you really look at it — high-powered, a lot of things going on, things happening, guys moving around, things happening fast. I think it's good for the fans. But as far as defensive coaching, it's not real good because it kind of negates some of the technical part of the game that coaches have prided themselves on for the whole time I've been in the business.
"Now, am I going to complain about it? I'm kind of facetious when I say they're cheating. I'm not going to complain about it because it's what we have to do. We have to move with that same pace, and we've got to be able to keep up with it, and that's really the way it is. We have no choice."
Competition ongoing
While fall camp is coming to a close and the season opener is drawing closer, Campo said the battles at cornerback remain ongoing heading into the final two weeks of the preseason.
"It's still all a competition at this point," Campo said. "We've got to find three or four corners that can play. And that's kind of the mentality at this point. We'll make those official decisions as we get a little closer to the first game."
Dexter McDonald and JaCorey Shepherd opened fall camp as KU's No. 1 cornerbacks, but Short, Brandon Hollomon, Greg Allen and Nas Moore all remain in the running for playing time.
"We've got some talent," Campo said. "We have got some guys who can run."
Steps forward
As far as the defense as a whole, Campo said he liked what he saw on the practice field this camp better than what he saw last year at this time.
"I feel good about the progress we're making," he said. "I think we're improving. I think we've made significant progress in certain areas. But we'll find out when we open up against South Dakota how much progress we've made."
One of the things that has made life better is the presence of depth at just about every position, and Campo said having options to turn to in place of the first-string guys was a welcomed luxury.
"With the tempo of the game and 90 plays a game, you can't just play two guys (at cornerback)," he said. "And that's one of the things I did last year because I had no confidence whatsoever in the guys that were in back-up positions. When the game was on the line in the fourth quarter, we had tired players out there."