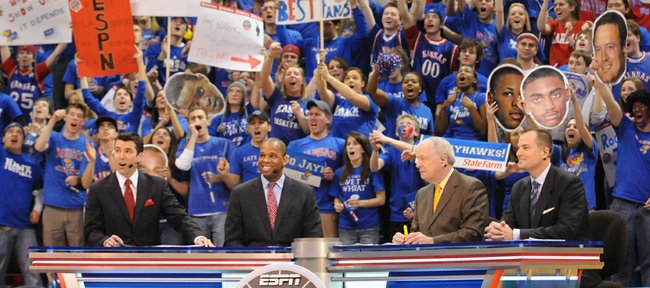 Kansas University's next-to-last Big 12 Conference road game of the 2013-14 basketball season — 8 p.m., March 1, at Oklahoma State — will be part of ESPN's "College GameDay," the network announced Wednesday.
The two teams expected to top the league's preseason coaches' poll will also play Jan. 18 in Allen Fieldhouse.
This marks KU's ninth appearance in the 10-year history of GameDay. KU is 4-1 at home (wins over Texas in 2005, 2013; Kansas State in 2008, 2011; loss to Texas A&M; in 2007) and 1-2 on the road (losses at Texas in 2006 and Missouri in 2012, win at KSU in 2010).
It marks the fifth straight season KU has been slotted for GameDay. Oklahoma State hosted once before, in 2005. ESPN's College GameDay is an eight-week, Saturday morning and evening college basketball program, which broadcasts each week from the site of its headlining match-up. Rece Davis is host on the GameDay set and is joined by analysts Jay Bilas, Digger Phelps and Jalen Rose.
Other 2013-14 Game Day slots: Jan. 18 — Temple v. LaSalle, Philadelphia; Louisville at UConn; Jan. 25 — Michigan at Michigan State; Feb. 1 — Duke at Syracuse; Feb. 8 — Gonzaga at Memphis; Feb. 15 — Florida at Kentucky; Feb. 22 — either Arizona at Colorado or UCLA at Stanford; March 8 — North Carolina at Duke.
Fan support: KU for the 27th-consecutive season has led its conference in home attendance, the NCAA reported on Wednesday.
KU in the 2012-13 season averaged 16,438 fans for 18 home contests, which ranks No. 10 nationally. KU sold out its 17 games in Allen Fieldhouse (16,300) and has a 197-game sellout streak dating to the 2001-02 season (KU did not sell out its opener vs. Pittsburg State that season). The Kansas City Shootout game at the Sprint Center, part of KU's home ticket package, was at capacity (18,797) for KU's win over Oregon State last Nov. 30. KU ranked fifth nationally in all-game attendance (596,905 fans).
Following KU was Iowa State at No. 22 (13,393 average), No. 24 Kansas State (12,528), No. 32 Texas (10,945), No. 41 Oklahoma (9,890), No. 42 Oklahoma State (9,814), No. 49 West Virginia (8,752), No. 59 Texas Tech (7,853) and No. 75 Baylor (6,705). TCU averaged 4,854 and did not make the top 100 list. Dating to the Big Eight Conference era, KU has led its league in home attendance since the 1986-87 season, which includes the 17-year history of the Big 12.
Recruiting: Jordan McLaughlin, a 5-11 senior from Etiwanda (Calif.) High, will attend the Oct. 4 Late Night in the Phog as part of an official campus visit, JayhawkSlant.com reported Wednesday. He is ranked No. 43 in the Class of 2014. He lists KU, UCLA, USC, S.D. State, Indiana, Gonzaga, UConn and UNLV. ... Elijah Thomas, 6-8 junior forward from Dallas' Prime Prep Academy, also will attend Late Night. He's ranked No. 9 in the Class of 2015.
Chalmers golf a hit: The Mario V. Chalmers Foundation's fifth-annual National Championship Classic Golf Classic & VIP Mixer raised $35,000 for the Mario V. Chalmers Foundation, Mario's Closet and Ronald McDonald House Charities of Northeast Kansas, the foundation announced.