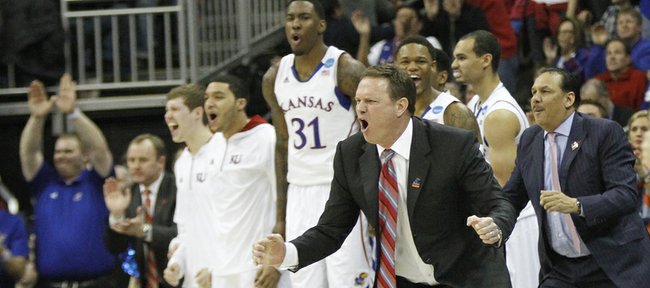 2013-14 KU men's basketball
The Kansas men's basketball team won't be easing into this year's Big 12 schedule.
KU's conference slate, released by the league on Thursday, appears to be especially front-loaded, as the Jayhawks take on the four other teams in the top half of last year's league standings in the first four games.
The Jayhawks open Jan. 8 at Oklahoma, then follow with a home game against Kansas State on Jan. 11. KU then travels to Ames, Iowa for Big Monday against Iowa State on Jan. 13 before playing host to Oklahoma State on Jan 18.
KU's fifth conference foe — Baylor on Jan. 20 at Allen Fieldhouse — finished sixth in last year's Big 12 standings.
The Jayhawks will be playing plenty on national television, with 15 of their 18 games slated to appear on ESPN, ESPN2, ESPNU or CBS.
KU's game at Oklahoma State on Saturday, March 1 also appears to be a candidate for ESPN's Game Day, as a start time has not yet been released.
The Jayhawks will play host to Texas Tech on March 5 for Senior night before ending the regular season with a March 8 road contest at West Virginia.
KU men's basketball Big 12 schedule (All times CT)

Wed., Jan. 8 — at Oklahoma, 6 p.m. (ESPN2)

Sat. Jan. 11 — vs. Kansas State, 1 p.m. (ESPN)

Mon. Jan. 13 — at Iowa State, 8 p.m. (ESPN)

Sat., Jan. 18 — vs. Oklahoma State, 3 p.m. (CBS)

Mon., Jan. 20 — vs. Baylor, 8 p.m. (ESPN)

Sat., Jan. 25 — at TCU, 8 p.m. (ESPNU)

Wed. Jan. 29 — vs. Iowa State, 8 p.m. (ESPNU)

Sat., Feb. 1 — at Texas, 3 p.m. (ESPN/ESPN2)

Tues., Feb. 4 — at Baylor, 6 p.m. (ESPN/ESPN2)

Sat., Feb. 8 — vs. West Virginia, 3 p.m. (ESPN)

Mon., Feb. 10 — at Kansas State, 8 p.m. (ESPN)

Sat., Feb. 15 — vs. TCU, 3 p.m. (Big 12)

Tues., Feb. 18 — at Texas Tech, 7 p.m. (Big 12)

Sat., Feb. 22 — vs. Texas, 6:30 p.m. (ESPNU)

Mon., Feb. 24 — vs. Oklahoma, 8 p.m. (ESPN)

Sat., March 1 — at Oklahoma State (ESPN)

Wed., March 5 — vs. Texas Tech, 7 p.m. (Big 12)

Sat., March 8 — at West Virginia, 11 a.m. (ESPN/ESPN2)