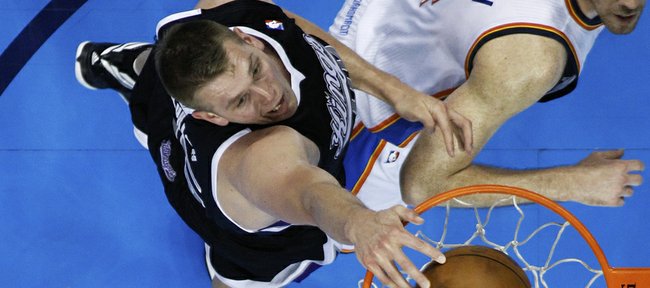 Cole Aldrich didn't nap, watch movies or work on his financial portfolio on NBA charter flights during the 2012-13 season.
The former Kansas University center, who left college after his junior year about 20 hours short of fulfilling requirements for a degree in communication studies, spent those captive hours with his nose in books — KU textbooks.
"I can tell you, when we were on the plane from San Antonio going to Houston (on season-ending road trip), I was not too excited. I was writing papers, reading, doing all that stuff," said the 6-foot-11, 240-pound Sacramento Kings pivot, proud to report on Tuesday that his persistence has paid off.
College basketball's 2010 Academic All-American of the Year will graduate on May 19 and walk down the hill in KU Commencement ceremonies at Memorial Stadium.
"(On last road trip) I sat by Jimmer on the plane. He is doing a little bit of class right now, too," Aldrich said of former BYU standout Jimmer Fredette. "He was like, 'I don't know how you're doing it.' It was just one of those things I just wanted to get done with and not have to worry about doing homework again.
"It's something I've always wanted to do," Aldrich added of graduating college. "It's something I can be proud of the rest of my life."
Aldrich — who is wrapping up his degree requirements prior to his July wedding (in Minnesota) to former KU student Britt Claflin — said the hardest part, "would be coming back from practice and not having any ambition to sit down and do homework. You are on a roadtrip (and say), 'I've got two weeks until this paper is due. I want to do this, go to dinner with the guys.'"
Instead, Aldrich said he would say: "I've got to get homework done, first.'"
KU coach Bill Self knew Aldrich was committed to finishing his KU coursework.
"We are all proud that Cole accomplished this goal," Self said Tuesday. "He was the Academic All-American of the Year and when he left early he said he was going to graduate from KU. He kept to his plan and worked hard to earn his degree. I know we are as happy for him as his family is."
As far as putting the degree to use ... Aldrich hopes that's still years down the line. An unrestricted free agent who earned $2,445,480 playing for Oklahoma City, Houston and Sacramento this past season, Aldrich is free to sign with any team.
He's hoping a solid performance down the stretch with the Kings — he scored 12 points and grabbed 13 rebounds against Oklahoma City and had 12 points and 12 boards vs. Houston in two of the final three games — will help him net a lucrative second NBA contract.
"The fun thing is there's opportunity some places and there's other opportunities other places. The good thing for me ... being an unrestricted free agent, we can see where those opportunities are for me to get out there and play," Aldrich said.
"For me, it's maybe been a different road than some other guys. I went lottery (No. 11 overall in 2010 draft). A lot of guys had the opportunity to go play and do things on the court. Me being on a really, really good team (OKC), that opportunity wasn't there for me to get on the court. Toward the end of the season, I showed all the hard work I put in the last two years is really paying off. I have the most confidence in myself. I know I can play. It's just a matter of time and matter of opportunity of getting out there playing."
Cole's camp: Aldrich will hold a camp for youngsters kindergarten to eighth grade June 24-27 at Olathe Northwest. Details are available at colealdrich.com.
Collison a good sport: Former KU forward Nick Collison of the OKC Thunder placed fifth in voting for the 2012-13 NBA sportsmanship award. Jason Kidd was winner, followed by Stephen Curry, Luol Deng and Mike Conley.
Sherron in house: Former KU guards Sherron Collins and Mario Little attended Tuesday night's KU-Wichita State baseball game, as did current players Kevin Young and Naadir Tharpe. Collins said he planned to live in Lawrence this summer and work out with KU strength and conditioning coach Andrea Hudy.