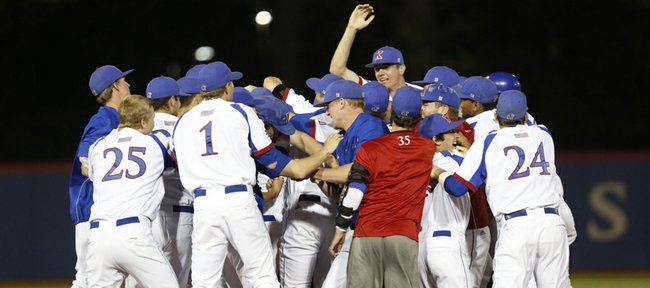 A baseball game pitting nonconference rivals Wichita State and Kansas University started under a sky more blue than the sounds bleeding from Lonnie Ray's guitar on the other side of town and offered a little bit of everything Tuesday night at Hoglund Ballpark — everything except runs for the first 10 innings.
KU's 1-0, 11-inning victory had no shortage of memorable moments, including:
An opposing base runner receiving an ovation after he scooped a squirrel into his batting helmet near second base.

An Alex DeLeon grand slam that turned into a foul ball after the umpires conferred.

Former Lawrence High superstar Albert Minnis returning home to toss 4-1/3 no-hit innings.

Ex-KU basketball star Sherron Collins signing autographs in the stands.

A number of web gems from Kansas infielders determined to make sure their pitchers' strong work wasn't wasted.
The only defensive flaw from a Jayhawk occurred when time had been called to address a rather unusual emergency.
Photo Gallery
Kansas baseball v. Wichita State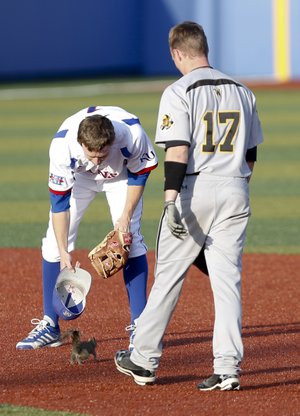 Images from Tuesday's game against Wichita State at Hoglund Ballpark.
A squirrel so ignorant as to the rules of baseball it ran the bases in the wrong direction, sprinting from third to second base, forced an interruption in play. At that point, Kansas shortstop Kevin Kuntz and Wichita State catcher Tyler Baker became part of the same team. To the delight of the crowd, Kuntz and Baker vs. the squirrel became a game within the game. Kuntz took his cap off and half-heartedly tried to coax the rodent into it. He failed. Baker, who caught 10-plus innings, the first 10 of the shutout variety, did his best defensive work not with his impressive mitt, rather with his batting helmet in the fourth inning. He scooped buck-toothed furry fella into his batting helmet, jogged off the field with it staring up at him and set it free on the rocks outside the wrought-iron fence that separates the visitors' bullpen from the parking lot.
Baker, who had reached second on a double when KU left fielder Michael Suiter laid out for but couldn't quite snag his screaming liner for what would have been a spectacular catch, explained how he executed the squirrel hunt.
"I was scared it would do something, but it was weird, he just walked up to me," Baker said. "I was just saying, 'Come here. Come here, little guy.' … I thought it might jump up out of the helmet, but it just looked up at me the whole time."
Baker received an ovation as he ran back to second base.
"Was that one of the funniest things you've ever seen?" Kansas coach Ritch Price asked rhetorically. "I can't believe he actually got the squirrel to go in his helmet. And then the kid was classy enough to run over and let him free."
The squirrel was unavailable to squeak a comment after the game, but was quite the topic of conversation.
KU right fielder Dakota Smith, who won the game by drilling a bases-loaded single through the left side of the infield with nobody out in the 11th, wore a huge smile and a shaving-cream pie when he broke down Kuntz's animal-catching effort: "Kuntz is kind of squirrelly himself so I think he was just hoping that it didn't get in his cap so he wouldn't have to figure out what to do with it next."
Another squirrel, "a darker one," according to Baker, made it onto the field a few innings later and was herded back to the bullpen by Shockers left fielder Micah Green.
The left fielder didn't fare as well when he came in on Justin Protacio's flyball over his head, turning an out into a double, the second defensive miscue of the third inning for the Shockers. Leading off the inning, Tucker Tharp reached on the shortstop's error but was thrown out attempting to steal second with Protacio at the plate. Protacio never advanced after his one-out double, an inning after the Jayhawks couldn't turn consecutive errors with nobody out into a run.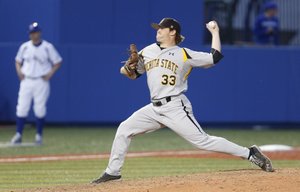 In the fourth, for the third consecutive inning, the leadoff man got on base when DeLeon doubled, but he never advanced past third base. The fifth inning made it four innings in a row of stranding at least one runner in scoring position, although the scoreboard briefly showed Kansas with a 4-0 lead. The Jayhawks loaded the bases with one out, and with two outs, DeLeon pulled a 2-0 pitch, leaving every fan in the place thinking, "It might be, it could be, it is." Then it wasn't. The home-plate umpire initially signaled it fair, but after the three umpires met to discuss it, they reached the correct conclusion that it curved onto the wrong side of the foul pole. The crushed pitch motivated Wichita State coach Gene Stephenson to pull his starting pitcher, freshman Garrett Brummett, in favor of Minnis, who still wears his flat-brimmed ball cap low, keeping his fiery eyes in the shadows. Minnis escaped Brummett's jam by inducing a flyout to center from DeLeon and sailed through the next four innings. He allowed just one base runner, a leadoff walk in the seventh and he struck out three.
As Wichita State's pitching staff kept the game scoreless, KU did the same with pitchers throwing strikes and infielders — DeLeon at first, Protacio at second, Jordan Dreiling at third and Kuntz at short — flashing some serious leather.
"That's the way we've been playing all year," Price said. "Our defense has been absolutely fabulous. And I don't want to jinx anybody, but Kuntz has made like three errors the entire season at shortstop, hasn't made an error in conference. We're leading the Big 12 in throwing guys out from the outfield, and Ka'iana (Eldredge) leads the Big 12 in throwing runners out from behind the dish and we've had the fewest stolen bases attempted on us. We lost three tough one-run games (at West Virginia) and we played the same way we did tonight."
Robert Kahana (eight innings), Jordan Piche' (two innings) and winning pitcher Drew Morovick (one inning, 4-2 record) combined to throw 11 innings without allowing a walk and just five hits (all from Kahana).
The Jayhawks (26-18) finally came through with timely hitting in the 11th. Michael Suiter led off against Brandon Peterson with a single and took second on DeLeon's walk. Dreiling beat out a bunt to load the bases, bringing up Smith, who had bunted into a force play with runners on first and second and nobody out in the second.
Smith said he came to the plate looking for a fastball, but changed his guess to slider after the first two pitchers were sliders. Peterson hung one and Smith knew where to put it.
"It was a bad bunt," Smith said, recalling his bunt back to the pitcher in the second inning. "If I just got it down the line a little bit, I'm pretty sure we would have gotten it done. The next guy (Jacob Boylan) hit a line drive to deep right field and we would have scored and we wouldn't have had to go extra. That was definitely a big mistake on my part. I'm just glad I was able to redeem myself and I'm feeling pretty good now."
Strong pitching backed by terrific defense and a shortage of timely hitting has been the script Kansas has followed all season. On this night, one run in 11 innings was enough to keep the Jayhawks optimistic about their chances of landing an NCAA tournament bid.
Wichita State 000 000 000 00 — 0 5 3
Kansas 000 000 000 01 — 1 7 0
W — Drew Morovick, 4-2. L — Brandon Peterson, 2-1. SV — None.
2B — Tyler Baker, WSU; Justin Protacio, KU; Alex DeLeon, KU.
KU highlights — Protacio 2-for-4; Dakota Smith 1-for-5, RBI; Robert Kahana 8 IP, 5 H, 0 R, 5 K, 0 BB;Jordan Piche' and Morovick combined for 3 IP, 0 H, 0 R, 0 BB.