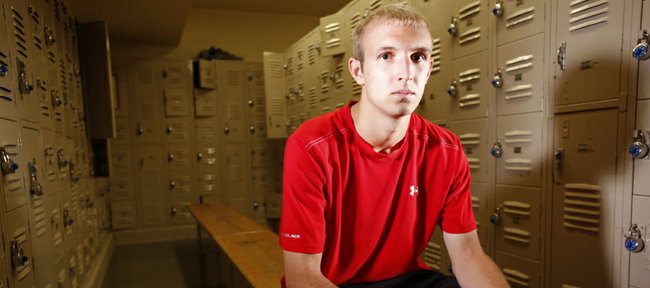 Future Kansas University basketball player Conner Frankamp scored 20 points while playing 20 minutes in Friday's Derby Festival Classic high school all-star game in Louisville.
The 6-foot guard from Wichita North hit eight of 15 shots, including four of nine three-pointers in the White squad's 124-113 loss to the Black squad. He had two assists and no turnovers.
Frankamp had 13 points the first half off 5-of-6 shooting. He hit three of four threes in playing just nine minutes. Frankamp also won the Papa John's "Slice Award" for core values.
Wiggins undecided: Andrew Wiggins, a 6-foot-7 senior forward from Huntington (W. Va.) Prep, tells sportsnet.ca that he is not close to choosing between KU, Kentucky, North Carolina and Florida State.
"Anyone who says they know where I'm going is a liar," he said after a Nike Hoop Summit practice session in Portland, Ore. He'll be playing for the World team in a game against the U.S. all stars. "I don't know where I'm going, so they can't know where I'm going."
Wiggins, the No. 1-rated player in the country, has made it clear he will be a one-and-done player in college.
"He really takes on whatever responsibility is needed," said Wiggins' coach at the Summit, Roy Rana of Ryerson University, in an interview with sportsnet.ca "And this one for him is representing Canada. He'll have the flag on his jersey, and he'll take it seriously. He's such a giving person … it's not really about him, it's what he can give to others.
"It's really his last high school game," Rana added. "So what better way to go out than in front of 10,000 people at the Rose Garden and against the best in the world on ESPN; It's a fitting completion to his high school career."
The game, which will also feature KU signee Joel Embiid, is set for 6 p.m. today on ESPN2.
Playoffs ahead for Jayhawks: Eight former KU basketball players will participate in the 2013 NBA playoffs. The eight Jayhawks — Darrell Arthur (Memphis), Mario Chalmers (Miami), Nick Collison (Oklahoma City), Drew Gooden (Milwaukee), Kirk Hinrich (Chicago), Paul Pierce (Boston), Thomas Robinson (Houston) and Tyshawn Taylor (Brooklyn) — represent eight of the 16 teams in the postseason.
Former Jayhawk Brandon Rush's Golden State team also qualified, however Rush sat out the 2012-13 season recovering from a torn ACL.
Hinrich's Chicago Bulls and Taylor's Brooklyn Nets, and Gooden's Milwaukee Bucks and Chalmers' Miami Heat will meet in the East quarterfinals, guaranteeing a Jayhawk matchup in the East semifinals. In the West quarterfinals, Collison's Oklahoma City Thunder and Robinson's Houston Rockets will meet, which means a Jayhawk will be in the West semifinal round.
Last year, Chalmers joined former KU forward Clyde Lovellette in becoming only the second Jayhawk to win both an NCAA championship and an NBA title. Like Chalmers, Lovellette, who was inducted into the College Basketball Hall of Fame in November 2012, was Most Outstanding Player when KU won the 1952 NCAA Tournament. Chalmers and Pierce are looking to become the first Jayhawks to win two NBA championships since JoJo White won two titles with the Boston Celtics in 1974 and 1976.