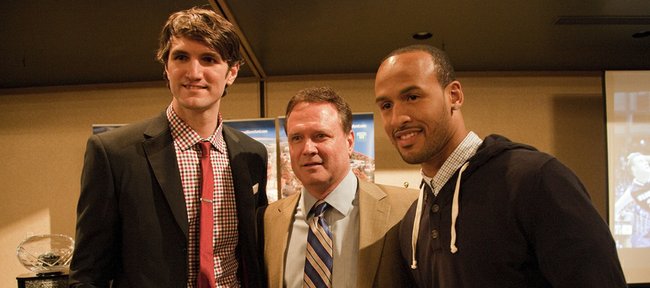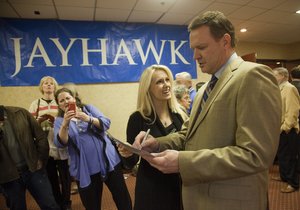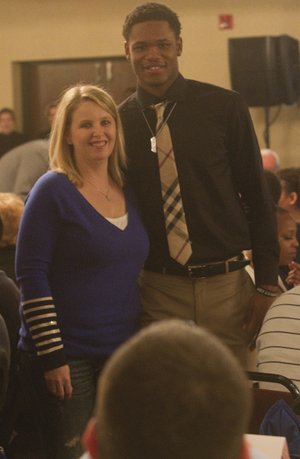 Kansas University seniors Travis Releford and Jeff Withey were named co-winners of the Danny Manning/Mr. Jayhawk Award for contributions on and off the court at Monday's basketball banquet at the Holidome.
"Travis is an absolute stud — unselfish, an unbelievable competitor. He's our rock," KU coach Bill Self said. "Jeff is KU's all-time leading shot-blocker, which tells you he is the best defender in the history of the school.
"Over the course of their careers, those guys have graduated and done everything they've been asked to do and made sacrifices. I think you could make a case for a couple more, but I think it was pretty much a no-brainer that they deserved it," Self added of the only award distributed at the banquet, attended by more than 600 fans.
Withey, a 7-footer from San Diego, said: "It's an honor, a cool award. It's really nice I get to share it with 'Trav.' He definitely deserves it."
Releford, 6-6 from Kansas City, in his speech thanked his teammates saying, "You made my last year a time to remember."
Withey picks Wasserman: Withey, who is expected to be taken in the first round of the NBA Draft, has signed with agent Darren Matsubara of Wasserman Media Group.
"It's different. You see the business aspect of the game. I'm trying to get ready for the next level. I've started training," said Withey, who would like to go from 225 pounds to about 240. "I'm going to be moving to L.A. soon to start working out with the agency. I definitely feel blessed right now."
Johnson selects ASM: KU senior Elijah Johnson has signed with agent Andy Miller of ASM Sports. Johnson competed at last week's Portsmouth (Va.) Invitational for NBA prospects, where his team defeated KU teammate Releford's squad in the finals.
"It was real fun. We talked it up," Johnson said. "We had a couple smart comments, not anything too risky as far as risking our relationship. We were just out there having fun.
"It was something we weren't expecting. We had crowds, a bunch of good athletes out there," added Johnson, who is projected as a possible second-rounder or free agent. "It was kind of a showcase. My team ended up winning it, so I had a little more fun than everybody else. It was definitely a good experience."
Self said he heard Johnson and Releford, who also could be taken in the second round, both played well.
"I've had several NBA people ask me, 'Can he be Bruce Bowen? Can he be this or be that?" Self said of Releford. "I think he's played himself in a position where hopefully he'll have an opportunity. All our seniors will play professionally somewhere. It'll be nice if they at least get an opportunity in the States first."
Self on next year's team: "Last year (at banquet), I think we were kind of concerned: 'Where are we gonna go? Gosh dang we lose a lot of guys,'" Self said. He noted the same thing was said in several other years during KU's stretch of nine-straight conference titles. "The story line is, we are not going anywhere. We've got a great group of incoming kids coming in and kids in our program who will give their heart and soul to this place who will be very good players. Anything less than celebrating a marvelous season next year would be a disappointment because I think we have a chance to be great again."
Updated rankings: Rivals.com updated its rankings of high school seniors on Monday. KU's Wayne Selden moved to No. 12 (from 26); Joel Embiid to No. 25 (from 37); Brannen Greene to No. 29 (from 25); Conner Frankamp to No. 34 (from 31); and Frank Mason to No 76 (from 134).
Self's jokes: Self on Johnson, who starred in KU's overtime win at Iowa State. "Talk about Elijah's 39 points. ... It was great, but the last two almost got my (bleep) whipped after the game," Self said, referring to an ISU fan getting in his face on the way to the locker room ... Self on freshman Rio Adams, who is transferring to a yet-to-be-determined school. "If you ever want to get caught up on social media now that Tyshawn (Taylor) is not here, here's the guy," he cracked of Adams, who complained about playing time on Twitter during the season.
Tragedy addressed: The tragic events at the Boston Marathon were referenced by former KU player Wayne Simien, who offered the opening prayer, as well as emcee Bob Davis and Self.
"This is a somber day from what has taken place elsewhere, but it should be a very happy day to honor these young men who represented all of us the past four or five years," Self said. "This team maximized their abilities and played to their ceiling about as well as any team that I have ever had in my 20 years of being a head coach."