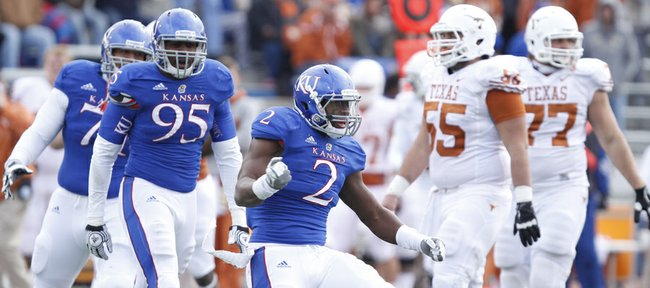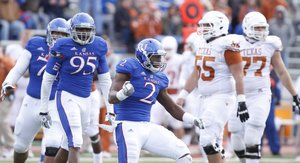 When Darius Willis transferred to Kansas University from Buffalo before the 2010 season, he came to play out his college career for the man who first recruited him.
But two seasons into Willis' time as a Jayhawk, former KU coach Turner Gill was fired, and Willis fell completely off the depth chart and moved into a starring role on new coach Charlie Weis' scout team.
Down but not out, Willis began working his way back into the picture, late last season at a new position on the defensive line and this spring at his old spot at middle linebacker.
"It became more of a motivational tool for me," Willis said. "It was to the point where I felt I had to prove something to myself, and that's what drove me. It wasn't anything outside, it was just me and finding that person inside of me that I know I can be."
Willis' resurgence has earned the respect of Weis, who recently singled out the 6-foot-2, 240-pound senior as one of the pleasant surprises of spring practice.
"When you go over to the show team, one of two things can happen," Weis explained. "Either you're going to go through the motions and you'll be anonymous the rest of your career, or you'll fight your way back. He worked his butt off. He worked his butt off in everything he did, (and) eventually I said, 'We need to find something for him to do.'"
That "something" turned out to be rushing the passer, and Willis began to work at defensive end behind former Jayhawk Toben Opurum. Weis said Willis' quickness and fast-twitch skills made him suited to help the Jayhawks off the edge, but it was his change in attitude that made it possible.
"When you're trying to run everybody out of here — because I would have gotten rid of 50 if I had to — some guys will go the other way," Weis said. "You always hear about the guys who are gone, but you don't hear much about the success stories, about the guys who had one foot out the door and fought their way back, not only to be around, but to be productive."
Willis, whom Weis quickly pegged as "one of those entitled guys," is one of those success stories. He's back playing the spot he had played his entire career, one that better fits his frame and mind-set.
"It's a lot of fun actually being in space again and running people down, not having to worry about being in the trenches and always fighting with a guard or a tackle," Willis said. "I really haven't gotten to the point where I want to be, so I'm really not too confident. I feel like there's so much work left to do, and this is just one step closer to what we want to accomplish, and that's to be a good defense."
Willis has impressed so much this spring that Weis said it was no longer a given that junior Ben Heeney, last year's leading tackler who finished third in the Big 12 in tackles, would dominate the reps at middle linebacker.
"It's not a run-away with Heeney in first," Weis said. "(Willis) is pushing him for playing time. It's been a nice competition, and I've been very pleased with Willis. He's one of those guys that could have thrown in the towel, but he went in the other direction. And kudos to him, because that's why he is where he is right now."
During the past week, Heeney has returned to the form he showed during the 2012 season, and his resurgence and Willis' emergence has left Weis feeling pretty good about his middle-linebacker position.
"Ben Heeney, early in camp, I actually was a little disappointed with," Weis said. "I think he felt good that he had a zillion tackles last year. I reminded him that he had a zillion tackles on a team that went 1-11. As of late, he's been on a very, very big rise."
KU Cowboys?
Former Jayhawks Opurum and Greg Brown worked out for the Dallas Cowboys on Wednesday in Dallas.
Patriots workout
Three former KU starters recently worked out with the New England Patriots in Lawrence in preparation for the upcoming NFL Draft, April 25-27.
Shortly after KU's pro day, which attracted scouts from 17 NFL teams, Opurum, quarterback Dayne Crist and safety Bradley McDougald went through additional drills at the request of the Patriots.
NFL Network analyst Gil Brandt first reported the workouts and said several of the scouts were impressed by what they saw from Crist, who ran a 4.94-second 40-yard dash, pushed 15 reps of 225 pounds on the bench press and turned in respectable vertical (29 inches) and broad (8 feet, 11 inches) jumps.
Webb tears ACL
Former KU quarterback Jordan Webb, who started for most of the 2010 and 2011 seasons and transferred to Colorado before the 2012 season, recently tore his ACL and will miss the 2013 season.
According to a report in the Denver Post, Webb, a fifth-year senior who started at CU last year and led the Buffs to their only victory, plans to apply for a sixth season after rehabbing the injury.
"It's another obstacle that I have to overcome," Webb said in a statement.