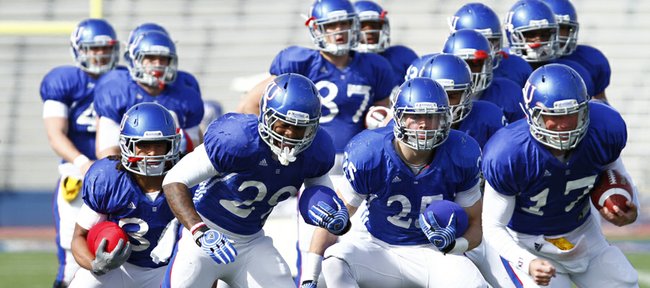 The sun started to drop, and the temperature more than kept pace. And Tuesday afternoon was one of the warmest spring football practices for a Kansas football team trying to eradicate the stench of a 1-11 record, the school's fourth consecutive losing season. Most of the summer sessions will take place in blistering heat. That's OK. Nothing about football practice ever is supposed to resemble comfortable anyway. Golf courses exist for that.
This was the first of the spring practices open to the media, and it presented an interesting challenge to try to pick out bits and pieces of signs of progress.
The best place to start is with the team's most accomplished player, running back James Sims. He looks leaner than ever and primed for a big senior season. But it's Tony Pierson whose movements stick out more than anybody's. You get the same feeling watching Pierson go through drills as you get watching Ben McLemore sprint downcourt. Pierson just looks different than the rest, as if he's at once moving at a high speed, yet not moving any body parts.
Staying with the jet theme, Colin Spencer, a 5-foot-10, 180-pound Dallas running back who graduated high school a semester early to participate in spring football, showed serious speed running the ball and blowing by the secondary to catch a pass.
Quarterback Jake Heaps, the Brigham Young transfer with two years of eligibility remaining, throws nothing but tight spirals and has the look of a guy who thoroughly enjoys everything he does related to the game of football, especially interacting with teammates. A year ago at this time, Dayne Crist threw a nice ball, and all anybody needed to see was, once the red shirt that means "don't tackle this man" was taken off him, whether he would hear footsteps, given his history of knee injuries. He did, and it wasn't pretty. No such questions ever have been asked about Heaps.
Also, it was interesting to see that quarterbacks coach Ron Powlus still throws a nice ball. He showcased his skills during a drill in which five receivers went out for passes at the same time, and all of them caught (or dropped) thrown footballs.
It would be nice to report that a wide receiver knocked my mittens off, but I wasn't wearing mittens. Plus, too many balls were dropped, although none by Justin McCay, who finally will have footballs thrown to him during games after three seasons as a spectator. McCay spent one season at Oklahoma as a red shirt, one as a bench-warmer, and then had to sit out last season as a transfer. He has two remaining seasons of eligibility. At 6-2, 213, he has the size to make a difference and remains one of the most intriguing mysteries on the team. Emerging senior-to-be Christian Matthews caught everything thrown his way as well.
Three long-time starters on the offensive line are gone. Look for Ngalu Fusimalohi to fill one of the guard spots. He's big at 6-2, 324, and practices with a nasty edge.
Defensive end Chris Martin, a junior-college transfer, stands out walking to and from practice, thanks to a big, muscular physique, and during practice, thanks to a high motor and nifty pass-rushing moves. Remember the name and the number, 56, and if you're an opposing quarterback, good luck trying to forget you ever met him.
Greg Allen, 5-11, 203, flashed cover skills of the cornerback he was during his red-shirt season and brings nice speed to the safety position. Early guess: He's going to be a serious player.
In special teams, a disturbing number of kicks weren't fielded cleanly. Now for the good news: Trevor Pardula, a punter and kickoff specialist who chose KU's scholarship over that from hometown San Jose State, showed a really, really strong foot, booming kick after kick over the heads of punt-return men.
Another encouraging development: The contrast between how bodies looked during the forgettable 2010 season that opened with a 6-3 loss to North Dakota State and Tuesday was a stark one. Clearly, the weight room has been alive with misery. One week from Saturday at 1 p.m., the spring football intrasquad game whets our appetites for the 2013 season.