Wayne Selden drew laughs by entering Monday night's three-point shooting contest at the Powerade Jam Fest.
Kansas University's top recruit and only McDonald's All-American in coach Bill Self's five-member 2013 class laughed back.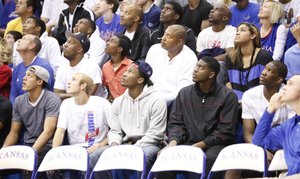 "Nobody thought I should be in it," Selden said. "When I told people I was in the three-point contest, they were laughing at me. I was like, 'You'll see.' Then I came in third out of eight, and it was on ESPN, so that was great."
Selden, who will compete for the East squad at 8:30 tonight in the McDonald's All-American game in the United Center, learned the value of stepping out of his comfort zone early in his high school career.
Following his freshman year, the muscular 6-foot-5, 225-pound guard left Roxbury, Mass., to attend the Tilton School, a New Hampshire prep school which produced Kentucky freshman Nerlens Noel.
The experience has been life-altering.
"I lived in Roxbury my whole life," Selden said "When I moved out to New Hampshire as an inner-city kid, it was a real difficult transition. But it's my third year at Tilton, and I love it.
"It opened up my eyes to a lot of things. It has helped me become a better person, helped me speak and communicate better, and it opened doors for me that wouldn't have been opened in the inner city. College coaches in the gym? There was no such thing as that."
From a physical standpoint, Selden's maturation happened naturally.
Easily the strongest guard at this week's high school all-star festivities, Selden has looked better than his national rankings — No. 12 by ESPN, 13 by Scout and 26 by Rivals — in practice.
"It is a blessing to be here," Selden said. "I don't look at it like that. I look at it like I'm going to play my game, and my game will determine how I should be ranked.
"I'm a McDonald's All-American, and I'm really thankful with all the big names that have come through here and being able to compete with all these great players. Now it's about stepping forward and being a great college player, not looking back at a high school ranking."
Self will be relying heavily on freshmen next year, and unless Andrew Wiggins — Selden's East teammate and the nation's No. 1 recruit — chooses the Jayhawks over Florida State, Kentucky and North Carolina, Selden will be the highest-profile member of the class.
His demeanor on and off the court suggests he's ready.
"I feel like I was going to be a leader regardless," he said. "That's the role I like to play. Naadir (Tharpe) is going to be the point guard. He is going to lead the team, and he is going to need a wingman to help lead the team. I feel like that should be me."
Selden averaged 24.8 points, 10.1 rebounds and four assists in a huge senior season.
He admits his reputation as a slasher rather than a shooter is well-deserved but is confident the Jayhawks are getting a complete offensive player.


"I knew that going into my senior year I had to develop my outside shot," Selden said. "It is all about repetition. I took a lot of threes this year. I had eight in one game. It is all about developing and getting better.
"I do a whole bunch of different drills, just getting lots of shots up. I go from class to shoot, then go back to class. I do that two or three times a day. I really have no life outside school. It is God, family, school and basketball. No effort goes into anything else."
That's not entirely true. Selden is currently working on his second school play, and his role has grown exponentially.
"The play is about three guys chasing after one girl," Selden said. "It's a small play, 15 minutes. We had to write our own part to make it longer. The last play I had three lines; this one I have 25 or 30.
"My character is a weirdo. He's a creepy guy, but he gets the girl."