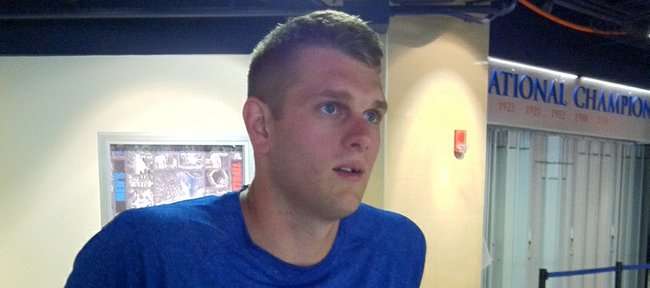 Cole Aldrich couldn't stop smiling on Tuesday's 16-hour flight from Johannesburg back to the United States as he reflected on a rewarding 12-day NBA-sponsored Basketball Without Borders excursion to that impoverished land.
"The biggest thing I noticed while we were there was the joy — the tears from the people knowing that we cared about them," former Kansas University center Aldrich said Wednesday from Allen Fieldhouse. "They are in townships surrounded by all this poverty and tough things. You don't always see people coming in wanting to give their time and showing care and affection and love toward them."
Aldrich and Oklahoma City Thunder teammates Nick Collison, Thabo Sefolosha and Serge Ibaka joined fellow NBA players Luol Deng, Luc Mbah and C.J. Watson as instructors in youth basketball camps in the Johannesburg area. They also helped build a house for Habitat For Humanity and dedicated a huge basketball complex.
"The biggest thing is there are so many things people need there, starting with the bare essentials like food and clothing," Aldrich said. "The house we replaced was 500 square feet maybe, basically an oversized shed. You walk in, and there's dirt floors, no electricity, nothing. You have a lot of poverty, and it's eye-opening to see that."
Aldrich, 23, said he'd love to return someday to re-connect with the individuals he met on the trip. He also would encourage others to travel to Africa at some point and/or donate funds to help those in need.
"The purpose at least for me in going into it was to help other people out, and also when you are helping other people out, you really enrich your own life," Aldrich said. "You see how truly blessed you are to be living in the U.S. and have the things and opportunities we have."
Aldrich, who was in his old college town just a day, played pick-up basketball with various current and former Jayhawks on Wednesday. Also on hand was Sacramento Kings rookie Thomas Robinson, the No. 5 overall pick in the 2012 NBA Draft following his junior year at KU. Former KU guard Xavier Henry of the New Orleans Hornets was in town last weekend.
"He definitely has the work ethic," Aldrich said of Robinson. "He will learn a few things on the court this season and things like that. He's going to be a good (pro) player."
Aldrich, meanwhile, is in the final year of his rookie contract that will pay him $2,445,480 this season. He'll make $3,245,151 in 2013-14 if the team picks up his option. If not, he'd be a free agent.
"I think this year is big for me obviously," the 6-foot-11, 245-pound, third-year pro said. He's received precious little playing time his first two years in the pros. "Nazr Mohammed signed with the Bulls. It opens a lot of opportunity for me to earn that backup (center) spot. I had a good summer, worked hard. I'll go in there with the same work ethic I've had since high school, and things will take care of itself. I'm excited for the opportunity."
On a personal note, Bloomington, Minn., native Aldrich reported that he will marry KU graduate Britt Claflin next summer in a ceremony back in Minnesota.
Recruiting: Tyler Roberson, a 6-8 senior small forward from Roselle (N.J.) Catholic, will attend the Oct. 12 Late Night in the Phog as part of an official recruiting visit, Rivals.com reports. The country's No. 29-rated player will visit SMU on Sept. 27 and Syracuse on Oct. 5. He also is considering Kentucky, South Carolina, Alabama, Florida, Rutgers and Villanova. Another Late Night visitor is Chris Jones, a 5-10 sophomore point guard from Northwest Florida State College ... Robinson and Tyshawn Taylor have been nominated for 2011-12 KU male athlete of the year award to be presented at the Rock Chalk Choice Awards on Sunday at the Lied Center. The other nominee is sophomore hurdler Michael Stigler. Women's athlete of the year nominees: Diamond Dixon and Andrea Geubelle (track), Maggie Hull (softball) and Ingrid Vidal (soccer).