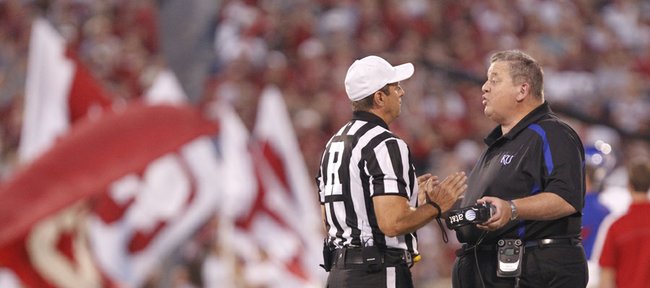 Earlier this season, the Kansas University football team found itself among elite company in the takeaways department.
Although things have leveled off in that area — the Jayhawks recorded 12 takeaways in their first three games but have just five since — Charlie Weis' first KU team has remained near the top of the country in another crucial area.
Heading into this weekend's match-up at Baylor — 2:30 p.m. Saturday in Waco, Texas — the Jayhawks are tied for second nationally for fewest penalties. KU has been penalized just 29 times in eight games, good for an average of 3.63 per outing and good enough to keep the company of a few programs known for discipline.
Navy ranks first, with 28 penalties in eight games, and Air Force and Kansas State sit tied with Kansas at 29 total infractions. KU finished 56th in 2011, with 69, and 64th in 2010, with 72.
While the Jayhawks still have four games to play, the improvement they have made in avoiding those shoot-yourself-in-the-foot moments have been a source of pride for Weis.
"It has been one of our points of emphasis from Day One when we identified the things we were going to have to do to be competitive," Weis said. "One accepted penalty for five yards (KU's total vs. Texas), that's a good day at the office."
Even better than the low total has been the fact that KU has improved as the season has gone along. Nearly half of KU's total penalties (14 of 29) came during the first three weeks of the season.
The Jayhawks have been whistled for eight false starts, eight holding penalties, four delay-of-game penalties, three personal fouls, two pass-interference calls, two offsides calls, one sideline warning and one illegal block.
KU has committed the same penalty more than once in a game just four times this season, and Weis said there was a reason his squad did not make a habit of becoming repeat offenders.
"We penalize 'em when penalties occur in practice," he said. "And when practice is over, it's usually not very pleasant if you had penalties during practice."
KU-Texas Tech to kick off at 11 a.m.
The Kansas football team's Nov. 10 road game against Texas Tech will kick off at 11 a.m. and will be televised on FSN, the Big 12 announced Monday.
It will be the fifth straight week that the Jayhawks will have a game televised on FSN.
Kansas will be traveling to Texas Tech for the first time since the 2009 season, when the Jayhawks fell, 42-21. Tech is 12-1 all-time against Kansas, including 5-1 in games played in Lubbock. KU's lone win in the series, a 34-31 overtime thriller, came in 2001.