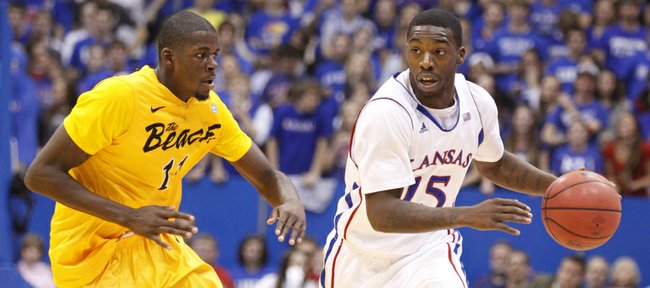 Kansas University basketball coach Bill Self called Elijah Johnson, Jeff Withey and Travis Releford "without question our best scorers on the team," Monday and added "that's not good because they were the third, fourth and fifth scorers last year."
In other words, it's business as usual for Self's powerhouse basketball program. The top scorers are gone and his team is a bona fide threat to make it to the Final Four.
Self lost Sherron Collins and Xavier Henry, the two leading scorers (28.9 combined points per game) from the 2009-2010 team that went 33-3 and was upset by Northern Iowa in the round of 32, and had no problem rebounding from that.
He lost Marcus and Markieff Morris (combined 30.8) from a 35-3 team that lost an Elite Eight game to Virginia Commonwealth and promoted a pair of complementary starters to primary scoring roles.
Now, Self must replace the 34.3 points Thomas Robinson and Tyshawn Taylor combined to score and it's not quite as easy this season guessing which players will develop into the leading scorers.
For now, Self said it's the three returning starters, but with a deep freshman class with their hands out for shots, it will be interesting to see how the points are distributed.
"We've got more guys who can get the ball in the basket, but more guys doesn't necessarily equate to 35 a game," Self said of replacing Robinson and Taylor's points. "Maybe more balance than last year, but I don't know if we have more scoring punch than last year. We might before it's all said and done."
Perry Ellis arrives at Kansas as a more natural scorer than Robinson did, and Robinson grew into a 17.7-ppg scorer by his junior season.
"Perry could be a natural scorer and get six if he doesn't put himself in position to score," Self said. "Thomas could play bad and get you 15."
A look at the leading candidates to lead Self's 10th Kansas team in scoring, with odds in parentheses:
Johnson (3-2): With the ball in his hands, he'll drive to the hoop more often than a year ago when that was Tyshawn Taylor's role. More drives means more trips to the foul line.
Plus, it's easy to picture Johnson improving his .338 three-point accuracy rate from a year ago, when he averaged 10.2 points.
His savvy and the strong probability he will lead the team in minutes make him the safest bet.
Ben McLemore (4-1): A 6-foot-5 red-shirt freshman Self has compared to three-time KU leading scorer Brandon Rush, McLemore has the capability of scoring points in bunches via the three-point shot and on put-backs, his top two offensive skills.
Ellis (5-1): He will need to play a more physical brand of basketball and have a consistently hot motor in daily practice before Self rewards him with the starting position his talent merits. Once he gets there, his smooth moves close to the basket and soft touch from the perimeter make him a legitimate candidate to lead the team in scoring every year he plays at Kansas.
Withey (8-1): His moves aren't smooth enough for him to become this team's top scorer, and the easy buckets that came when defenses loaded up on Robinson won't be there. He could become the team's MVP, but the leading scorer? That's a stretch.
Releford (10-1): Led the team in scoring in last season's first two Big 12 games with 16 points against Kansas State and 28 at Oklahoma, but never before and never after. He's a versatile contributor who does just about everything well, but does not have a pure enough shot to be this team's go-to scorer.
The Field (100-1): It always pays to include the field, just in case a player now considered raw blossoms way sooner than expected and becomes a phenomenal player.
Freshman guard Rio Adams, an explosive, long-armed, 6-3 combo guard from Seattle three times led the state of Washington in scoring and had a 54-point game as a sophomore.