Photo Gallery
Kansas v. Texas football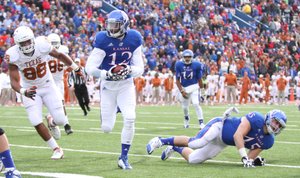 Images from Saturday's game against Texas at Memorial Stadium.
Podcast episode
KU coach Charlie Weis talks following KU's 21-17 loss to Texas on Oct. 27, 2012.
Box score
As the last of the heated benches that the Texas football team takes on the road so that the players stay warm was being loaded onto a truck, more than one person who had watched a near upset in sunny-but-cold Memorial Stadium no doubt uttered a question from a barstool: How did Kansas lose that football game?
Better question: How did a Kansas football team that now has a 17-game losing streak in Big 12 games almost beat a roster jammed with names that made headlines screaming the latest Texas recruiting victory?
The answer: The Kansas players who don't run as fast, wiggle as smoothly, stand as tall and weigh as much as the Longhorns don't need artificial means to ignite their desire to play the game.
The Kansas defense came up one play short on a few different plays during the final drive of Saturday's 21-17 loss to Texas, but the unit that statistically and by every other measure was the worst in the nation last season showed just how far it has come in defeat.
"Heart," KU running back Tony Pierson said of what his team's defense showed him.
Heart beats heat every time if the talent is equal, which in this case it was not.
"That's something we talked about this week," KU junior linebacker Huldon Tharp said of the heated benches. "They're kind of soft when it comes to the cold. Those Texas guys aren't usually used to it. Having a bunch of Texas guys on our team, you kind of notice as soon as they get here they aren't used to that cold weather. Honestly, in my mind, I was hoping it was even colder than it was. It kind of warmed up throughout the day."
The play of the defense led Weis to leave time for a couple of potential late-game extra plays in his holster when he trusted it to pull off another goal-line stand and said he didn't want to let the defense's momentum in that situation get broken by calling a timeout.
Trusting the defense to win it, even at the expense of a slightly less desperate situation for the offense at the end, didn't go unnoticed by the players asked to win it.
"That just shows he has confidence in us and that's something we've been looking to get as a defense," Tharp said. "Last year, we didn't get a whole lot of good stops, especially on the goal line. I think today we proved we're a force to be reckoned with. It's nice to know we have a coach who has confidence in us like that, especially against a high-powered offense like Texas has."
The Longhorns entered the day ranked third in the Big 12 with 40.8 points per game.
"I know nobody on our team is intimidated by anybody in the Big 12, and I think that's an attitude we need to keep carrying forward," Tharp said. "Guys are starting to realize just because we're not a bunch of high-profile recruits and five-star guys doesn't mean we can't compete with them. It's nice to know our team is starting to figure that out."
The biggest play of the day for Dave Campo's defenders came after Bradley McDougald, the most accomplished player on the defense, fumbled a punt he should not have tried to field, giving Texas the ball on the 19 early in the third quarter.
Kansas sophomore Ben Heeney, born to play middle linebacker because just about any other lot in life just wouldn't come with legally administering quite enough pain for his taste, bailed out McDougald.
Texas sophomore running back Joe Bergeron, who at 230 pounds outweighs Heeney by five pounds, rushed for two touchdowns last year against Kansas, four against West Virginia a few weeks ago and five against Baylor last week, was the obvious choice to plow into the end zone on fourth and one. Heeney didn't let him. And Tharp lent a hand.
"Ben had an amazing hit on him, stopped his momentum," Tharp said. "I just helped clean him up."
Weis liked Heeney's chances.
"He's been a wild bullets type of guy," Weis said. "What I'm saying is, he's firing his bullets all the time now. He only knows one speed, and it's full speed. He's one of the guys in that situation that's capable of stopping somebody, because he's not waiting to wrap you up; he's waiting to deliver a blow on you."
Weis, who said the loss made him "miserable," also said the defense showed it can play with the "big boys." Heeney said the loss gave him "a stomach ache."
"We've known that all year," Heeney said of being able to play with the big boys. "It's just games like Oklahoma or K-State, we just ... "
He couldn't think of anything else to say, so he said what was on his mind: "Peed down our own leg. This game, we felt like we should have won the game. We all feel that way. It sucks it had to end the way it did."
In the Big 12, the defense must never rest. Up next for Kansas is a trip to Waco to face Baylor, a team that entered the weekend ranked third in the nation with an average of 48 points a game.
Last year, Kansas allowed more than 40 points in eight of 12 games. This season, KU opponents have scored more than 30 points in just two of eight games.
The record for Kansas (1-7) hasn't improved, but there is no arguing the defense that couldn't stop Texas one more time and fell 12 seconds short has gotten much better under Campo without significant personnel upgrades.