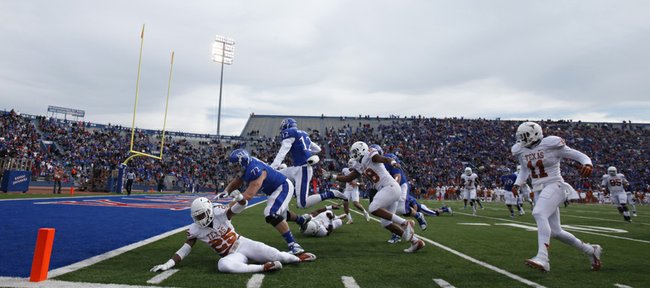 Photo Gallery
Kansas v. Texas football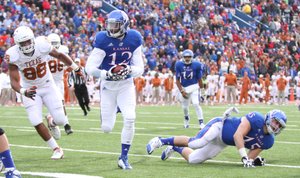 Images from Saturday's game against Texas at Memorial Stadium.
Podcast episode
KU coach Charlie Weis talks following KU's 21-17 loss to Texas on Oct. 27, 2012.
Box score
The name of the formation was not divulged, with quarterback Michael Cummings even going as far as to call it "a secret," but a new-look offensive wrinkle for the Kansas University football team proved successful for the Jayhawks during Saturday's 21-17 loss to Texas.
The formation, which multiple players said was known simply as "No. 12 at running back," featured Cummings, flanked by wide receiver Christian Matthews and fullback Nick Sizemore, taking the snap from center while standing a few steps in front of speed back Tony Pierson.
The first time the Jayhawks ran it Saturday, Matthews kept the ball and raced in for a 15-yard touchdown. One series later, Matthews delivered an option-style pitch at the last second to Pierson, who picked up three yards and a first down. Pierson scored on the next play.
"We put that specific play in this past week," Cummings said. "But the formation and the personnel has been in all year."
Matthews, who has been used just about everywhere except for his original position of quarterback during his KU career, said he liked the package because it gave KU so many different ways to pick up yardage.
"I've never really played running back here before," Matthews said. "I'm just glad (KU coach Charlie Weis) has the confidence to put me in and handle things like that. I could care less how many yards I get or how many touchdowns I gain. We just want to win a game."
Cummings consistent
Making just the second start of his career, Cummings ran the KU offense well, delivered a couple of timely throws and, generally, looked comfortable as the Jayhawks' leader.
"He was never really flustered," said Weis of his QB who finished the day 3-of-9 passing for 39 yards. "I felt the same thing last week against Oklahoma. I'm sure there's going to be things on the tape that we say, 'Well, why did you do this?' Or, 'Why did you do that?' But at the end of the day, I think the kid wasn't flustered. At this point right now in the growing process, composure is a very key ingredient."
The ever-humble Cummings said he did not sense much difference between his first start and his second start — only that the team played better as a whole Saturday. To him, though, that meant very little.
"We come out as competitors to win," Cummings said. "And we didn't win, so we came up short today."
Injury update
KU's defense was forced to play part of the fourth quarter without two starters. Defensive end Toben Opurum and linebacker Jake Love both were injured in different places on the same play during UT's game-tying drive early in the fourth quarter. Opurum returned to action a little later, but Love did not play during the rest of the game. Weis had no further update on either injury following the loss.
"Toben was back in there because he was politicking me," Weis said. "I said, 'We'll use you on third and long.' Other than that, I wasn't going to let him go. He was working (defensive line coach) Buddy (Wyatt) really hard. Then he looked at me. I said, 'Third and long.' He was moving around OK. We'll just have to wait and see. Bumps and bruises, usually by (Sunday), are either way better or way worse. Whatever they are right now, they don't stay the same."
Commish comes to town
Big 12 commissioner Bob Bowlsby was in attendance at Memorial Stadium on Saturday, one of three venues the commissioner said he hoped to get to during his wild day.
The trip was scheduled to begin Lawrence, move to Manhattan for Kansas State's 2:30 p.m. kickoff against Texas Tech, then end in Norman, Okla., where the eighth-ranked Sooners played host to No. 5 Notre Dame. However, flight plans that would have made the last leg possible fell through.
This and that ...
The Jayhawks lost Saturday's opening coin toss for the second week in a row after winning it during each of the five previous weeks. Texas elected to defer its choice to the second half, and KU chose to receive the opening kickoff. ... Senior left tackle Tanner Hawkinson added to his school record of consecutive starts. Saturday's game was Hawkinson's 44th straight start. He broke former linebacker Nick Reid's record of 42 in a row last week at Oklahoma. ... Red-shirt freshman offensive lineman Damon Martin made the first start of his career at left guard. ... Senior defensive end Josh Williams served as the team's fourth captain after being voted by KU's coaches as the top special teams performer against Oklahoma. ... Temperature at kickoff was 41 degrees under partly cloudy skies with winds of 4 mph out of the northeast.