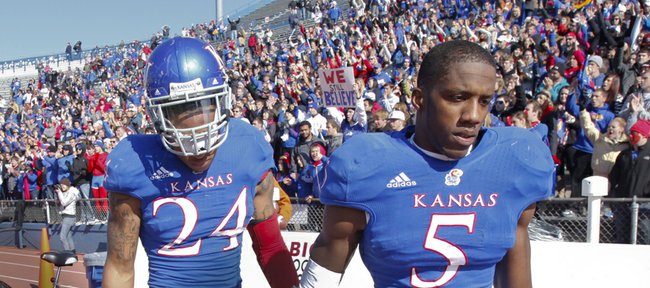 Photo Gallery
Kansas v. Texas football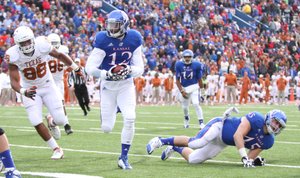 Images from Saturday's game against Texas at Memorial Stadium.
Podcast episode
KU coach Charlie Weis talks following KU's 21-17 loss to Texas on Oct. 27, 2012.
Box score
The gameplan called for more passing, but the "exotic" defenses the Texas Longhorns threw at the Kansas University football team on Saturday at Memorial Stadium forced the Jayhawks to adjust — right to their biggest strength.
Behind yet another career day from junior tailback James Sims and an offense that ran 56 times for 234 yards and threw just nine passes, the Jayhawks came within a play or two of beating Texas for the first time since 1938. But a play-action pass on third and goal from UT back-up quarterback Case McCoy to tight end D.J. Grant with 12 ticks remaining in the fourth quarter turned a three-point KU lead into the Jayhawks' 17th straight Big 12 loss and proved to be the broom to KU's confetti. Texas 21, Kansas 17.
"It was a tough loss," said Sims, who ripped off a career-high 176 yards on 28 carries. "Give Texas credit, they finished the game. It's crazy how a couple plays can change the game like that. We work so hard, and it's not our time. But we feel like it's our time coming."
It actually looked as if KU's time had arrived for most of the afternoon. After punting on two of their first three possessions — the other one reached the UT five-yard line but went backwards from there and ended with an incomplete pass in the end zone on fourth and 29 — the Jayhawks' running game began to click. Of course, it didn't hurt that run the ball was all Kansas did.
From KU's final offensive play of the first quarter (an incomplete pass from red-shirt freshman quarterback Michael Cummings to senior Kale Pick) until there were around nine minutes to play in the game, the Jayhawks dialed up 33 consecutive running plays, eating up yardage and clock in the process.
"I kind of figured that they would try to do different things to try to rattle Michael," KU coach Charlie Weis said. "And we had enough things in the run game to try to take the pressure off if they did that. We had some passes called early where they got to us, so I just shut it down and said, 'OK, we're gonna just grind it out and grind it out and grind it out and we're gonna do more of that in the second half. It leads to low-scoring games, but it at least put us in position to win the game."
Added Cummings: "We came out and just tried to grind the football and make it a smashmouth football game the whole time. We enjoy playing physical football."
Sims, whom Weis now comfortably calls the best running back in the Big 12, did most of the damage, but sophomore Tony Pierson (12-51) and junior Taylor Cox (6-28) also delivered crucial carries that kept the Jayhawks (1-7 overall, 0-5 Big 12) in the game.
Touchdown runs from Christian Matthews — yep, even the quarterback-turned-wide-receiver took a couple of true handoffs today — and Pierson on back-to-back drives in the second quarter put the Jayhawks up 14-7 at the half, and KU played with a lead for much of the day.
Texas tied the game on an 11-yard run by wide receiver and U.S. Olympic Team sprinter Marquise Goodwin with 9:41 remaining, but the Jayhawks, backed by a rocking crowd of 40,097, answered Goodwin's touchdown by jumping back in front on a 29-yard field goal from sophomore kicker Nick Prolago with 2:28 left.
"I thought (we) showed some mental toughness," said Weis of the 14-play, 61-yard drive that took 7:07 and set up the field goal. "Not physical toughness, I thought (we) showed some mental toughness. How many times have we talked about, 'Here we go again?' That's not how they acted. It wasn't a, 'Here we go again.'"
Added Sims of the 14-play drive: "It was exciting in there. It was college football. It was a close game, and we knew it was gonna be a battle so we said, 'Let's just finish it,' and that's what we did.'"
Well, almost.
The KU offense certainly did its part, and the defense, at times, looked as if it was ready to make this the breakthrough moment for Weis' version of The Little Engine That Could. But, like his older brother Colt had done so many times before him, McCoy led the Longhorns to a game-winning touchdown, overcoming a near-interception on the first play and a fourth and six three plays later.
"Normally, you say we didn't close the game," Weis said. "Well, I think they made some plays."
The biggest of them all came with just over a minute remaining when McCoy hit wide receiver Mike Davis for a 39-yard gain down the KU sideline that gave the Longhorns a first and goal at the KU three. After initially calling timeout to allow his defense to regroup, Weis said he left the clock management decisions up to defensive coordinator Dave Campo.
"I had to let the defense play the game," Weis said. "Our best chance right there was to make a goal-line stand."
After stuffing the run on first and second down, the Longhorns (6-2, 3-2) broke through with the pass on third down. Game over.
While many of the Jayhawks have become accustomed to talking about how each loss hurts as much as the others and how they'll keep their heads up and keep moving forward, their body language in the postgame interviews showed a different side.
"I was visualizing it," said Sims of what it would be like to beat Texas.
After a long pause and a sigh, senior safety Bradley McDougald also demonstrated that his squad's latest close call stung a little more.
"It's gonna hurt for a while," he said. "I love the effort. We're headed in the right direction, but I don't know if we'll really know if we're headed in the right direction unless we go to Waco (Nov. 3 vs. Baylor) and play the same way because that means we're playing with consistency."
Added senior cornerback Greg Brown, who just missed on a late interception that could've iced the game: "We don't take moral victories, but I can say we took a step forward."