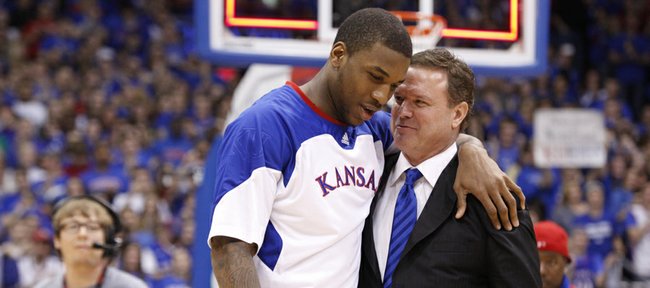 Former Kansas University forward/current Sacramento Kings rookie Thomas Robinson was trending on Twitter — his name momentarily flooding that popular website on Sunday night — after his spectacular, one-handed putback dunk over Dwight Howard of the Los Angeles Lakers.
The dunk served as a reminder of some of the power to be missing from the Jayhawks' lineup minus the 6-foot-10, 237-pound Robinson this season.
"The thing about Thomas ... we can talk about all the things he did well. He gave us an air of toughness. It made other players think they were really tough or fierce because he led by example," said KU coach Bill Self. "If he got one mitt on the ball, I mean he was a fierce, tough competitive rebounder. He was unbelievable at 50/50 balls.
"That's something we've got to get our guys to buy into: 'If you don't turn the ball over and if you outrebound your opponents and get 70 percent of the 50/50 balls, you are going to win because you'll have a lot more possessions.' We'll miss that at least initially. I think we've got some guys that are very competitive and will get good at that before all is said and done."
An obvious replacement in the toughness department would be senior pivot Jeff Withey.
"We need him to be a presence inside. We want to play inside/out. He's a big reason why we can do that," Self said. "Jeff benefited from having Thomas around, but I don't know if you realize how much Thomas benefited from having Jeff around. He (Robinson) never had to guard the other team's best big guy. (He said), 'If I make a mistake, Jeff can clean it up.' Offensively would be a question mark where he (Withey) needs to take another step."
Withey acknowledges life will be different without T-Rob.
"Thomas is a beast and obviously (as) the No. 5 pick in the draft, a great talent. Losing him will be tough," 7-footer Withey said of Robinson. "We have talented guys who will help me out. They may not be as experienced as Thomas. Kevin (Young, senior) has been playing a long time. He knows where to be, has great energy. We have guys like Perry (Ellis, freshman) who is really talented. We will miss Thomas but I don't want to say we'll be hurting because we have a lot of guys year in and out that step up in that position and produce."
Wiggins to reclassify?: Andrew Wiggins, a 6-7, 190-pound junior forward from Huntington Prep in West Virginia, is thinking about reclassifying to the recruiting class of 2013, Rivals.com reports.
Recently, KU and North Carolina have joined the mix as schools with a shot at landing Wiggins, Rivals reports. Kentucky and Florida State had long been considered his favorites if he was a member of the Class of 2014. He's currently ranked No. 1 overall in the Class of 2014.
Embiid has two visits left: Joel Embiid, an unranked 7-foot senior center from Rock School in Gainesville, Fla., who has visited KU, Texas and Virginia, will visit Florida and Marquette in successive weekends, Rivals.com reports. The Cameroon native who has played basketball just a year, is expected to sign with a school during the Nov. 14-21 signing period.
Gordon update: Aaron Gordon, a 6-8 senior small forward from Archbishop Mitty High in San Jose, Calif., who attended Late Night in the Phog, has visited KU, Oregon, Washington and Arizona. The No. 5-rated player in the Class of 2013, plans on visiting Kentucky on Nov. 9-10 and picking a school in the spring.
"He acknowledged the love from the fans (on KU visit)," Gordon's dad, Ed, told JayhawkSlant.com. "For me, it's just the history of Kansas basketball that stands out the most. It's the legends that have come through Kansas, and the legends to be. Aaron really hit it off with coach Self and the entire coaching staff. They are wonderful people and they have wonderful families. Aaron is very much a family person. We feel extremely comfortable with them."