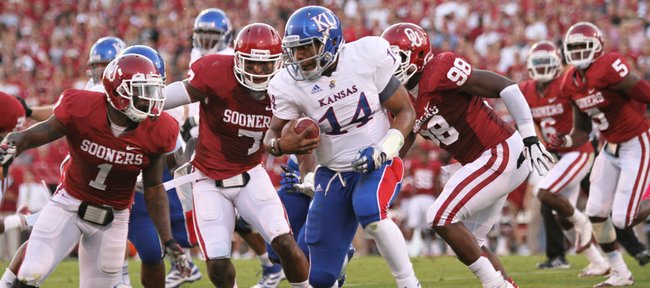 Podcast episode
Kansas coach Charlie Weis talks to reporters on Oct. 23, 2012, four days before his team's game against Texas.
Kansas University football coach Charlie Weis on Tuesday removed the "or" between the names of his two starting quarterbacks.
Red-shirt freshman Michael Cummings will start against Texas this weekend and former starter and fifth-year senior Dayne Crist will back him up.
"We're gonna start Michael and we'll see where it goes," said Weis, choosing not to tip his hand about whether Crist would play at all. "At this point, when you're 1-6 and things haven't gone real well, I think you owe it to your team to see what you got."
Saturday's game against Texas — 11 a.m. at Memorial Stadium — will mark the second straight start for Cummings, and the move seems to be an indication that Weis has begun to look toward the future.
"My job is to make sure I get our football team in an upward spiral, not a downward spiral," Weis said. "If the status quo doesn't show any improvement, then you have to find some way to make improvements, and this is one of the ways."
As the weeks have gone by, the list of ways to shake things up has become longer. Younger players have been given extended looks in practice or extra playing time in games, offensive and defensive schemes have been altered to accommodate the new faces, and KU's head coach has become willing to do whatever it takes to keep his team competitive on Saturdays.
"We know what we have to do," Weis said. "We have to coach the heck out of the guys we have and we have to go get more players. It's really a very simple process."
It's not just quarterback where things have changed. On this week's depth chart alone, four starting positions are up for grabs. Two of those have been a work in progress throughout the season, as offensive linemen Randall Dent, Gavin Howard and Aslam Sterling have rotated in and out of the right guard and right tackle spots.
But there's real change taking place in a couple of other spots, where red-shirt freshman Damon Martin has elevated himself as a threat to Duane Zlatnik at left guard and Jimmay Mundine and Trent Smiley have joined Mike Ragone as possible starters at tight end. Chris Omigie now is listed as a first-string wide receiver, as well.
"Our coaching staff doesn't just sit there and play people because they're entitled," Weis said. "I think we try our best to get our team in the best position to win."
Martin logged extended snaps at Oklahoma and impressed his coaches.
"He always had strength," Weis said of the 6-3, 295-pound guard. "But he didn't play to his strength. It's one thing when you have strength, but then you play like a slug. But when you start figuring it out mentally, then you play to your strength."
Omigie also earned his spot based on his performance last week.
"Each guy is unique," Weis said. "Every position is different, but there are guys that we see getting better and better and better that we think can help us. Some of the young guys that we've seen in practice every day, the Greg Allens, the Tevin Shaws, the Tyree Williams and the Nas Moores, they get better every day, too. But they're in a position where the dividends with those guys will be paid down the line."
Weis went into great detail Tuesday about what he believed it would take to move things forward. He's happy that his team has been competitive in most games this season and that he can count on his guys to play hard from start to finish each time out. Now, he says, it's time for the next couple of steps.
The search for talent never is far from Weis' mind. When asked Tuesday what he was looking for in recruiting, KU's first-year coach painted a clear picture.
"Guys that want to come to Kansas," he said. "Not the guys that (say), 'Well, I have 93 offers.' Who cares? Do you want to come to Kansas? Do you want to be a part of this? Do you want to be a part of the reason why they went from not very good to good?"
He continued his mock conversation: "'You say you want to play, right? Well, if you can't play here, where are you playing?' You'd be surprised how quickly you can get 'em on your side."
When asked what positions he was looking for, Weis ruled out quarterback, but made it clear that a talent upgrade across the board was needed.
"Every (position)," he said. "Tell me who the best player is at a position (and) we're interested. ... Recruiting is the lifeline. Development of your own players and recruiting, that's it. It's not a question of whether or not we know what to do X's and O's. ... sometimes you better go get some Jimmys and Joes. It might help you just a tad."
Weis has not lost his optimism about the future, and there is evidence that tomorrow could be better than today. Cummings is the starting quarterback of the present, but a longshot to hold the position next season, thanks to the presence — and steady improvement — of BYU transfer Jake Heaps.
"Michael sees Jake (at practice) every Sunday," Weis said. "(Our other quarterbacks) know they have their work cut out if they're gonna beat him out."
Another player who gives the Jayhawks hope but has been sidelined this season is wide receiver Justin McCay, a transfer from Oklahoma. McCay applied for immediate eligibility before the season but was turned down twice. Weis said the uncertainty impacted McCay's performance in the spring but added that McCay looked much better now.
"A drastic improvement," Weis said. "I was a little concerned in the spring because, to me, he looked just a little bit like another guy."
Weis also said Heaps and McCay had developed a strong bond while waiting their turns.
"I mean, they're tied at the hip," Weis said. "They're two really good players."
Whether it's players that are here and are improving or guys who have yet to arrive, Weis has a precise view of what he believes the future of Kansas football will look like. And believe it or not, what has taken place so far this season is a part of it. However, in order to get there quicker, Weis outlined a couple of things his team could accomplish during the final five games of 2012 that would fast-track the progress.
"We still have to go win a conference game," Weis said. "The other thing that I really think would be important for us is to go beat someone on the road. I don't know if we're gonna do either one of those things the way we played last week. But I know they're gonna play hard for 60 minutes for five games, even if things go bad. ... At the end of the year, they have to be better football players than they are now. They can't be stagnant."
Patterson still iffy
Senior wide receiver Daymond Patterson remains questionable for this weekend's game because of a head injury that forced him to miss last week's game at Oklahoma.
"Head injuries are not something you mess with," Weis said. "If he meets with the doctors and he's still woozy or has headaches, what am I gonna say, 'No, you don't have a headache.' That's not something you play with."
Mangino eyeing return?
In a recent telephone interview with The Oklahoman, former KU coach Mark Mangino said he still has "the desire to win," but that his perspective on coaching and life changed last year, when his wife, Mary Jane, was diagnosed with breast cancer.
"My family comes before the game," Mangino said from his home in Naples, Fla. "It's helped me get things in perspective, too. She's joked with me, 'Winning and losing football games isn't really a matter of life or death is it?' I said, 'No, it's not. It's not.'"
With her final treatment out of the way and a favorable prognosis for her future, Mary Jane has given her husband a suggestion.
"Go find a coaching job," said Mangino, repeating Mary Jane's words. "So we'll see what happens. I don't know where it will be. Could be anywhere."
In the nearly three years since he resigned under pressure at Kansas after posting a 50-48 record in eight seasons, Mangino has kept his distance from Lawrence.
"I have had no contact with anybody in the program since I left," he told The Oklahoman. "Do I follow them? I wouldn't say I go out of my way to follow the team, but I do have a place in my heart for the kids on the team that played for me or were recruited by me. I would love to see them have some success. ... I have no ill-will toward the football program or the players at Kansas."