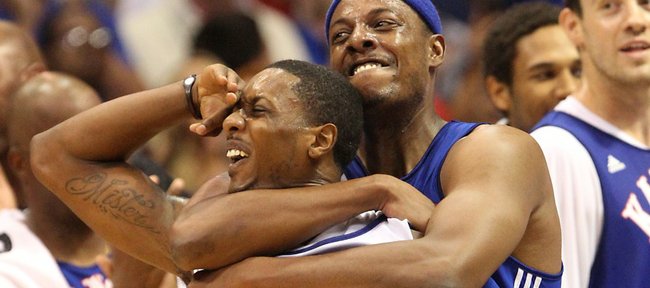 Kansas City, Mo. — Miami coach Erik Spoelstra grinned widely, pausing a second before talking about point guard Mario Chalmers' progression during his four seasons with the Heat.
"I don't have many gray hairs, but the few ones that I have probably came from Mario," Spoelstra said of the former Kansas University star. "He's grown tremendously. We knew right away that he was a gamer, and in those big moments, he would be there for you. But learning the position of point guard — the responsibilities of playing that position, running a team and all the expectations of the head coach for him — it's been awesome to see his development."
Chalmers' improved play last year helped the Heat to their second NBA title. The 6-foot-2 guard averaged 10.4 points in the finals, which included a 25-point outburst in Game Four when Miami defeated Oklahoma City, 104-98.
Chalmers admits life has changed ever since.
That was most evident during a shopping trip to a shoe store a few months ago. Just after Chalmers walked in, the store made an announcement that he was there, and Chalmers ended up signing autographs and taking photos with fans.
That was in New York City.
"New York fans are different. They don't really like anybody," Chalmers said with a smile. "It was good to get that love there."
Chalmers had a homecoming of sorts Wednesday in Kansas City, Mo., playing for the first time in the preseason in the Heat's 101-94 loss to the Washington Wizards at Sprint Center. He scored eight points on 3-for-7 shooting (2-for-3 shooting from three-point range) with five assists, one steal and one turnover in 20 minutes.
"It was fun. It brings back old memories, especially for this being my first game of the preseason," Chalmers said. "It was a good way to come out here and play for the Kansas fans."
Chalmers was held out of the Heat's previous preseason games because of a quadriceps injury.
"I think he did well. He played well and shot the ball well," Heat forward LeBron James said. "Conditioning-wise, he's not there yet, but, of course, he hasn't played. He'll continue to get better."
It says something about Chalmers' impact at KU that his name being announced in the starting lineup created more of a roar — positive from KU fans, negative from Missouri supporters — than James, who is widely considered the world's best basketball player.
"It's very rare, but that happens a lot out here. It's one of the few places I get more recognition than him," Chalmers said. "I always tease him about it."
Chalmers says he continues to keep ties to the Jayhawk basketball program, which includes communication this year with 2012 KU draftees Tyshawn Taylor and Thomas Robinson.
"I talk to Tyshawn all the time. That's my guy right there," Chalmers said. "Of course, Thomas, with his high hopes, he's going to do things.
"I told him congratulations on the tip-dunk on (Los Angeles Lakers center) Dwight Howard," Chalmers added with a laugh. "To get your first dunk on is a good feeling."
Chalmers also said he had high expectations for this year's Jayhawks.
"They've got a good team — a good young team," Chalmers said. "Kind of like when we came in, with me, Russ-Rob (Russell Robinson) and B-Rush (Brandon Rush). We had a really young team, so they've got kind of the same thing.
"That was the first thing I thought of. I think the oldest guy is Elijah (Johnson) on the team, a senior. ... We had a couple seniors on our team when we got there: Jeff Hawkins, Stephen Vinson and Christian Moody. That's kind of the same thing."
Chalmers talks to KU coach Bill Self about once a month in the offseason while keeping the most contact with KU assistant Joe Dooley.
The two talked frequently during the season last year, with Dooley continuing to give Chalmers encouragement and pointers.
"That's one thing that I did learn after I left is coach Dooley's a prankster," Chalmers said. "He's a great guy — the person that recruited me — so of course I'm going to be the closest with him."
So what's next for Chalmers in his fifth NBA season?
Spoelstra believes the confident guard still has another step he can take.
"He's proven himself as a championship point guard. But it's always about consistency with him," Spoelstra said. "He's at his best in the biggest moments. He's never shied away from them. We all know that, and that's why we love him so much.
"Now, he has to continue to prove that he's a championship point guard while people will be gunning at him. That's what it's all about. He'll enjoy that."