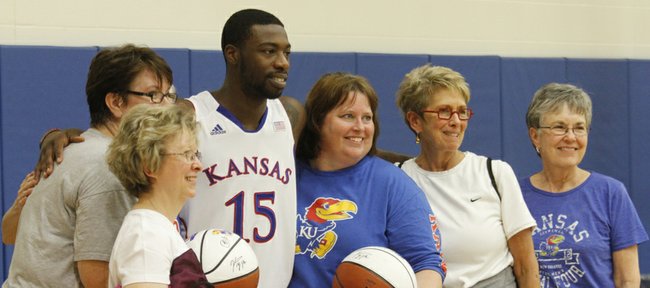 Photo Gallery
Bill Self's Ladies Night Out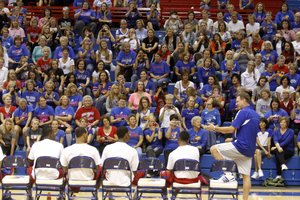 Over 400 hundred women got a chance to run drills and receive one-on-one instruction in basketball from the Kansas University men's basketball team members and staff in Allen Fieldhouse Wednesday evening, Oct. 24, 2012, during Ladies Night Out with Bill Self. By Mike Yoder.
Kansas University's basketball team had its worst practice of the young 2012-13 season Wednesday afternoon in Allen Fieldhouse.
"We had a bad day today, but something positive came out of it. I think we got in better shape today," KU coach Bill Self told 450 women who attended Wednesday's "Ladies Night Out" cancer benefit in the fieldhouse.
Suffice it to say, KU's 10th-year coach made the Jayhawks run a batch of penalty sprints during their two-hour workout.
"I'm not trying to be funny, but the way we practiced today, I think they (players) should be paying us," Self added, answering one of the attendee's questions about the play-for-pay issue in college athletics during a Q-and-A session.
So what was so disturbing about Wednesday's pre-"Ladies Night Out" practice?
"It was beyond bad," Self said. "We had bad play, bad effort, no energy, a combination of things. They don't like me, and I don't like them right now. What's great about something like this is it brings everybody back to the real-life aspect of helping others. Our guys get a chance to do that tonight."
Besides ... "Everybody has some bad practices now and then. If anything, I hope it gets our attention for a great day tomorrow," Self said.
Following the Q and A, the attendees broke into individual stations, where the Jayhawks directed dribbling, passing, shooting and post-move drills. There also was a tour of the weight facility and opportunities for pictures and autographs from all the players and coaches.
"This does change the mood. We come out of the locker room and see all these smiling faces, it brings a lighter mood to the situation," freshman forward Landen Lucas said. "This is awesome. It's been a fun experience seeing how excited they are for basketball season. I think we appeal to all ages and everything. It's definitely nice to know we have support from everyone."
There was a light moment in the picture-taking portion of the evening when a woman hopped on senior Travis Releford's back for a piggyback ride.
"That doesn't surprise me. He's a senior," freshman forward Andrew White III said of the popular senior guard from Kansas City, Mo. "This is a lot of fun. I think it's a good opportunity just for these women to have a good time, learn some things about our team. I never get tired of the support. It's good for everybody."
Proceeds were donated to Lawrence Memorial Hospital and the KU Cancer Center in an effort to fund cancer research.
"It's a great night," Self said. "So many people come because breast cancer has touched them in some form or fashion. We have many cancer survivors here tonight. We're proud to be part of this."
Injury update: KU freshman guard Evan Manning continues to wear a boot on his right foot. He has been unable to practice in preparation for Tuesday's exhibition opener versus Emporia State.
"Evan had a setback. He was out six weeks with a high ankle sprain, now it's moved into a different location," Self said of a hot spot in Manning's foot. "We're hopeful he'll be back relatively soon. He hasn't shown great progress in the last week. It still may be another week or two."
Freshman Zach Peters has yet to practice this season because of a rotator cuff injury in his left shoulder and is not expected back soon. On Oct. 11, it was announced he'd be out four to six weeks because of the injury. There's been no decision made on possibly red-shirting the power forward from Plano, Texas.
Upcoming show: About 100 tickets have been sold for the Nov. 1 Courtside View panel discussion at Crown Toyota Pavilion in Lawrence. It will feature Self, Jay Bilas and other national college basketball writers/broadcasters. Information is available at assistyouth.org.