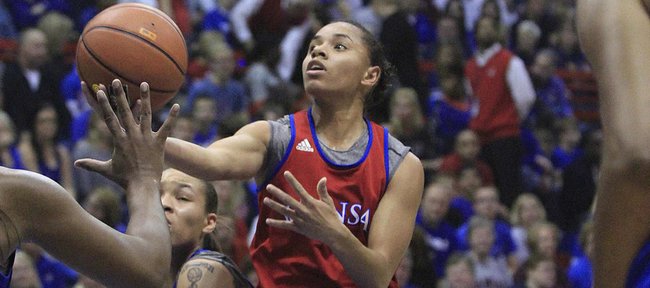 About a minute into Friday's Late Night scrimmage, Kansas University senior Carolyn Davis caught a pass in traffic, turned, and bounced in a layup off the glass.
"It was just kind of a sigh of relief," said Davis, who played for the first time in front of fans since tearing an anterior cruciate ligament last year. "I was like, 'I still got it.' My leg might be a little bit off, but I still got it."
Davis' production was the highlight for KU women, as her game-high six points on 3-for-4 shooting helped the Crimson team to a 21-12 victory over the Blue in the 12-minute exhibition.
The 6-foot-3 Houston native, who reported no pain afterward, had only been cleared to practice with teammates for about 10 days.
KU coach Bonnie Henrickson even gave her the option to sit out Friday's scrimmage.
"It's just fun for us to watch her play," Henrickson said. "She's looked good."
The ninth-year coach said her fears were calmed a bit during Davis' first individual workout a few weeks ago, when the honorable mention All-American "made every shot and caught every ball."
"I said, 'You know what, you just make it look so easy.' She kind of smiled at me," Henrickson said. "I said, 'That's what the great ones do.'"
There were other highlights for Henrickson on Friday night, including the play of freshman guard Lamaria Cole, who showed speed, athleticism and aggressiveness off the dribble in posting four points on 2-for-2 shooting with an assist and steal in 10 minutes.
KU senior Monica Engelman, who went through a late-season slump last year, also made the first jumper of the game and finished with two rebounds and a steal.
The scrimmage was interrupted briefly with 1:19 left when the Allen Fieldhouse lights dimmed after someone accidentally hit an incorrect button at the scorer's table.
After a short delay, the women resumed playing in semi-darkness.
"I thought it was maybe for dramatic effect of something," Davis said with a laugh. "Technical difficulties, I guess."