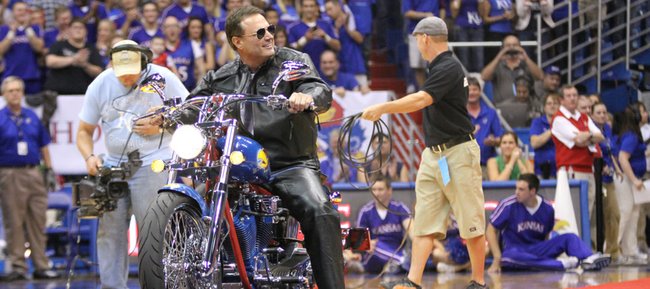 No party pooper, Bill Self has been willing to wear whatever wacky costumes the producers of Late Night in the Phog have presented him the past couple years in Allen Fieldhouse.
Last Oct. 14, Kansas University's basketball coach, who was decked out in an all-black leather jacket and chaps, drove a custom-made motorcycle onto James Naismith court for the 2011-12 season-opening basketball proceedings. This was one mid-October removed from Self's dressing in gold from head to toe as "Vanilla Ice."
"What's happening, Jayhawks?" Self bellowed to 16,300 cheering fans, revving the motor of the bike to ear-splitting levels.
What was happening, of course, was the start of the men's hoops portion of the 27th-annual Late Night, the official opening of the season amid a pre-Halloween party-like atmosphere.
"Just so you know, I did not pick this outfit out. I am not a wannabee member of the Village People," Self said, noting it was the first time he'd ridden a motorbike since a "Suzuki 50" in the third grade.
"A Suzuki 50 is this high," Self added, placing his hand near his knees in explanation.
Prior to a scrimmage, which was highlighted by Tyshawn Taylor's 17 points and Travis Releford's 16, there was a surprise appearance by actor Rob Riggle, a KU grad who served as a judge in a boxing match between former KU staff member Barry Hinson and KU fan "Vicious" Victor Ortiz.
"Protect yourself at all times," Riggle jokingly warned Ortiz before the fight, referring to Victor's being surprised by a knockout punch by Floyd Mayweather in last year's title fight.
Ortiz, of course, won by knockout in a fake fight in which he was assisted by corner men Self, Cole Aldrich and Xavier Henry. KU's current players stood in Hinson's corner. The former director of basketball operations is now head coach at Southern Illinois University.
"I feel I was unstoppable the whole time. I walked away with the victory Rock Chalk-style, baby," Ortiz said.
Aldrich of the Oklahoma City Thunder reflected recently to the Journal-World that he "had a blast. Because of the (NBA) lockout it was great to have an opportunity to come to Late Night and be part of it again, this time with Victor Ortiz. Unfortunately I won't make it this year but these guys will have a blast again. It's going to be another great Late Night," Aldrich added.
Here's a look at Late Night throughout history. ...
2010
Self's solid-gold outfit, in his words "a takeoff on cheap silk," arguably drew the most laughs of a three-hour show that concluded with a scrimmage highlighted by Marcus Morris' 14 points and eight rebounds and Taylor's nine points and two assists.
Self's job as Vanilla Ice was to introduce KU's mimickers of "New Edition" — that is Thomas Robinson, Elijah Johnson, the Morris twins and Travis Releford.
Emcee was former KU and NBA power forward Scot Pollard, who showed up wearing a tuxedo, white shirt and bow tie. Pollard ripped off his coat and tore open his shirt, revealing a black fake-tuxedo shirt.
2009
The 25th-annual Late Night included KU one-and-done player Xavier Henry making his hoops debut and dance debut. He wore a huge afro wig during a number. An all-star cast of recruits watched the action, including Royce Woolridge, Josh Selby, Josiah Turner, Doron Lamb and Harrison Barnes. Mario Little may have been the best-dressed Jayhawk in a number with slick black slacks, a bright red shirt and suspenders. Jeff Withey wore old short-shorts in a 1988 skit.
2008
KU unveiled its national championship banner to the delight of the fans. The thunderous ovation during the banner presentation had to be one of the loudest moments in fieldhouse lore.
2007
Players were driven to the fieldhouse in a Corvette, Infiniti, Mercedes-Benz, Lexus, BMW, Hummer, Avalanche and stretch limousine onto a Red Carpet for interviews with "Survivor" winner and KU grad Danni Boatwright.
2006
The junior class of Jeremy Case, Sasha Kaun, C.J. Giles, Darnell Jackson, Russell Robinson and Rodrick Stewart "waltzed" their way to an American Idol dance competition victory over the Jayhawk sophomores, who "tangoed," and freshmen, who twirled to the "swing" in front of judges Self, Danny Manning and Aaron Miles.
"I don't know if dancing can be a highlight, but I think the guys actually did a pretty good job dancing with the young ladies," cracked KU coach Self, not enthralled with the squad's 20-minute intrasquad scrimmage won by the Blue team, 26-23.
"The waltz, the jitterbug, the tango. We just try to educate our guys. You get the full cultural experience at Kansas," Self added.
2005
For the first time ever, the festivities started at 6:30 p.m. instead of 10 or so according to new NCAA rules.
2004
Tuxedo-clad seniors Keith Langford, Michael Lee, Miles and Wayne Simien bowed their heads reverently while grasping KU's 1988 national-championship trophy at the conclusion of a dramatic skit.
"It wasn't like it was a fun thing. It (skit) was a serious matter," KU senior guard Miles said of the Fab Foursome answering a series of questions from 1988 title winners Manning and Mike Maddox before being allowed to touch the trophy.
The Jayhawks hoped it'd be a sign of things to come, another national title. Didn't work out as planned.
2003
Bil Self's first Late Night took on the name, "Late Night in the Phog."
Self received a thunderous ovation after a showing of a highlight video of the coach's introductory press conference. 
"I have been in some loud places," former Illinois coach Self said, "but that place got pretty loud there for a bit. That was a little bit overwhelming."
The fans also rocked the building when the 1988 title team, led by coach Larry Brown, was introduced. 
2002
KU seniors Nick Collison and Kirk Hinrich stole the "Mardi Gras"-themed show, Collison playing volatile Texas Tech coach Bob Knight in one skit and Hinrich portraying Missouri coach Quin Snyder in another.
"It was the most fun I had in my four years," Collison said.
2001
Freshmen Simien, Lee, Miles, and Jeff Hawkins serenaded their mothers in a song and dance that coach Roy Williams didn't enjoy. 
Williams said he couldn't hear anything because of a faulty fieldhouse sound system. Late Night had a patriotic theme coming a month after the horrific events of Sept. 11, 2001. The sound system was improved by the next October, by the way.
2000
Drew Gooden sat in a canoe with John Crider as the canoe was pulley-ed across the fieldhouse floor. Jeff Carey, who showed with a wavy head of hair instead of his trademark crewcut, had teammates shave his head under the south goal. The canoe bit was funny, but took longer than expected to shave Carey's moptop.
1999
Big men Eric Chenowith and Carey played electric guitar as Collison sang vocals for the Limp Bizkit song, "Faith."  They were joined by a drummer in the KU band.
1998
The theme was "Night at the Naismiths" — an awards show in which guest judges rated acts and presented not an Oscar, but a "Naismith'' to the winners. 
Ever-athletic Kenny Gregory rammed several windmill dunks during a warmup drill. The show may have been a bit corny, but nobody told that to KU coach Williams, protective of his Late Night skits.
1997
A transfer from LSU, Lester Earl wore a black leather jacket in a spoof of 1950s music. Earl had some vicious dunks, as did Gregory and Paul Pierce in a pre-scrimmage dunk-athon. Also, Ryan Robertson had a big role in a skit as host of the game show, "The Price Is Right."
1996
Pollard became the first basketball player in KU history to score 14 points, grab seven rebounds and block four shots while wearing bright red polish on all 10 fingernails.
"Revlon Vixen" was the eccentric player's color of choice. 
That's the night Pollard proposed marriage to his girlfriend, who accepted, by the way.
1995
Fans showed early for the Saturday night event which started when former KU football coach Glen Mason took the court and yelled, "Live from Allen Fieldhouse, it's Late Night With Roy Williams." 
Now a color analyst for the Big Ten network, Mason has said one of his favorite moments at KU involved the reception he received at that Late Night. Earlier that day KU had won a football game during a 10-2 season.
1994
Baseball Hall of Famer George Brett and golfing great Tom Watson joined ex-Royals' center fielder Brian McRae and ex-KC Chief defensive back Deron Cherry as honorary coaches. Brett and Watson appeared to have a blast, not minding the late hour. It's the only year guest coaches were used.
1993
Fans dressed as their favorite TV sitcom characters before the scrimmage. The Lone Ranger, Silver, Tonto, Gilligan's Ginger and Granny Clampett all were on hand. This Late Night marked the debut of freshmen Jacque Vaughn, Pollard, B.J. Williams and Nick Proud, as well as Cal transfer Jerod Haase. Proud didn't last long at KU, but the other guys were part of many victories.
1992
Nobody has had more fun at Late Night than 7-foot-2 giant Greg Ostertag, who showed up in a Frankenstein monster outfit. Roy Williams' entrance was followed by a ribbon-cutting ceremony for the new fieldhouse floor. Even though Late Night was televised, the TV show drew poor reviews.
1991
Williams decided Late Night would be better suited on a Friday night, not Monday, the first day KU could practice in accordance with NCAA rules. Controversial move at the time, but a smart one, made so he could bring recruits to town for the made-for-recruiting event.
The fans responded, packing the building. The announced attendance was 15,800. Pre-scrimmage hoopla was highlighted by freshman center Ostertag, who lip-synched a Garth Brooks tune.
1990
More than 13,000 fans showed to see the Jayhawks dance and scrimmage after a long Sunday of pro football, including a Chiefs' home game against Detroit. During the scrimmage, current San Francisco coach Rex Walters scored 16 points and amazed the crowd with some violent dunks.
1989
A $5 admission fee was charged to pay for two bands, who performed on a massive sound stage. Maddox, Rick Calloway, Freeman West and Jeff Gueldner lip-synched the song, "Simply Irresistable," which was big-time funny because of a truly huge sound stage in the north end zone.
A lot of fans came to see the bands evidenced by the smell of marijuana during the concert portion of the show.
Suffice it to say, admission was never charged again and no bands besides the KU pep band, ever played at Late Night again.
1988
Williams' first Late Night — it was called "Later With Roy Williams" — drew 10,000 fans. Alonzo Jamison brought down the backboard on a pre-scrimmage dunk, thrilling the attendees, but delaying the proceedings. After the new goal was in place, Milt Newton led the Blue team to a 36-35 victory as he scored 16 points.
Amazingly, Williams, a rookie coach in '88, became a Hall of Fame inductee less than 20 years later.
1987
Current Tulsa head coach Manning and teammate Scooter Barry sang The Temptations' song: "My Girl." The normally reserved Manning was willing to grab center stage prior to his senior season.
KU went on to win the national title. 
1986
"Late Night With Larry Brown" became a major happening in 1986, thanks in large part to its namesake, Late Night With David Letterman. One-time Letterman foil Larry Bud Melman visited Lawrence for the early Wednesday morning scrimmage, first signing autographs at 7 p.m. at the Burge Union.
1985
KU's inaugural "Late Night With Larry Brown" was not a big deal.
It attracted 6,000 fans. 
"It was fabulous. I was thrilled with the students," Brown said of the fans who showed at 12:01 on a Tuesday morning.
Many of the students wore T-shirts that read, "Late Night With Larry Brown. Starring the 1985-86 Kansas basketball team … all the way to Dallas."
That KU team, prophetically, did reach the Final Four in Dallas. Current Jayhawk coach Self was a grad assistant on that team.
"We had a guy named Jerry Johnson on that team," Self said of the 6-foot-7 freshman from Omaha, Neb. "The seniors, who were led by Calvin (Thompson), told Jerry Johnson they wanted him to lead us out on the court for Late Night. Everybody was all excited, jumping around. When it was time to go out there, he runs out full speed and nobody else is with him. He was the only guy on the court. It was a little joke on the freshman."