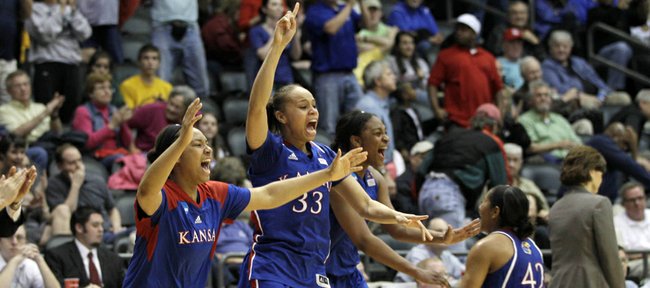 Kansas University junior forward Tania Jackson is ready for a stress-free Selection Monday, especially after having to suffer through an uncertain one last year.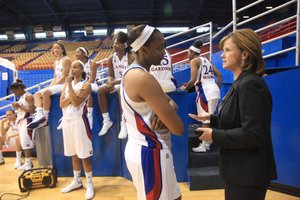 Podcast episode
Kansas women's basketball coach Bonnie Henrickson talks to reporters during KU media day on Oct. 9, 2012.
"I want to jump up and be crazy, but I don't want to be sweating and nervous with my head down, like, 'Oh my gosh. We're not going to make it. We might not,'" Jackson said during Tuesday's KU women's basketball media day. "I would love to just relax."
The Jayhawks, after being selected for the NCAAs a year ago, made the most of the opportunity by making a run to the Sweet 16 as an 11-seed.
The goal this year, though, is to make it easier on themselves, and coach Bonnie Henrickson believes her team's improvement needs to come in Big 12 play.
Last year, the Jayhawks posted a 21-13 record overall and an 8-10 record in the Big 12, tying for sixth in the 10-team conference.
That actually was the highest league finish Henrickson has had in her eight years at KU, though the Jayhawks' ambitions are higher this year with two All-America candidates — guard Angel Goodrich and forward Carolyn Davis — returning for their senior seasons.
"I think there's three or four of us in a battle for second, third and fourth (in the conference)," Henrickson said. "And I think it's close."
Davis, who is back to practicing after suffering a dislocated knee and torn ACL last season, also is expecting more.
"I think if we really go into the Big 12 pushing it and playing the way we played in the tournament," Davis said, "there's no way we should finish lower than second."
KU will have to replace departed forward Aishah Sutherland — Henrickson called her one of the most talented players she's had in Lawrence —but will get a boost with a healthy Davis.
The Jayhawks also welcome a pair of newcomers: 5-6 freshman Lamaria Cole, a speedy guard Henrickson says can get into the paint; and 5-9 junior juco transfer Markisha Hawkins, who has shown an ability to get offensive rebounds in early practices.
Henrickson also believes that KU still can grow defensively. The coach has heard recently from former players telling her that she's become soft and that her teams don't defend like they once did.
"We've got to guard better," Henrickson said. "It just eats me up."
Henrickson has made defense an emphasis early, talking to the team about it before each practice.
Jackson has already heard about KU's poor defensive field-goal percentage stats — among others — from a year ago. The Jayhawks were last in the conference, allowing opponents to make 40.6 percent of their shots.
"I didn't know we were that bad. I kind of thought that we were kind of good," Jackson said. "I felt like our defense is what made us go so far in the tournament.
"I think it was a shocker for me. It's just something that's an eye-opener and something to focus on."
Henrickson said the underlying goal is for the seniors to "go out with as big a pop as possible."
That includes guard Monica Engelman along with Goodrich and Davis.
"You don't want it to end, but eventually it's going to end," Goodrich said. "You just want to make it the best year of your life."