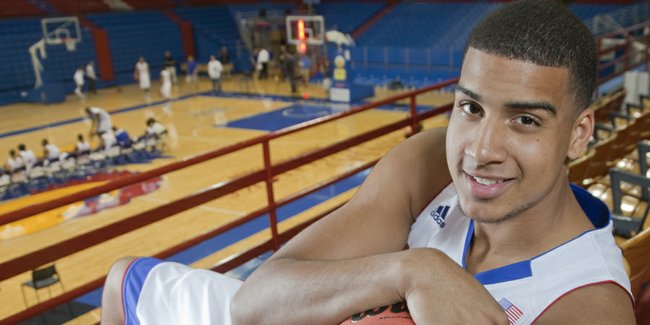 Kansas freshman forward Landen Lucas will sit out Friday's season-opener against SE Missouri State in order to keep a red-shirt option open, KU coach Bill Self said at his weekly press conference Thursday.
"Landen will not play (Friday). He may not play Tuesday, because he's definitely a guy that we are strongly considering red-shirting," Self said. "We visited with Landen and his family about it, and they are in agreement with that. It's not 100-percent sure, because he could still play two weeks from now, but our thinking is, right now, put a red shirt on him."
Lucas, a 6-foot-10, 240-pound native of Portland, Ore., averaged three points, 4.5 rebounds and 7.5 minutes in KU's two exhibition games at Allen Fieldhouse.
Self was asked if a red-shirt year would be used to work on Lucas' body.
"It's to really replace age 23 with age 19," Self said. "He's going to be a much better player then than he will be now. You don't red-shirt guys that you don't think can play, because I do think he does have a future here impacting our ballclub."
Self also said freshman forward Zach Peters was feeling a little better, but he was definitely still out of practice with a shoulder injury.
"I'm not going to make a decision now on what we'll do with Zach, but if he can't get back soon, we have no choice but to red-shirt him," Self said, "because he'll be so far behind, he won't be able to catch up."
Self also confirmed senior forward Kevin Young will not play Friday because of a broken hand. He's scheduled to return to practice this weekend.