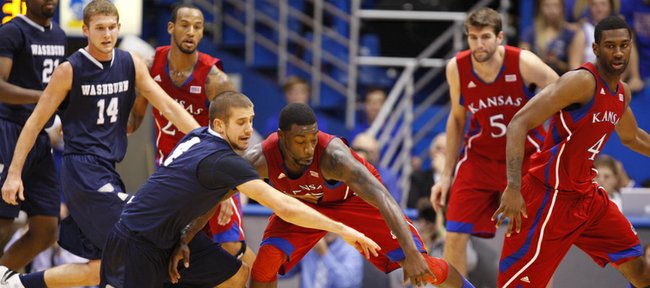 One of the reasons Kansas University's basketball team scored just 62 points while hitting 43.5 percent of its shots Monday night against Washburn is the Jayhawks' refusal to attack the basket.
Let coach Bill Self explain ...
"Last night, the ball touched the paint off the bounce nine times in the game. Tyshawn would touch the paint nine times the first 10 minutes," KU coach Bill Self said Tuesday on his weekly Hawk Talk radio show. He was referring to ever-aggressive former KU point guard Tyshawn Taylor, who started four years, graduated in May and now is a backup with the NBA's Brooklyn Nets.
"You've got seniors out there — Elijah (Johnson), Travis (Releford) and Jeff (Withey) — not aggressive," Self said. "You dribble side to side? Big deal. You don't put pressure on anybody.
"We take that stuff from Tyshawn for granted. He shot more free throws probably than any guard in the country last year (137 of 199 for 68.8 percent in 39 games) because he'd get in there and they'd have to foul him or he'd get a guy an easy basket. How many easy baskets did our guards get our big guys last night? It didn't happen. That's correctable. I just think we were so passive last night."
Self, who gave his players a day off Tuesday with two full days of work ahead in advance of Friday's regular-season opener against SE Missouri State (7 p.m., Allen Fieldhouse), will have plenty of teaching points from film of the 62-50 win over the Ichabods.
"You watch our team play and you see athletic ability but you see us not play to it. You see guys that can drive the ball but don't see anybody ever touch the paint off the bounce," Self said.
"We are an awful screening team, just horrific. One thing we do fairly well — knock on wood — is first-shot defense, but we don't rebound it. What good does it do to have great first-shot defense if you don't rebound the ball?"
KU outrebounded the Div. II Ichabods, 40-39.
"Washburn beat us 9-to-5 on 50/50 balls. That can't happen. They stole four more possessions than we did just off that," Self said.
Self likes the Jayhawks' chances of improvement in all areas of concern.
"The biggest thing with us is to make sure our fans know I really like these guys. I think we'll be good. We're just so young. We're ridiculously young," Self said. "To be real candid with you, our seniors are playing like freshmen and sophomores. They should be the guys carrying the load and are not yet, but they are capable of doing that."
Senior Jeff Withey had nine points, eight rebounds and seven blocks, Elijah Johnson 13 points, five assists and four turnovers and Travis Releford seven points, four rebounds, three assists, two turnovers and two steals.
"I'm not concerned about it," Self said, "but I do think it's time for them to step up. It's pretty nice when you have a bailout guy like Thomas (Robinson, Sacramento Kings) or Tyshawn. We don't have a bailout guy. Those guys have to produce.
"When your two best offensive players are freshmen (Ben McLemore had 17 points; Perry Ellis 10) ... that's not a good sign when you return three starters off a national championship finalist team. Those guys have got to do a little better and they will."
Still sidelined: KU freshman Zach Peters, a 6-9, 240-pound power forward from Plano, Texas, has not been able to practice this season because of a rotator cuff injury in his left shoulder.
"Well, you know it's getting to the point with Zach ... I'm not being negative at all, but he's so far behind I don't know even when he is able to come back, I can't bank on him being ready in two weeks," Self said. "We are going to go with the guys we've got. I certainly think we are plenty good enough. We just have to play smarter and execute better."
Recruiting: Dakari Johnson, a 6-10, 265-pound center from Montverde (Fla.) Academy, has officially reclassified to the recruiting Class of 2013.
Makini Campbell, Dakari's mother, told jayhawkslant.com that, "Florida, Georgetown, Kansas, Kentucky, Ohio State and Syracuse have expressed interest in Dakari. However, our focus right now will be on Dakari's academics and his high school season. We will evaluate his college opportunities but will wait until the season is over before taking any official visits. Right now, I just want to keep him focused on school and his team." He was the No. 5-rated player in the Class of 2014 by Rivals.com.