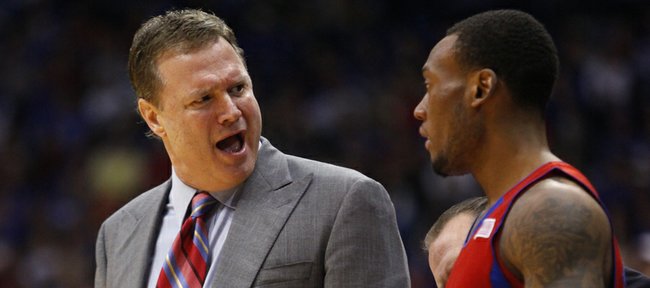 Photo Gallery
KU v. Washburn basketball (exhibition)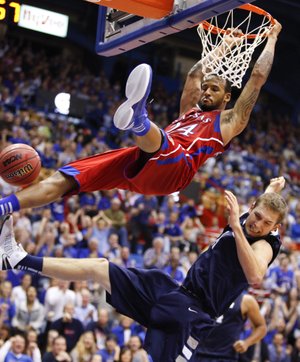 Images from Monday night's game against Washburn.
Podcast episode
Kansas coach Bill Self talks to reporters following the Jayhawks' 62-50 victory over Washburn.
Podcast episode
Elijah Johnson, Ben McLemore and Perry Ellis talk to reporters following the Jayhawks' 62-50 victory over Washburn on Nov. 5, 2012.
Document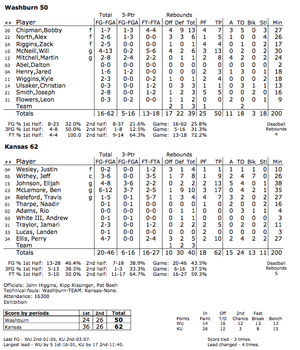 If you should happen to run into one of Bill Self's basketball players on campus or in town Tuesday, make sure to say something nice to him. You can bet his coach won't beat you to it.
"We played like little babies tonight," Self said during his post-game radio interview after an unsightly 62-50 exhibition victory against Washburn University, a very good Division II basketball team.
Who knows what Self might have said if not for FCC regulations. (Consult the late comedian George Carlin's signature routine for hints.)
If you see Elijah Johnson, remind him that without him, Kansas gets bounced from the NCAA Tournament by Purdue after Tyshawn Taylor cramps up. Let Jeff Withey know he holds the record with 31 blocked shots in a single NCAA tournament.
Let Travis Releford know that you know he scored 28 points against Oklahoma a year ago.
Tell Perry Ellis that although his 10 points, five rebounds, two blocked shots and two steals came in handy, it was his coast-to-coast ball-handling punctuated by an and-one, left-handed layup, and when double-teamed, his back-to-the-basket feed of Jeff Withey for a dunk that really caught your attention.
Inform Ben McLemore that when he scored 13 of his 17 points, took a charge and picked up a steal in a stretch of 5:22 late in the first half, things happening on the court didn't make you want to retch.
The players probably could stand to hear some words not colored blue and delivered with a crimson face. Pity the poor players at practice Tuesday. They put their coach in an absolutely miserable mood for two hours Monday night and Tuesday's practice is his chance to exact revenge with the regular-season opener lurking Friday night against Southeast Missouri State.
You didn't like that you had to sit in the top row Monday night? Well, at least you won't have to touch the top row after running the Allen Fieldhouse steps Tuesday. Can Self's players be sure of the same?
The Jayhawks committed an astonishing 24 turnovers and not one of those could be blamed on Dayne Crist.
The team that looked like in mid-season form against Emporia State in the exhibition opener, whipping the ball from one side to the other and back to the original with decisive passes that left the defense gasping to catch up, looked as if it wanted to make it so much harder on itself by dribbling and hurrying its way into giving the ball back to the Ichabods from Topeka.
The beauty of talent on display for stretches of the first half when freshmen scored 26 of KU's 36 points gave way to the bane of inexperience in the second, when the frosh combined for seven of 13 turnovers.
Freshmen frustrate coaches. It's unavoidable. But they can't anger coaches to the same depth as seniors who play like freshmen.
"What did Jeff and Travis and Elijah do to help the young guys change it?" Self asked rhetorically.
Well, not much.
Maybe it's difficult for players who made it all the way to the NCAA title game to get up for an exhibition game, but with a performance so shoddy it turned the fieldhouse volume into the same level as the library at a Trappist monastery so fresh on their minds, the players shouldn't have any trouble bringing laser focus to the season-opener.
"I think it's perfect we can go into the season and get their attention a little bit," Self said. "We have a big game Friday and a huge game Tuesday (against Michigan State in Atlanta). If we play this soft a week from now, we're going to get a knot put on our head, big-time. Usually, guys in this program rally around this, and I'm sure these guys will."
When they do, they'll pass the basketball to each other, instead of dribbling it off the other guys' feet or their own, and the fieldhouse will come alive again, louder than ever.