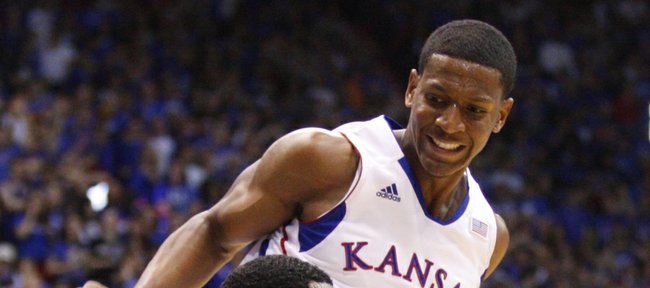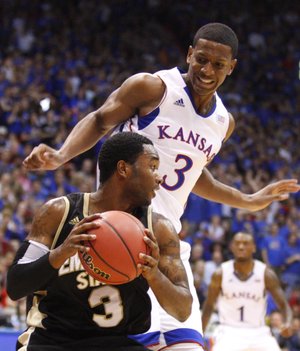 Before Tuesday's exhibition against Emporia State, Kansas University freshman guard Andrew White had never played in a game with his name on his uniform.
That made it even more significant that he decided to add an extra tribute — a "III" following "White" — just a few weeks before the season began.
"Not everybody can do this, because not everybody is third generation," said White III, a 6-foot-6, 210-pounder from Chester, Va. "So I thought it was a good opportunity to show off my family. It's a great feeling to carry my dad and my grandpa's name."
White — his full name is Andrew Jackson White III — came up with the idea a couple months ago, contacting KU men's basketball sports-information director Chris Theisen to see if it would be possible. Theisen passed the idea to assistant athletic director for equipment Larry Hare, who received final approval from KU coach Bill Self.
By the end of that day, White was able to phone his parents, Andrew Jr. and Sheryl, to let them know about the change.
A few weeks later, when White received his uniform, he sent a picture along to his father, a housing developer back in Chester, which is close to Richmond.
"He doesn't have a whole lot of emotion, but I know he liked it," White III said. "He said it looked good."
Indeed, Andrew Jackson White Jr., and Andrew Jackson White Sr., were humbled by what was much more than a fashion statement on a jersey.
"He carries that legacy and is proud of it," Andrew's granddad, an 80-year-old retired Baptist pastor, told the Journal-World in a phone interview from his home in Petersburg, Va.
"The way he carries himself and goes about things ... he has an appreciation for the legacy. He accepts it, appreciates it and wants to extend it. He is family-oriented, and our family has been family-oriented. We take great pride in the name and what it means, what it stands for. What he has on his jersey carries that family tradition."
The name Andrew Jackson White is huge in Petersburg. The football field at Petersburg High is named in honor of Andrew's granddad, as well as a wing in a children's home in Chesterfield, Va., and an endowment at Virginia Union University.
"We've always tried to teach him to do the right thing, to be considerate of others. This might be an offshoot of that," said Andrew Jr. "He ran it by me about the time they went to Europe (in August). I said, 'If that's what you want to do, whoever you want to be.' His mom got a kick out of it. We all did in watching the exhibition game on TV the other night."
White III credits his father — a shooting specialist in his college days at Div. II basketball Morehouse College — for helping him grow as a player. Just last month, when White III returned home to see his family, he shot with his father at a local gym past midnight.
"That's just the kind of influence he's had on me to play ball," White said of his papa. "I think this 'third' on my jersey is the least way I can show some respect to my dad."
White also remains close with his grandfather, who traveled to most of his high school games.
Andrew Sr.'s latest endeavor, White III said, has been searching for KU basketball stories on the Internet.
"I'm glad to have grandfather in my life right now," White III said. "That's another reason why it meant a lot to me is because my grandpa is going to witness me with his name on my jersey. I think it's great."
White III, who has impressed reporters with his polite demeanor since his arrival to KU last summer, heeds the family mantra.
"Our basic philosophy is, 'Life is God's gift to us. What we do with that life is our gift to God,'" the oldest White said. "We believe in that. Whenever we climb, we lift somebody else, too. We are dedicated to helping people. It's the philosophy of our family."
By the way, White's two siblings are: Andrias Jackee White, a 22-year-old magna cum laude graduate of George Mason University, and Andrien Jaire White, 15, the names all related to the family legacy. Andrew Jr.'s sister is named Andrea.
On a humorous note, White III admits the Roman numerals on his back have only added to his No. 3 theme.
"It just so happened I picked (No.) 3, I'm the third, and I shoot three-pointers," White III said. "I guess there can be some fun in that."
"He likes to shoot the three-pointer, too, by the way. They (fans) can call him 'Trey' or 'Andrew III,'" joked granddad, who was nicknamed 'Trees' in high school because he stood 6-foot-2. Andrew Jr. is 6-4 and KU's Andrew 6-6. "We're looking forward to watching him play at Kansas. He wanted to go there to further his development as a person and player. He could have gone to 45 others."
"We just want him to be responsible to who he is," Andrew Jr., added, noting the family now consists of all Jayhawk fans.
White, who scored 10 points (2-of-4 from three) and had five rebounds in the exhibition opener vs. ESU, will next take the court versus Washburn in a second and final exhibition game at 7 p.m. Monday in Allen Fieldhouse.
— Assistant sports editor Gary Bedore contributed to this report.