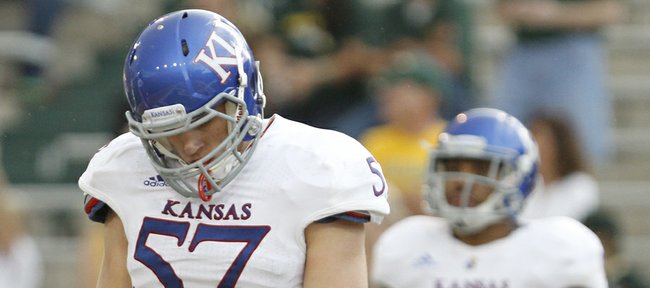 Podcast episode
KU coach Charlie Weis talks after his team's 41-14 loss to Baylor on Nov. 3, 2012.
Box score
Waco, Texas — Three years and 18 days ago, Kansas University quarterback Todd Reesing suffered a groin injury, and that's when it all started.
The coaching carousel. The musical quarterbacks games. The fall all the way back to the bottom of the Big 12 and the losing streak that follows the Jayhawks every time they leave Lawrence.
We hear all the time from athletes that groin injuries have a way of lingering, but this is getting a little out of hand.
The last 20 times Kansas has played a football game away from its campus, the Jayhawks have lost.
Saturday's had a few memorable twists, such as a 45-minute lightning delay that made halftime last 65 minutes and a rich rainbow in the distance as the game inched toward its predictable outcome of Baylor 41, Kansas 14. All 20 losses have stamps that enable distinguishing one from the next, but they all end the same, with a quiet trip back to Kansas.
Three losses were to Missouri in Arrowhead Stadium, two apiece in Ames, Iowa, Austin, Texas, Manhattan and Waco and one apiece in nine other cities. The 0-20 traveling woe show has played in 10 states: Colorado, Georgia, Illinois, Iowa, Kansas, Mississippi, Missouri, Nebraska, Oklahoma and Texas. Fifteen of the losses have been by double digits, seven by margins of 40 or more points.

Three different coaches have headed the KU program during the streak: Mark Mangino (0-5), Turner Gill (0-11), Charlie Weis (0-4 and counting).
Five different quarterbacks have started games during this recurring nightmare: Reesing (0-5), Jordan Webb (0-9), Quinn Mecham (0-2), Dayne Crist (0-2) and Michael Cummings (0-2).
Reesing wasn't the same after his groin injury, his mobility and hence his magic stolen, but even a diminished Reesing did far more to spark an offense than any of his successors.
In a particularly embarrassing half for the pass-challenged Kansas offense Saturday, the Jayhawks couldn't score a point against the defense ranked dead last in the nation coming into the weekend. It doesn't get any worse than that, unless it does Saturday in Lubbock, where Texas Tech awaits, eager to rinse away the taste of Saturday's loss to Texas.
KU coaches will study film with the players, try to fix some things, study film of the Red Raiders, try to find some weaknesses to exploit and prepare a game plan. That's what they do. Equipment men will load the bags and the balls, the game uniforms and the pads, and drive it to the flat-in-every way west Texas town because that's what they do. A pilot and co-pilot will fly the team to Lubbock, the players and coaches will check into a hotel, and Saturday afternoon the Jayhawks will walk off the field under a scoreboard they won't like because when they leave home, that's what they do.
Their home record (1-4) hasn't been much better, but their efforts have been. The same competitive edge they have demonstrated in Memorial Stadium somehow doesn't make the trip with them.
Too often Saturday, such as for the entire second half, Kansas had the look of a desperate football team. It never looked more pathetic than when holder Blake Jablonski rolled left to try to run 10 yards for a first down on a fake doomed from its inception. The team's fourth-string quarterback was thrown for a one-yard loss and the score remained Baylor 17, Kansas 7. We'll never know if Nick Prolago could have made it 17-10 by kicking a 30-yard field goal into the wind over the bar and between the uprights. We only know it wouldn't have been enough to make a difference.
Still, that doesn't change the vibe that the move smacked of desperation for a team that hasn't thrown a single touchdown pass in the past three games and doesn't have a TD reception from a wide receiver all season.
Was that the play that was called?
"It was actually a play that I thought if you had the look, go ahead and do it," Weis said. "I thought that we would kick the field goal, just based off of the look. Supposedly, that's what they were expecting. I thought we were going to check out of that play and kick the field goal, but that is not what happened."
Was it supposed to be a rollout to the left side?
"The play was to roll to one side or the other, based on the look," Weis said.
Jablonski was requested by at least one member of the media, but was not included among the players made available for post-game interviews.
The mere fact a holder was requested for an interview in a game decided by a margin of 27 points reveals the desperate need for this tired road script to change.