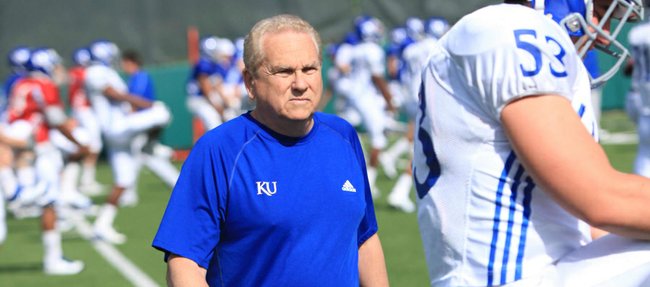 Kansas senior cornerback Greg Brown paid special attention to defensive back Terence Newman growing up as a Dallas Cowboys fan in Cedar Hill, Texas.
There was good reason for that.
"My dad used to always tell me that I remind him of Terence Newman when I played," Brown said with a smile, "so he told me to look at him."
In high school, Brown would observe Newman closely on TV, trying to copy his movements to improve his own game.
The crazy thing, Brown says, is that the coach who helped Newman with his technique — Dave Campo — is now the one working with him at Kansas.
"I already knew who Dave Campo was when they announced it," Brown said. "It had me excited to know that I was going to have a coach like that come in and coach me."
Before arriving in Lawrence this year, KU's new defensive coordinator Campo had spent 18 of the last 23 years with the Dallas Cowboys.
He'd also had high-profile positions there, as defensive coordinator from 1995-99 and head coach from 2000-02.
With those positions comes a lot of media exposure, and that means Campo came to KU with a lot of credibility — especially for those players on the roster who grew up in Texas.
"His name is a legend. In Texas, growing up, it's 'Dave Campo,'" said KU junior cornerback Tyler Patmon, who grew up in Round Rock. "It's just very known. Just knowing who he is, I just have a lot of respect for him."
Whenever Patmon made calls home in the spring, he frequently received the same questions from father and grandfather: "What's it like to play for Dave Campo? What's he like?"
His response: "I say he's a great coach," Patmon said. "Everything you see, everything you hear about him is exactly right. He's a great man."
KU senior safety Bradley McDougald said that early on, Campo did a good job of taking the time to connect with his players.
Having said that, Campo won't hesitate to get on his players when he needs to.
"He's a laid-back coach, but at the same time, when (you mess) up, he's going to call you out about it, and that's what I love about it," McDougald said. "He's a down-to-earth person. He always says he likes to laugh at things. He's not a robot. He's not a stickler. If something's funny, he's going to laugh.
"But if you do step out of line, he's going to get you right back on track."
That happened with McDougald in the spring, when Campo called him out in front of his peers.
"He pulled me to the side (later), and he let me know it wasn't a personal thing," McDougald said. "It was something that the younger guys needed to see. If I'm an older guy and I'm going to be a leader, then I need to be accountable all the time."
Patmon also was singled out by Campo a few times earlier this spring.
"It's great, because like I said, it's Dave Campo. You're going to listen to every word he says," Patmon said. "When you mess up in a practice or a rep, and he comes and talks to you, you listen, because it's not really a butt-chewing, but more of a 'learn a lesson.'"
Brown said Campo's correcting players in front of their peers seemed to be working.
"If you're doing something wrong or you're loafing, he calls it out," Brown said. "He lets it be known not only to you, but to your teammates. It makes yourself have responsibility to not let your teammates down and to keep fighting hard to not mess up on the same thing."
For his part, Brown is trying to squeeze the most out of his one year with Campo.
He often asks the coach questions about cornerback play, trying to learn as much as he can from the man who helped mold his favorite player.
Brown said he knows, no matter what Campo says, it's in his best interest to listen closely.
"He packs a punch just off his credentials, off of who he is," Brown said. "You know (he knows) what he's talking about. When he says something, you know it's fact."