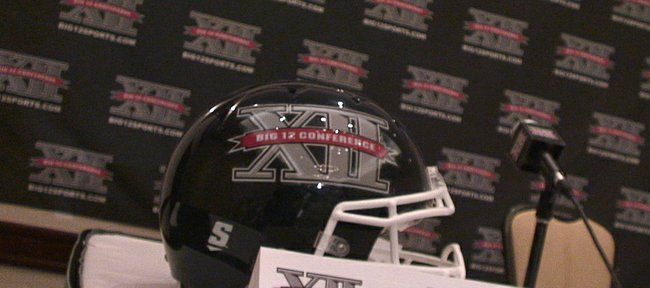 The Big 12 and the Southeastern conferences have announced a deal that will pit their football regular-season champions against each other in a New Year's Day bowl game for five years beginning in 2014, positioning themselves for the expected switch to a four-team playoff.
In fact, SEC Commissioner Mike Slive all but said it's coming in Friday's announcement of the agreement between two of the most successful BCS conferences.
"A new January bowl tradition is born," Slive said in a statement. "This new game will provide a great matchup between the two most successful conferences in the BCS era and will complement the exciting postseason atmosphere created by the new four-team model. Most importantly, it will provide our student-athletes, coaches and fans with an outstanding bowl experience."
If one or both of the league champions are selected to play in the playoff, another team would be selected for the Big 12-SEC bowl showdown on Jan. 1.
The move will establish the equivalent of the Pac 12 vs. Big Ten Rose Bowl, minus nearly a century of tradition. Those two conferences have pushed for a new format preserving that matchup for the Rose Bowl, which Slive has indicated he doesn't favor.
"Our goal is to provide the fans across the country with a New Year's Day prime-time tradition," acting Big 12 Conference Commissioner Chuck Neinas said. "This is a landmark agreement between two of the most successful football conferences during the BCS era to stage a postseason event. The creation of this game featuring the champions of the Big 12 and SEC will have tremendous resonance in college football."
Specific details for the matchup, including host sites, will be announced later.
BCS executive director Bill Hancock has said 11 conference commissioners and Notre Dame's athletic director will present a "small number" of options — two to seven configurations — for a four-team playoff to their leagues at conference meetings this summer.
SEC teams have won the past six BCS national titles, including Alabama's victory over LSU in January. The Big 12 and SEC have each had a top-four team in the final standings in 11 of the 14 seasons since the BCS was created, the most of any league. They share the top spot with 14 teams apiece finishing in one of those four spots.
The two league champions have met twice in BCS bowl games since 1998, both in BCS championship games. In 2010, Alabama defeated Texas, 37-21, in Pasadena, Cal., and in 2009 Florida defeated Oklahoma, 24-14, in Miami.
The move is especially noteworthy for the Big 12, which was scrambling to hold itself together just two years ago after losing four teams.
Nebraska left for the Big Ten, Colorado went to the Pac-12 and, as of July 1, Missouri and Texas A&M; will be in the SEC. The Big 12 is adding TCU and West Virginia this year to remain at 10 member schools.
"This agreement reinforces that the Big 12 is exactly what we've been saying for some time — a strong, stable, vibrant conference that is at the forefront of intercollegiate athletics," said Dr. Sheahon Zenger, Kansas athletic director.
Jayhawks coach Charlie Weis agreed.
"What a great day for the Big 12," he said, "To be matched with the champion of the SEC places the two most successful conferences in the BCS era head-to-head. All Big 12 fans should be happy today."