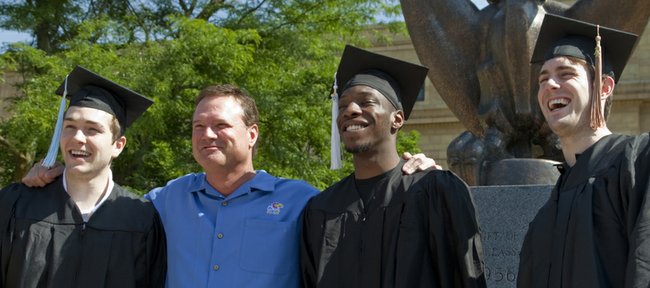 Refreshed after last week's golf excursion to Cabo San Lucas — and energized after watching three of his Kansas University basketball players graduate on Sunday — an upbeat Bill Self returned to work bright and early Monday.
"I love it here," Self said Tuesday afternoon, acknowledging he's eager for his 10th season as Jayhawk coach to officially begin with the start of summer school classes on June 5.
He's not the only member of his family rather fond of KU.
Self on Tuesday was pleased to report that his youngest child, Tyler, will join daughter, Lauren, as a member of KU's student body. Free State High graduate Lauren is a senior-to-be; fellow Firebird Tyler an incoming freshman.
"Tyler has made a decision to attend the University of Kansas. He'll be coming to school here, following in his sister's footsteps," Self said with a smile.
Tyler, a starting guard on the FSHS basketball team, may yet join KU's team as a walk-on.
"I've opened the door for him to do that, but he hasn't made a decision yet if that's what he wants to do or not," Bill Self said. "I like the fact he would even consider it. At this point in time, he doesn't know. He is going to be a Phi Delt. He wants to be a normal college kid. If he wants to come and walk on, he may have to adjust that a little bit. As of right now, he's not decided to do that (play for KU)."
Some exciting news about the program was released last week while Self was on vacation. The Jayhawks will be headed to Switzerland and Paris for four exhibition games Aug. 6-14.
"We've elected to wait to go over Labor Day the last two times," Self said of KU's two past trips to Canada, "because that way incoming freshmen could go. They just changed the rule that incoming freshmen can go in the summer before school starts. It seems to me it's a much brighter move and will not make the season any longer by going early in August, then giving the kids two to three weeks off."
Staff opening: Self has an opening on his staff for director of basketball operations.
"I haven't interviewed anybody, but I do plan on giving it some attention and hopefully get something done in the next couple weeks," Self said. "I've got a guy or two in mind that I think would fit our needs and provide some things that would benefit our staff. It's going to be a situation I'll definitely hire somebody that I know."
He said Brennan Bechard (assistant director of basketball operations) and Jeff Forbes (video coordinator) would return "in a similar capacity that they are at present."
Recruiting: Milton Doyle, a 6-foot-4 senior guard from Chicago's Marshall High, completed his campus visit to KU on Tuesday. He left town without a scholarship offer. His mom, Lisa, indicated the family would consider all options, including looking at other programs. He's heard from Nebraska and Colorado State with several other schools calling her Monday after news leaked out of KU's interest.
"All I know is he loves Kansas," Lisa told the Journal-World, indicating he would have committed had he received an offer.
Why no offer to the unranked Doyle? KU will likely have no scholarship space if former South Carolina forward Damontre Harris chooses KU over Florida sometime this week. KU currently has 11 players on scholarship, not counting Justin Wesley, who received a scholarship last year because one was available.
A commitment from Harris, combined with an oral commitment from Anrio Adams, a 6-4 guard from Seattle who has not yet qualified, would put KU at the NCAA maximum 13 scholarships. It's believed Adams will not sign a letter-of-intent today — the final day of the early signing period — as he and the Jayhawks await his test scores. One does not have to sign a letter to play college ball.
Self on SMU: Self spoke about former KU coach Larry Brown and former KU assistant Tim Jankovich taking over at SMU. Brown is head coach; Jankovich coach in waiting.
"I spoke to both today. I'm really happy for both," Self said. "I think they'll be a great tandem. I think they'll have a lot of fun down there and I think they'll win a lot of games."
Noonball to return?: It's believed former KU guard Terry Nooner will soon be named assistant coach on Bonnie Henrickson's KU women's staff. Nooner worked last season as an assistant at Southern Illinois. KU had no comment on the matter Tuesday.
Crowds: KU led the Big 12 in home attendance for the 26th straight season, according to the NCAA. The Jayhawks averaged 16,445 fans per game, a number boosted by one game at Sprint Center. The average ranked 10th nationally.