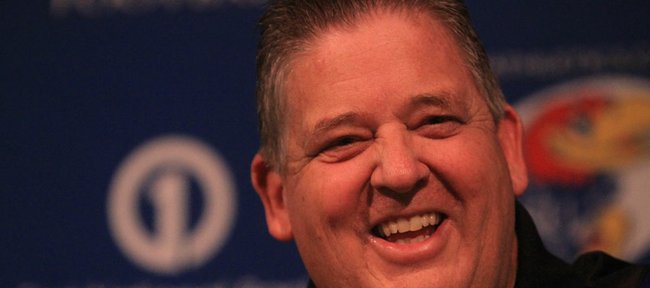 When new Kansas University football coach Charlie Weis was introduced in December as the 37th head coach in school history, he promised he and his coaching staff would make life miserable for the Jayhawks following their return from the holiday break.
With winter workouts and the installation of an entirely new football culture now behind them, it's time to see just how much that misery paid off.
Spring football officially begins today, with the first of 15 practices scheduled for 4:35 p.m. With it comes the beginning of a process that will go a long way toward determining just how successful Weis' first team will be this fall.
Because the majority of the players in Weis' first recruiting class are not on campus yet, spring ball serves a couple of different purposes for KU this year. First, it's a chance for those who are in town to get a leg up on the guys who will arrive this summer.
"With some frontline players joining our team in June, March/April is the time for current players to stake their claim for playing time," Weis recently wrote on his Twitter feed.
Beyond that, the start of spring ball provides the entire team a chance to move forward. Now that the Jayhawks are well versed on the ins and outs of the Weis way off the field, spring ball offers an opportunity for the players to begin running Weis' offense, working in defensive coordinator Dave Campo's system and installing all of the things Weis believes will mark the beginning of a turnaround.
After finishing 2-10 and 3-9 in the past two seasons, it's clear that there is work to be done for the Jayhawks to reach respectability. But starting from the bottom does not mean Weis and company will use that as an excuse for more losing in 2012.
"Don't you think you have an ethical responsibility to the older players to shoot for (winning) as a goal?" Weis said on signing day in February. "I think you have an ethical responsibility. (Senior quarterback) Dayne (Crist) didn't come in here and say, 'Hey, let's go 2-10 again.' That's not why he came here. I don't know how many games we're going to win. I'm not going to make that mistake of making projections, but I do know without a doubt you have an ethical responsibility to your older guys first, and (you have to) do all you can to win as many games as you can."
With that in mind, here are five things to look for from the Jayhawks this spring:
• Quarterback play: During the past couple of seasons, spring ball has been dominated by talk of the quarterback position. Two years ago, Jordan Webb and Kale Pick battled it out for the starting spot. Last year, Webb was the clear starter, but the position was clouded by the curiosity surrounding true freshman Brock Berglund. This year, there's no such uncertainty. Crist, the 6-foot-4, 235-pound transfer from Notre Dame, is the clear-cut starter, and his presence should be seen immediately. In addition to Crist, sophomore Jake Heaps also will be able to participate in spring drills, even though he will not be eligible to play this fall. Heaps has been dubbed by many as the quarterback of the future, and getting a look at him should be entertaining.
• Justin McCay: McCay is another impact transfer on whom Jayhawk fans should have their eye this spring. Although his status for 2012 remains up in the air, the Oklahoma transfer will be eligible to participate in spring practices and is likely to do so with the mind-set that he will be this team's go-to wide receiver and one of its most dangerous weapons. McCay has petitioned the NCAA for a hardship waiver that, if granted, would allow him to play at Kansas without sitting out a season. It's possible that we could hear something about the NCAA's ruling at some point this spring, but even if we don't, it will be fun to watch McCay develop a rapport with Crist.
• Conditioning: By all accounts, the offseason conditioning program run by new strength coach Scott Holsopple these past couple of months was much more intense and tougher than anything the Jayhawks had experienced during the past two seasons. The fruits of that labor might not fully show up until the fall, when the Jayhawks are able to use their increased size and strength and greater endurance during games, but don't be surprised if the work they have put in is easy to spot this spring.
• Defensive adjustments: Statistically speaking, the Kansas defense was awful last season. It ranked near the bottom of Div. I in total defense, scoring defense, rushing defense and passing defense, and that gives Campo and his staff plenty of room to improve. Whether that will come through new schemes and formations or different principles and mentality, we should start to see some of what Campo wants to do this spring. He's said all along that he would like to play a little out of both the 3-4 and 4-3 sets, but what he does with his new D this spring should give KU fans a pretty good idea of what the Jayhawks' base look will be.
• Guys at new positions: Not a spring goes by where somebody does not switch positions in an attempt to make the team better, improve his own prospects for playing time or both. This is especially true when a new staff takes over. It might be too soon to tell which players will make a move this spring, but it's a safe bet someone will.
Jayhawks add DE
Weis announced Monday that former Nebraska defensive lineman Josh Williams had signed a grant-in-aid agreement with KU and would transfer to Kansas in June and be eligible to play his senior season of football for the Jayhawks this fall.
Williams, like former Notre Dame quarterback Dayne Crist, comes to KU as a graduate of his previous university, which allows him to be eligible immediately. After red-shirting during his freshman season at Nebraska, Williams, 6-4, 260, played in 29 games for Nebraska, including all 13 games during the 2010 and 2011 seasons.
The defensive end made two starts last season and racked up 27 tackles during his Nebraska career. When he arrives this summer, Williams will join a revamped defensive line that all of a sudden appears to be loaded with depth.