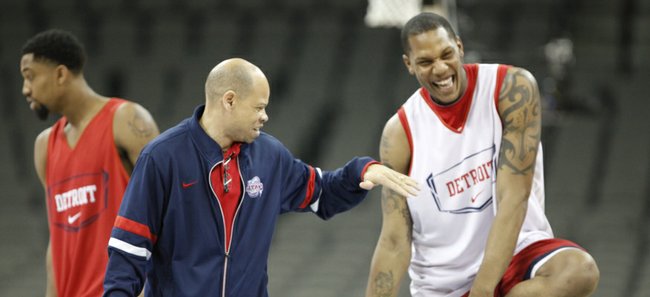 Omaha, Neb. — Unless you've been living under a rock, you know by now that University of Detroit Mercy big man Eli Holman made a somewhat shocking statement about Kansas University forward Thomas Robinson after learning that the 15th-seeded Titans would face No. 2 seed Kansas at 8:57 tonight in the second round of the NCAA Tournament.
Thursday evening, in the Detroit locker room during Detroit's media session at CenturyLink Center, Holman seized the opportunity to explain he meant no disrespect when he told a Detroit reporter he could "handle" Robinson.
"The comment kind of got blown up a little bit," Holman said. "So I'm gonna clear that up now. That wasn't exactly what I said. Thomas Robinson is a great player. He's projected as one of the top five picks in the (NBA) draft (in June), and the guy's a beast down low. But what I'm saying is, Detroit's here, too, now. And we're coming to play."
In its entirety, Holman's original comment read: "Confident? We have a lot of confidence. Robinson? I can handle Robinson. He has to handle me. These are the moments you want as a college player. You want to play against a player like Robinson."
Holman said he saw nothing wrong with what he said. Of course, he also made it clear he understood why it created such a stir.
"I got phone calls from California, with people saying, 'Man, what's going on?'" Holman said. "A lot of people understood what I was saying, but some people didn't. When I said it, it didn't seem bad. I didn't say I was coming in to guarantee a victory. I didn't say I was gonna drop tremendous numbers. I didn't say that."
Although he never backed down from the intent of his comment, the 6-foot-10, 270-pound giant said he was happy to hear that KU's national player of the year candidate and likely All-American took no offense to it.
"Robinson replied back and said that he likes confident players," Holman said. "He got it. There was no hatred, there was no disrespect, nothing like that."
Another element of the aftermath that Holman enjoyed was the extra attention it brought to his team, a squad some have called the best 15 seed of all-time.
"Everything was Kansas, Kansas, Kansas, and I guess when the comment came out, it was, 'OK, let's see what Detroit's talking about now,'" Holman said with a grin.
With game day here and all of the talk in the past, Holman was asked if he thought he could, in fact, handle Robinson.
"Only time will tell," he said. "I'm not gonna say no, I'm not gonna say yes. I don't know if he's played against anybody 270 who can run the floor. We're gonna see. It's gonna be a fun night for both teams."