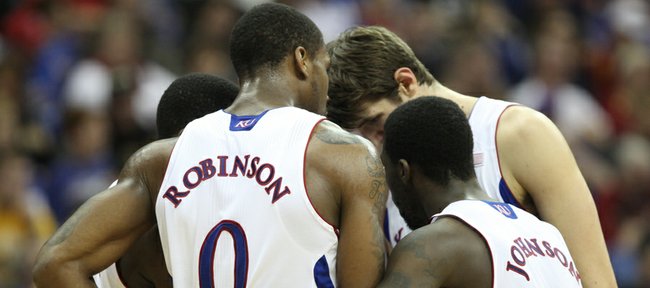 For the first time in three seasons, Kansas University's basketball team enters the NCAA Tournament following the sting of a loss.
"I kind of like it. I hate saying that. I don't like losing, but I kind of like the fact it's not fool's gold with us anymore," KU coach Bill Self said on Monday's Big 12 coaches teleconference. "When you make shots and don't guard and get away with it ... our guys saw first-hand what will happen in a one-and-done type situation, which the Big 12 tournament is also.
"I kind of like our mind-set. I like where we are at. I like being able to get their attention (following Friday's 81-72 loss to Baylor) before we go to Omaha."
Kansas will open the NCAAs at 8:57 p.m. Friday against Detroit at CenturyLink Center in Omaha, Neb.
"You get their attention, but still they are so excited," Self said. "In the room (Sunday), they were talking about opponents and pounding on the desk and all that, trying to act cool, but you can see they are so excited."
Of course, there may be a downside to entering the NCAAs on the heels of a defeat.
"I would say going into it the most recent previous years we probably felt like we had a little bit more momentum only because we won the Big 12 tournament," Self said of the past two seasons. "But like I told 'em yesterday, the four teams that were supposedly projected as No. 1 seeds, none of 'em won their conference tournament (KU, North Carolina, Kentucky, Syracuse). We didn't play very well at all."
KU junior forward Thomas Robinson said Monday on Jim Rome's national radio show that the loss to Baylor "could have been a blessing in disguise."
"The extra day benefited us, us not being so deep. We are six, seven guys deep. We all play a lot of minutes," Robinson said.
The loss may have helped his personal motivation entering the NCAAs.
"I didn't compete in that game. I didn't come ready to play. I let another bunch of guys outplay me," Robinson said. "He (Self) wasn't happy with that at all. I wasn't happy with it. He was definitely angry with it. It's my fault we lost that game. It's something we learned from. I'm kind of glad it happened, kind of a wake-up call for me, to get my head back on straight and ready for the tournament. I feel I didn't show up. Baylor's bigs got the best of me. It's the last time that will happen for this year."
Robinson, by the way, told Rome he hadn't made a final decision on whether or not he'd enter the NBA Draft or return for his senior year. He said he was focused on KU making a run in the NCAAs and would decide at the conclusion of the season. It's been a foregone conclusion Robinson will be off to the pros after this season.
All-America: KU's Robinson on Monday was named to the U.S. Basketball Writers Association All-America team. He was joined on the first team by Kentucky's Anthony Davis, Michigan State's Draymond Green, Ohio State's Jared Sullinger and Creighton's Doug McDermott.
Know the foe: Self said he had plenty of information on Detroit, the Horizon League tournament champ that enters Friday's game with a 22-13 record and No. 15 seed.
"The thing is, basically we get everything off the computer. It used to be hustling tapes, compiling video services. That is not as big a necessity now," Self said.
"Where you are scrambling around is trying to get with people on scouting-report tendencies, which we divided this weekend among our three (assistant) coaches in which every coach has an assignment. That's what they'll be working on last night, today, through tomorrow morning, to get a book on our opponent as fast as we can."
Self said he watched one of the five tapes No. 2 seed KU acquired on Detroit on Sunday night.
"They are very, very athletic, will try to pressure, and of course they've got a great player," Self said of sophomore guard Ray McCallum. "They've got more McDonald's All-Americans (one) than we do. We respect Ray a lot. We tried to recruit him. That is not a typical 15 seed. I was shocked when they were on that line."
Of McCallum, Self said: "He came to Late Night a few years ago. I think in '08. He was young. He and his mother came up (from Detroit). It really came down to his mother liked the Detroit coach a lot more than Kansas' coach," Self added with a laugh. Ray McCallum, Sr., is the Titans' head coach.
Late start: Self on the fact the Jayhawks play the late game in Omaha:
"That will be a long day. Fortunately for us, we played a ton (of late games). Four of our last six (in regular season) were 8 p.m. games," Self said. "We'll probably have to find some way to occupy the day.
"Personally, I think that is too late to be playing ball, but our guys will adjust fine, and both teams if I'm not mistaken have to play at the same time so there will be no advantage or disadvantage."
Vitale likes KU: ESPN's Dick Vitale, a former head coach at Detroit, believes KU will win. Detroit opened as a 15-point underdog.
"It's a tough, tough draw," Vitale said. "I looked at (Detroit) at better than a No. 15 (seed). (Ray) McCallum is a stud. He's a scorer. Kansas has lost to Northern Iowa and Bucknell in the past. Detroit is athletic, quick and they have a strut to them. But you've got to give the edge to Kansas. Thomas Robinson is a great player, but what helps Robinson is the development of (Jeff) Withey, their 7-footer. This is a great basketball team. No matter what happens it's been a tremendous season for Detroit," added Vitale. "They've played sensational the last 10 games."
Roomies: McCallum and Robinson were roommates at the LeBron James Skills camp last summer.
"We're not close friends," McCallum told the Detroit News. "He's a cool guy. He has a remarkable story with his mom (overcoming loss of Lisa, who died Robinson's sophomore season).
"Kansas has a lot of great players," McCallum added. "(Tyshawn) Taylor is a real aggressive guard. He's a big-time scorer who makes plays. I just have to have a defensive mind-set."