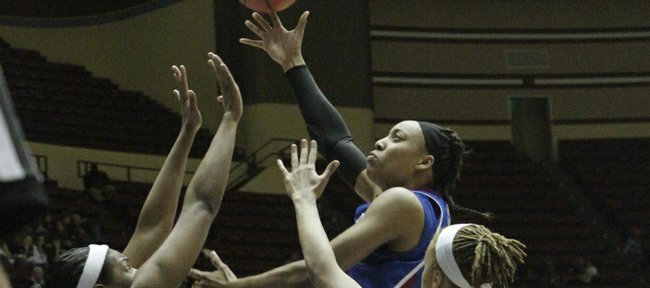 Kansas City, Mo. — Let the waiting begin.
Presented with an opportunity to pick up a statement victory before next week's NCAA Tournament, the Kansas University women's basketball team dropped a quarterfinal Big 12 tournament contest, 78-63, to No. 22 Texas A&M; on Thursday night at Municipal Auditorium. Now the Jayhawks are forced to wonder what will happen when the women's bracket is announced Monday night.
"It's going to be a long three or four days," said junior point guard Angel Goodrich, who finished with 21 points to lead KU (19-12).
Added senior Aishah Sutherland of the wait: "It's gonna be hard, but we'll just cross our fingers and hope we get in."
For a half — as had been the case during most games this season — it looked like the Jayhawks were poised to play their way into next week's tournament. Despite poor shooting on both ends, the teams battled throughout the first half, and Texas A&M; took a two-point lead into halftime.
In the second half, though, KU's shooting touch stayed cold, and the Aggies (21-9) went on a 23-7 run midway through the second half that stretched a three-point A&M; lead with 13:31 remaining to a 19-point Aggies cushion at the four-minute mark. A&M; shot 58 percent during the decisive second half. KU never could get anything going.
"I just told them that it wasn't about what we were running, it was about how aggressive we were running what we were running," KU coach Bonnie Henrickson said.
Each team hit eight three-pointers — KU was 8-for-18, A&M; 8-for-13 — and each pulled in 30 rebounds. One area that may have hurt the Jayhawks most was turnovers. Although they trimmed their 21-turnover average against the Aggies down to 16 Thursday night, that number still doubled the amount of times the Aggies coughed it up, which led to seven more shots for A&M.;
The Aggies played without their leading scorer, Tyra White, who had a string of 87 straight starts snapped because of an injury. Without White's 14 points and six rebounds in their lineup, plenty of Aggies picked up the slack. Most notable was freshman guard Alexia Standish, who entered the game averaging 4.3 points per game and exploded for 25 on 8-of-13 shooting, including 6-of-9 from three-point range.
"I didn't even see (White) until we were shooting free throws (during pregame warm-ups)," Goodrich said. "When I did, I was a little surprised. I don't know what's wrong with her, but she's a great player, and I hope she gets better."
A&M; coach Gary Blair said White was injured during last week's game against Texas. He did not say if she would return during the rest of the Big 12 tournament.
Blair also had flattering words for KU. When reporters were finished peppering him with questions, Blair offered up one final thought of his own.
"I want to lobby for the University of Kansas to get in (to the NCAA Tournament)," he said. "Last weekend, we had the sixth-, seventh-, eighth- and ninth-place teams in our league beat two, three, four and five. That's how balanced we are."
As kind as Blair's words were, the fact remained that the Jayhawks now are just 2-6 without leading scorer Carolyn Davis, who was lost for the season in mid-February to an ACL injury. Not surprisingly, Henrickson agreed with Blair and said she believed the Jayhawks belonged in the field.
"It's our full body of work," she said. "It's not like we haven't done anything."