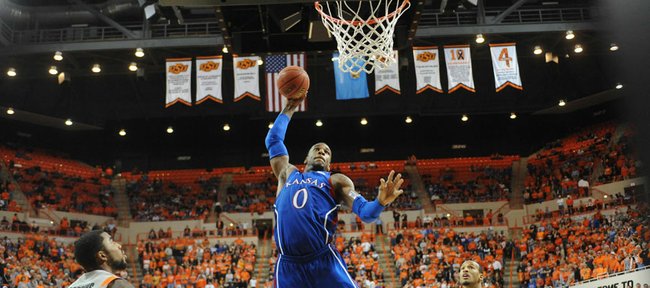 Kansas University junior power forward Thomas Robinson on Monday was named the Associated Press Big 12 Player of the Year one day after the conference coaches accorded him the same honor.
The 6-10 junior from Washington, D.C., followed in the footsteps of KU forward Marcus Morris, who won the award a year ago.
"It shows how hard he's worked, and how hungry he is," KU coach Bill Self said. "He's had three lottery picks play in front of him (Morris twins, Cole Aldrich), averaged eight and 15 minutes a game the last two years. But when his number was called and opportunity knocked, he certainly made the most of it."
The only Big 12 player averaging a double-double, Robinson received all 18 AP votes from a panel of sports writers and sportscasters who cover the league on a regular basis.
Robinson was joined on the AP All-Big 12 first team by teammate Tyshawn Taylor, Texas junior guard and Big 12 scoring leader J'Covan Brown, Missouri senior guard Marcus Denmon and Iowa State sophomore forward Royce White, who was also selected as the league's Newcomer of the Year.
First-year Missouri coach Frank Haith was selected as the AP Big 12 Coach of the Year after the Tigers set a school record with 27 wins in the regular season. KU coach Self, who along with Iowa State's Fred Hoiberg was the coaches' choice as co-Coach of the Year, indicated he voted for Haith.
Haith received nine of 18 votes in the AP voting, while Self received seven and Hoiberg, two.
Oklahoma State guard/forward Le'Bryan Nash, who missed the last three games of the regular season because of a broken left hand, was named the Big 12's Freshman of the Year.
The 6-7 Nash, who averaged 13.3 points and 5.0 rebounds, got 11 of the 18 votes as the top freshman. Texas guard Myck Kabongo got four votes, and Baylor forward Quincy Miller got three.
There was an expanded AP All-Big 12 second team, with six players because of a voting tie for the last spot.
Ricardo Ratliffe, who last season as a junior college transfer was the league's top newcomer, was on the second team along with Missouri teammate Phil Pressey, Baylor's Pierre Jackson and Perry Jones III, Oklahoma State's Keiton Page and Kansas State's Rodney McGruder.
Robinson is the sixth Jayhawk to be named the AP Big 12 Player of the Year.
"He's obviously had a fabulous year, and he's been so consistent from a production standpoint throughout the season," Self said. "Even when he doesn't have his best game, he still finds a way to get 15 and 10 on a bad night. ... He's had some monster games for us."
Kansas had back-to-back Player of the Year winners only one other time. Jacque Vaughn won the award in 1997 and Raef LaFrentz in 1998, the league's first two seasons.
"A guy that kind of size, obviously a lot of his points are point-blank range, but he can step away from the basket. He can make the 15-footer, and he's just a man on the boards," Haith said of Robinson, who had 53 points and 25 rebounds in two games against the Tigers this season. "When that ball goes on the rim, it's hand-to-hand combat with him."