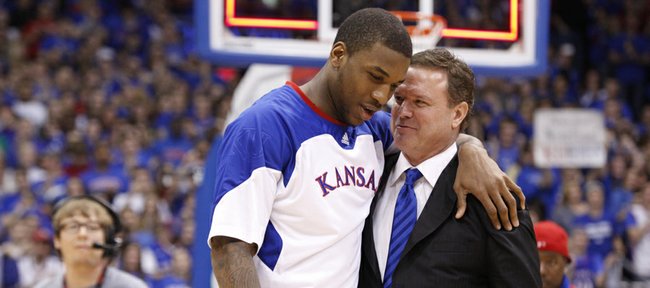 Videos
2012 KU senior speeches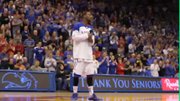 Senior speeches from Tyshawn Taylor, Conner Teahan and Jordan Juenemann following KU's 73-63 victory over Texas March 3, 2012.
Podcast episode
Kansas coach Bill Self talks to reporters following the Jayhawks' 73-63 victory over Texas on March 3, 2012.
Kansas vs. Texas
No manufactured drama will follow Thomas Robinson into the postseason. Everybody, from coach Bill Self to Robinson himself, realized long ago that the issue of whether he would return to Kansas for his senior season was not an issue at all. So why fake it?
Still, because Robinson is not a senior, he did not give a senior speech Saturday night after his final game in Allen Fieldhouse. He got everything but that, though, in the way of being honored by his coach and the 16,300 late-night spectators.
"We've all been blessed to watch a kid grow up, right before our eyes, who has a legitimate chance to be National Player of the Year, who has sacrificed so much for the good of all of us," Self said to the crowd. "Let's recognize No. 0, Thomas Robinson."
Robinson faced every direction and waved thanks to the crowd and even blew a couple of kisses. He said later he was afraid he would have to speak and had nothing prepared.
Self said he received letters urging him to let Robinson speak, but he didn't believe that was right. After all, it's called Senior Night, and Robinson is not the first junior who did great things for Kansas basketball who left a year early. Wilt Chamberlain, Paul Pierce, Brandon Rush, Mario Chalmers, Cole Aldrich and the Morris twins come to mind.
"If you want to speak, though, you could stick around for one more year," Self said into the microphone.
Robinson might have been the only one not to hear him because he was deep in an embrace with Tyshawn Taylor.
During the post-game, post-speeches news conference, Self reiterated that Robinson won't be back when he said, "Thomas, playing his last game, played well, he just didn't make free throws."
Shortly before that, Robinson was asked to say what the message of his speech would have been, since he won't ever get to give one.
"I'm never going to regret being a Jayhawk," Robinson said. "Ever."
He didn't need to give a speech. His play in his final game in Allen Fieldhouse said all that needed to be said about why he will be missed so much.
Bouncing back from a so-so first half, Robinson dominated the second half of KU's 73-63 victory against Texas. Robinson totaled 25 points and 14 rebounds, and 18 points and nine boards came after halftime.
Robinson and senior Tyshawn Taylor ensured Kansas of an undefeated season in the fieldhouse, where Taylor went 68-1 and Robinson went 50-1 during their careers, the lone loss coming to Texas, the day after Robinson's mother died.
The mere fact Robinson decided to participate in that one showed how much his second family, the Kansas basketball team, means to him, how much comfort he drew from teammates after losing his grandmother, grandfather and mother in less than a month. The multiple tragedies left Robinson and his baby sister, Jayla, then 7, without the main sources of joy in their lives, other than each other. Jayla, being cared for by her father in Washington, D.C., could not make Saturday's game because she was performing in a play.
If she performed as well as her brother, she no doubt received a warm ovation.
Robinson's 22nd double-double of the season places him one behind national leader O.D. Anosike of Siena.
Robinson's case for national player-of-the-year honors is strongest when his numbers against top competition are studied.
In games against eight ranked opponents — seven ranked in the top six in the nation at tipoff time — Robinson averaged 19.8 points and 12.3 rebounds. In those games, he shot .556 from the field and .762 from the line.
Even if Robinson doesn't beat out Kentucky's Anthony Davis for national player of the year, Robinson's jersey will hang forever in the rafters, after he's named a first-team All-American.