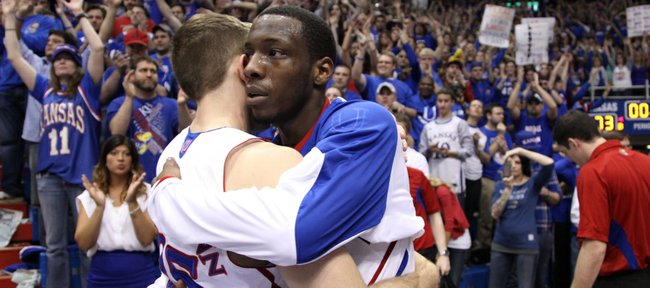 Videos
2012 KU senior speeches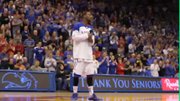 Senior speeches from Tyshawn Taylor, Conner Teahan and Jordan Juenemann following KU's 73-63 victory over Texas March 3, 2012.
Podcast episode
Kansas coach Bill Self talks to reporters following the Jayhawks' 73-63 victory over Texas on March 3, 2012.
Kansas vs. Texas
Another Kansas University basketball tradition lives on.
The Jayhawks, who earlier in the week wrapped up their eighth-straight Big 12 Conference championship, on Saturday night dumped Texas, 73-63, in Allen Fieldhouse and in the process won their 29th-straight home finale and 28th-consecutive Senior Night contest.
KU had no seniors on the 2006-07 team.
"That is pretty remarkable," KU coach Bill Self said of the lengthy stretch of Senior Night victories.
On this night, his Jayhawks (26-5 overall, 16-2 Big 12) survived a 33-point scoring explosion of UT guard J'Covan Brown, who went for 29 the second half.
"Look at what happened to Duke tonight (losing at home to North Carolina) and Louisville (falling to South Florida at home earlier in the week). There are some home teams going down in large part because of too many distractions and too much emotion," Self added.
Indeed, KU senior Tyshawn Taylor (22 points, four assists, 34 minutes) admitted there were major distractions in disposing of Texas (19-12, 9-9).
"I think the focus was definitely on that speech," Taylor said of his postgame chat to fans. "I was thinking about that speech a lot more than I should have during the game."
Fellow senior Conner Teahan had three points and three steals in 24 minutes, while senior Jordan Juenemann, who made his first career start, didn't score in three minutes.
Also, junior Thomas Robinson, who didn't give a speech but was introduced by Bill Self to the crowd and was given a standing ovation after what most certainly was his final game in Allen Fieldhouse, exploded for 25 points and 14 rebounds in 36 memorable minutes.
"He knows he got off to a slow start," Taylor said of his buddy and fellow team leader, Robinson, who scored 18 points off 7-of-9 shooting the second half after scoring seven points off 3-of-10 shooting the first half (with KU leading 26-21 at the break). "He played like the player of the year (second half)."
Self was not pleased with a second half in which Brown lit up the Jayhawk defense for 29 points off 8-of-12 shooting and 12-of-13 free throwing.
"I don't think we've ever, ever had a guy get 29 on us in a half ... ever. We all can take responsibility for that," Self said.
Self was right.
Brown's 29 second-half points were most by a Jayhawk opponent since Texas Tech's Rayford Young scored 35 in the second half on Feb. 12, 1999. Young finished with 41 that game.
Brown's 12 free throws in a half were most by a Jayhawk opponent since Young made 16 in his second half in Lubbock. Brown's 13 free-throw attempts are also the most by a Jayhawk opponent since Missouri's Arthur Johnson attempted 13 in the second half on March 7, 2004.
Elijah Johnson and Travis Releford were the two guys who primarily guarded Brown, though Taylor had him some as well.
"The way we guarded Brown the second half took more out of me than anything else," Self said. "We did a miserable job the second half. He put on a clinic.
"Travis has to become a lock-down defender. Travis let his man catch it. Right now he's not guarding," the coach added of Releford, who chipped in five points and five rebounds. "Elijah is tired. He looked like he's sick."
Johnson, who Self later said does not have a (flu) bug, had nine points and six rebounds, the exact line as center Jeff Withey.
"I think with everything going on," Taylor said, "and the emotion in the air, it was a little tougher for us to get up and excited for this game. Knowing it's the last one for a lot of us, we did pretty well. It was a slow first half, but then we picked it up and played better."
A key stretch of the game was a 13-4 KU run that boosted a 30-28 lead to 43-32 with 14:02 to play. Robinson had eight points, Teahan three and Taylor two in that run. Another was a 17-8 run that gave KU a 60-44 lead at 7:05. Johnson had six, Robinson five and Taylor two in that run.
Everybody went home happy again on Senior Night. Taylor's speech, in which he thanked his family members, coaches, teammates and fans, was the final of the three — with only a handful of fans in the crowd of 16,300 heading to the exits early.
"I really didn't want to be up there, unlike my man Teahan," Taylor joked. "It was good, though. I just wanted to thank a lot of people (family, coaches) and get some stuff off my chest about things (mainly thanking his mom). Just let everybody know how I felt about them. Like coach Self said, we really don't tell people what they mean to you too much. I just had to let everybody know."
The only thing that could have made the night even more memorable? Perhaps a net-cutting ceremony signifying KU winning the league title again?
"We'd have been here 'til 12:15 (a.m.)," Self said with a smile, thanking the fans for again sticking around for Senior Night speeches.