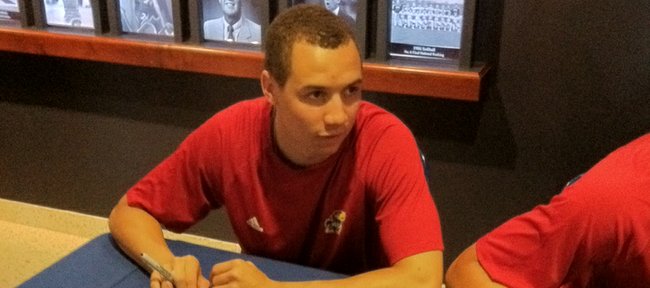 Evan Manning sat at a table with fellow Kansas University freshmen Zach Peters and Tyler Self for 21⁄2 hours Sunday afternoon in Booth Family Hall of Athletics, fulfilling his first official obligation as a Jayhawk basketball player.
He posed for pictures with — and signed autographs for — approximately 800 youngsters on orientation day at Bill Self's KU basketball camp for boys 8 to 18 years old.
"It was a lot of fun," said Manning, a 6-foot-2, 175-pound walk-on guard out of Free State High and New Hampton (N.H.) Prep School. "Being around all the campers reminded me of when I went (to KU camp). I went here eight years for camp, both coach Self and coach (Roy) Williams. It brought back a lot of memories."
He has vague recollections of his first KU camp.
"I think I started a year earlier than everyone else," Manning said of when he was 7. "My dad wanted me to go earlier so I got one extra year in. I was a young one, though."
Manning's dad, of course, is former KU All-America player and assistant coach Danny Manning, who is starting his first year as Tulsa University's head basketball coach.
Danny Manning's presence was felt by Evan on Sunday. Right above Evan's left shoulder was a picture of Danny in a display featuring shots of all of the members of KU's Athletic Hall of Fame.
"I didn't realize it until I sat down, and 15 minutes later I looked back and noticed he was right behind me. I thought it was kind of funny," Evan Manning said of dad's photo.
Evan Manning, who averaged about nine points and six assists a game as a part-time starter last season for New Hampton (26-9), hopes to blaze his own trail at KU. He has chosen to wear jersey No. 10, not his dad's No. 25.
"It's my mom's favorite number," said Evan, who wore No. 32 (Peters' number) at Free State and No. 5 (Jeff Withey) at New Hampton. "My favorite numbers weren't available, so I went with my mom's 10.
Did he have any desire to wear No. 25?
"Definitely not. I mean that'd put a little extra pressure on me," he said. "That's my dad's number. That's not my number."
Evan said he felt comfortable during the first few pick-up games of the summer, contested last week.
"Prep school definitely helped me. It gave me a lot of confidence. Defensively, I'm a lot better than I was coming out of high school," Manning said. "Defense is what I'm going to be working on most as a walk-on. I know my role (mainly as practice player), and I've gotten better at it."
Manning would love to have a KU career that rivaled that of former Free State High guard Brady Morningstar.
"I look up to Brady a lot," Manning said. "I like the way he played, for the right reasons. He wasn't selfish. He always did what the team needed."
Manning likes what he has seen of his fellow KU freshmen. So far, Peters, Self, Perry Ellis and Andrew White have been in town, along with red-shirt freshmen Ben McLemore and Jamari Traylor. Landen Lucas graduates today and is expected in town this week. Anrio Adams and Milton Doyle are likely to join the class at some point, once they go through graduation ceremonies and it's determined they will qualify academically.
"We'll all get to know each other this summer," Manning said. "We're all in the same summer school classes. This summer will be good bonding time for everyone."
The players will be sure to watch the NBA finals together. Miami travels to Oklahoma City for Game One versus the Thunder on Tuesday.
"I am for the Heat," Evan Manning said, noting dad, Danny, is likely for "the Thunder being in Oklahoma now."
"I am a big LeBron (James) fan and definitely Mario (Chalmers, Heat), but either way, someone from Kansas gets a ring," he added, noting Nick Collison and Cole Aldrich play for OKC.
Numbers: Here are the jersey numbers of freshmen who attended the camp picture/signing session on Sunday: Ellis (34), Manning (10), McLemore (23), Peters (32), Self (11), Traylor (31), White (3). Landen Lucas will be No. 33.
Recruiting: Wayne Selden, a 6-4 small forward from Tilton (N.H.) High School, has reclassified from the recruiting Class of 2014 to '13, Rivals.com reports. Selden, who was ranked No. 13 in the Class of '14, has scholarship offers from KU, Boston College, Connecticut, Florida, Kentucky, Ohio State, Providence, Syracuse, UCLA, Virginia and others. Selden told JayhawkSlant.com that KU, UCLA, Ohio State, and Florida are recruiting him the hardest. ... Chris Walker, a 6-9 senior power forward from Holmes County High in Bonifay, Fla., tells JayhawkSlant.com he will visit KU this fall. The No. 6-rated player in the Class of 2013 also likes Florida, Kentucky, Louisville, Syracuse, Baylor and Ohio State.