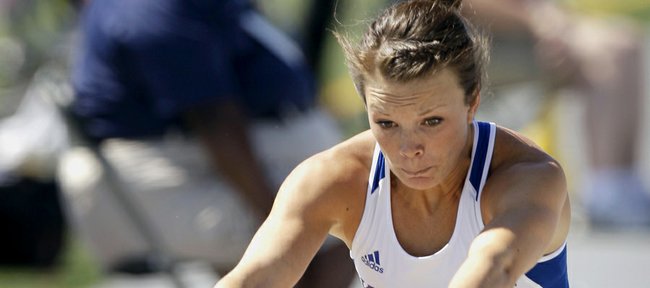 Des Moines, Iowa — The thrill of victory, painted all over her face with an All-American smile, never felt better for Kansas University junior triple jumper Andrea Geubelle than when she and everyone else in Drake Stadium thought she had won an NCAA Outdoor championship Saturday in the triple jump.
An endless stream of tears streaming down that same face made it clear that the agony of having that title taken away when an appeal by a coach from another school was upheld after completion of the event gave her a worse feeling than she ever had experienced.
As Geubelle was discussing her national title with reporters, a meet official approached her, said, "Kansas, you have to come right now," and escorted her to the adjoining room where athletes catch their breath after competing.
It was then and there that Geubelle learned her first-place jump was wiped out after a coach from Southern Miss filed an appeal and a three-judge panel that reviewed the video overturned the original outcome. The rules allow for an appeal to be filed up to 30 minutes after completion of the event.
Geubelle's temporary first-place jump, measured at 46 feet, 11 3/4 inches, would have earned 10 points for KU in the team standings. She fouled twice after what she thought had been the winning jump, so her jump in the preliminary heat of 45 feet, 5 inches stood as her best and was good for third place and six points.
Moments after Geubelle learned of her fate, the KU women's 4X400-meter relay team, which had high hopes of winning a national championship, finished third in the race, only to find out later that those six points turned into zero because of a lane violation.
Despite the pair of disappointments, the Kansas women tied with Clemson for fourth place with 28 points, behind national champion LSU (68 points), runner-up Oregon (52) and Big 12 foe Texas A&M; (32).
Nearly a half-hour after learning the news that devastated her, Geubelle stood on the award stand wiping away tears.
The ruling elevated Ganna Demydova (46-7 1/4) of Southern Miss from second place to first and San Diego State's Shanieka Thomas from third to second (45-9 3/4).
"If I had known it was a foul on my first jump, I would have made a lot of adjustments and probably jumped 47 feet today," Geubelle said.
Instead, figuring she had won the event, she didn't worry about fouling on her final two jumps and let it fly. She said her last jump, a foul, was measured at 47-11 1/2.
Kansas coach Stanley Redwine experienced mixed feelings at the end of the day, but pride won out over the others.
"Fourth place was great for us," said Redwine of the KU women's best-ever finish in the national outdoor meet. "We had some fouls at the end, some penalties at the end that affected the team score even more, but I can't be more excited for our group. The coaches have done a commendable job, and we're really excited about our athletes and what it means for the university."
Shot-putter Mason Finley earned a point Saturday for the KU men with an eight-place finish in the shot put (63-7), and the men finished tied for 23rd with Iowa, Kansas State and Ohio State.