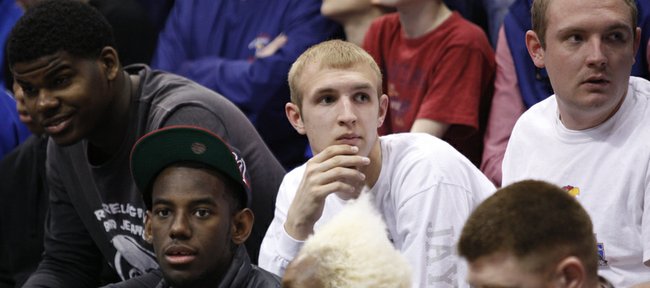 Rivals.com released its updated 2013 basketball recruiting rankings earlier this month, and Kansas commit Conner Frankamp moved up from No. 42 to 28 while fellow KU commit Brannen Greene remained at No. 31.
Rivals.com national recruiting analyst Eric Bossi, who has been on the road more than 50 days since mid-March evaluating high-school players, took some time to talk about the new rankings and also the potential for KU coach Bill Self to have a strong recruiting class in 2013.
Q: Conner Frankamp made a pretty significant jump in your rankings. What was the reason for that?
A: I think he's already been kind of on the climb. Obviously, he had a ridiculous junior season at Wichita North. I thought that once he got out there and showed everyone that he could do it ... I tend to be more cautious at moving guys up. Sometimes the local kids are the hardest to evaluate because you've seen them so many times. I just think his overall body of work — high school, AAU, international, whatever — he's done very well wherever he's been. Clearly, he needs to start being thought about as one of the top players in the country.
Q: Where do you think he's developed most in the last year?
A: He's always been really skilled. At times, he's maybe been kind of passive, believe it or not. So I think he's been more aggressive. I think he's gone and made sure he's handling the ball a lot more, because I know some people wondered, 'Is he really a point guard?' 'Is he a small shooting guard?' At the end, it doesn't matter; he's a player. But I think he's become more aggressive not just in scoring but making sure he's the playmaker that things run through.
Q: What's part of his game that he can still improve?
A: Conner, he needs to get stronger. That's something obviously age and college are going to play a big factor in. So I'm not too entirely worried about that. But the class of 2013 nationally is a really good class. There's a lot of really good players that won't be five stars or won't even make the Rivals150 that are going to help out good college basketball programs. It's just a competitive class, and we'll just need to keep watching them to see what they do.
Q: Is he a guy that's always going to face questions with his size because he's not the tallest at 6-foot-1?
A: Yeah. Let's face it. Look at the ratings right now with big, athletic point guards. Whether or not a point guard can shoot anymore ... obviously, you'd like it if they can shoot, but I think the trend has gone toward bigger, more physical, athletic point guards, who are kind of pick-and-roll players, attack the rim, get things done, and not as much shooters. So he doesn't fit the size prototype of the ideal point guard these days, but with his skill and everything, it certainly helps overcome that. I think he doesn't fit the mold of what a lot of people are looking for in a point guard right now, and that's just in terms of style of game and size. Not me in particular, but with some people, he has to continue to win people over that he can score and make plays, and that that translates to the next level.
Q: I've heard all sorts of comparisons with him. I just wondered if there's anybody you see similarities to when you see Frankamp play?
A: I generally am not good with comparisons — one that just jumps out at me. I just don't spend too much time trying to think of comparisons. It doesn't really matter to me. There's no one that really sticks out at me, at least that we've seen locally at either one of the schools. I would say he's more like Jacob Pullen than he is Russell Robinson, though, if that makes any sense. I'm sure some people have compared him to Pullen. He's a high-scoring combo guard in college who will, because of the way Kansas plays, play a 1 or a 2. But there's none that jumps out at me. It's too easy to make a Jeff Boschee comparison.
Q: With Brannen Greene, he stayed the same in the Rivals rankings. What do you see from him?
A: Brannen is a really good player. He's not a Brandon Rush/Ben McLemore-type wing athlete, but he can really shoot the ball. He's strong. He's smart. And he's just got a feel for scoring a bucket. There are some guys who just naturally have a feel for being in the right place at the right time, moving without the ball, all that stuff. Brannen understands all that stuff. So I think while there may be some guys that athletically have some things he (doesn't), the reason he ranks so high is because of his skill level.
Q: I read that you said he would fit well as a 3 at KU. Why do you believe that?
A: If you can hit your corner jump shot in the Kansas offense, you're going to get a lot of open looks, because with the baseline drive and kick ... Xavier Henry feeds off the corner three-pointers. Brandon Rush feeds off that. Brady Morningstar. Tyrel Reed. If you can make that shot, and you can defend — which, Brannen is a solid defender, because he uses his physicality — then you're going to play. He's also a guy, when they go to some of that weave stuff, can take it, turn a corner and take two dribbles into a mid-range and make something happen.
Q: Is there anything with Brannen's game that he can still improve on?
A: Lateral quickness, because in college, the fact is, he's going to be matched up with a lot of smaller players. There's a lot of teams that play 6-2, 6-3, 6-4 in the backcourt now. A 6-6, 200-pound guy obviously is not always going to be as quick as those guys. But just quickness and continued development off the dribble. I think he's done a good job of that. He's a solid player. I think he's going to be good.
Q: You were talking about how strong the class of 2013 is. Would Frankamp and Greene be ranked higher if this was another year?
A: No, not necessarily, because when I say that it's strong, I would say that it's strong in not just the top 10. You get the top 10, then you've got 25-35 players that are really good. It's more depth versus high-end talent. That's why I was saying there are going to be a lot of good not-five-star players. There's going to be a lot of really good not-ranked players, just because there's really good depth in this class. Obviously, there's a couple potential stars up at the top, but outside of that — from 25 to 150 — it doesn't lose much integrity in terms of ability.
Q: KU has Frankamp and Greene committed already, and the Jayhawks are also in the running for a few other guys. Does this have the potential to be a pretty big class for KU coach Bill Self coming up?
A: Yeah, obviously. You look at probably the two biggest names left on their board are Anthony Barber, who's No. 9 in the country, and Julius Randle, No. 2 in the country. They're doing pretty well with each of those guys. Do they get them? Who knows yet. But they have legitimate chances at both of those guys. They're definitely in the mix for both of those guys. If you add those guys to what you already have — or if you even add one of them to what you already have and whatever else — you've got a pretty strong class right there.
Q: Can you tell me a little about Randle and his game? I know that you've said he's been a top target for KU.
A: He's going to play the power forward in college. I don't think there's any doubt about that. But while he's a power forward, he's kind of in that Terrence Jones mode in that he can go out, he can handle the ball a little bit, he makes just enough jump shots while not being a great shooter, but it keeps you honest. But he's a unique mismatch, except that he's a lot better than Terrence Jones was at this age. Maybe he's not quite yet as explosive as Terrence Jones has been in traffic the last couple years, but … he's a dynamic, off-the-dribble power forward.