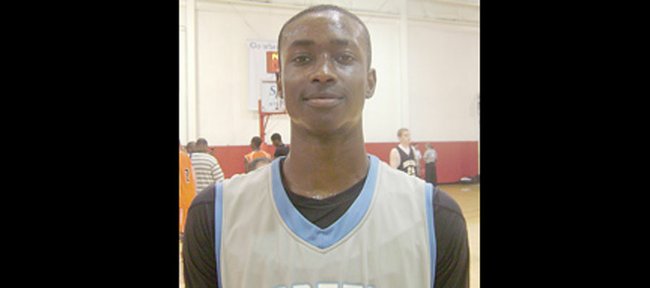 Podcast episode
Kansas coach Bill Self talked about his team's nonconference schedule, Anrio Adams and his position in the upcoming MLB All-Star Celebrity softball game on Thursday at Hadl Auditorium on the KU campus.
Guard Anrio "Rio" Adams has signed a grant-in-aid agreement to play men's basketball at Kansas University, KU coach Bill Self announced Thursday.
Adams was the state of Washington's Associated Press 3A player of the year while at Rainier Beach High School in Seattle last year. The 6-3, 180-pound Adams averaged 21 points, 6 assists and 5 rebounds per game in leading Rainier Beach to a state title with a 27-3 record in 2011-12.
"Anrio has been committed to us since the fall," Self said. "We elected not to sign him until he tightened up everything academically. He has done that and we're very, very excited about having him here. He'll take classes this summer session and will be able to participate beginning immediately in all the workouts that will proceed from this point forward.
"He's a talented, talented combo guard. He can certainly score. He's capable of being an elite guard."
Adams, who orally committed to KU in November 2011, is a four-star recruit ranked No. 98 overall by Rivals.com. He also was the No. 22-ranked shooting guard by Rivals.com.
"Anrio comes from a program that we are very familiar with in Rainier Beach and coached by Mike Bethea," Self said. "Mike Bethea has had many Div. I players and feels that Anrio is one of the very best he has had. We're excited and he will certainly be an asset to our team and make us better."
Former Jayhawks Rodrick Stewart and C.J. Giles also are alums of Rainier Beach High School.
"Anrio's best basketball is ahead of him," Bethea said. "He has a ton of talent and with him going to KU and listening to coach Self and the coaching staff, the sky is the limit."
Adams becomes the eighth freshman on scholarship on the 2012-13 Kansas men's basketball roster, joining Milton Doyle, Perry Ellis, Landen Lucas, Zach Peters and Andrew White.
Freshmen Ben McLemore and Jamari Traylor took red shirts in 2011-12 and practiced with KU starting in the second semester.
"I love the makeup of this team and especially the newcomers," Self said. "This is going to be a young group that will rely heavily on the senior leadership of Elijah (Johnson), Travis (Releford), Jeff (Withey) and Kevin (Young) since they are the only players back with experience."