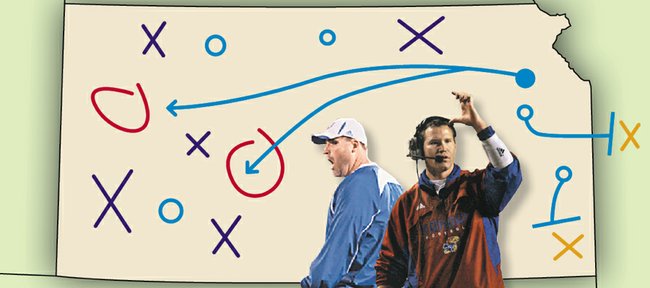 For the past few decades Kansas University football coaches have approached recruiting the state in a variety of ways.
From splitting Kansas into thirds to handing out a section of the state to each assistant coach on staff and everything in between, KU's recent head coaches have attacked the home state with varying degrees of commitment and success.
For new coach Charlie Weis, the Sunflower State seems to be as important as anything in his recruiting philosophy, and his early emphasis on landing athletes from the area certainly has shown that.
"I think you better start winning on more of your local guys and not just concede 'em to Missouri and Kansas State," Weis said. "You just can't do that. Now, are they gonna win their fair share? Yep, they're gonna win their fair share. But we're gonna win our fair share, too."
The way Weis sees it, signing local talent early only can mean good things in the future.
"What happens is, when you start winning some of them, then you start winning more of them because those guys talk to the other guys about the experiences they're having," Weis said. "It's all about word of mouth for the players."
For Weis, it's all about two guys. Although the majority of his coaching staff will have some kind of role in recruiting Kansas, Weis is basing his approach around special teams coordinator Clint Bowen and offensive line coach Tim Grunhard.
"Let's realize what we've got here," Weis said. "We've got two guys that know Kansas that have big names in Kansas."
Weis is counting on Grunhard to deliver in the Kansas City area. Not only does his experience playing for the Kansas City Chiefs give him an automatic in, but his time as the head coach at Bishop Miege High in Roeland Park also figures to give KU an advantage. Since Weis hired Grunhard back in December, two players from Miege already have committed to Kansas. One, freshman-to-be Tre Parmalee, will be here this fall. The other, quarterback Montell Cozart, will come in with the Class of 2013.
"No one's more known in Kansas City than Tim Grunhard," Weis said. "There might be guys that might have been better players, but no one's more known."
It's not just name recognition that Weis is expecting to make Grunhard a successful recruiter in the state.
"His personality's infectious," Weis said. "He's hard-working, he's diligent, he's easy to talk to, he's smart. So what kid in Kansas wouldn't know Grunhard?"
As for Bowen, he's the Lawrence equivalent of Grunhard. Well known by many around town, the Lawrence native has spent his life dedicated to the city he was raised in and has worked under three different head coaches at KU, where he played defensive back from 1992-93.
"There's no one any more loyal to this school than Clint Bowen," Weis said. "He might be the leader of the pack. Lawrence guy. Dad, brother, him, all went to this school. He's come here three times. I told him he's trying to set the record for most times fired and hired by the same school."
It's not just Bowen's ties to his hometown that make him an asset in recruiting Kansas. Many guys that Bowen played with or against or even coached are now involved in coaching at the high school and junior college levels.
"A lot of his boys have all these junior colleges," Weis said. "And when Clint calls up these head coaches and we're not involved with somebody, the coaches get apologetic to Clint."
Although just one member of Weis' first class — offensive lineman Brian Beckman, of Blue Valley West — lists Kansas as his home state, the early returns on Class No. 2 have shown an increase in commitments from the state. Cozart, tight end Ben Johnson, of Basehor-Linwood, and quarterback Jordan Darling, of Shawnee Mission East, were among the first players in the Class of 2013 to commit to KU, and Grunhard was the lead recruiter on two of the three.
"We'll sprinkle everyone else in," said Weis, emphasizing that his entire staff would have a hand in recruiting Kansas. "But it all starts with those two."
For Bowen, taking on such a responsibility has been a breeze.
"If you are a Kansas guy, you should have some state pride," the former Lawrence High Lion said. "If you are from the Kansas City area, you should have some pride in your area and want to come help the local university."
Added Grunhard: "We're all on the same page and there are a lot of good guys here working hard to make this program the best that it possibly can be."