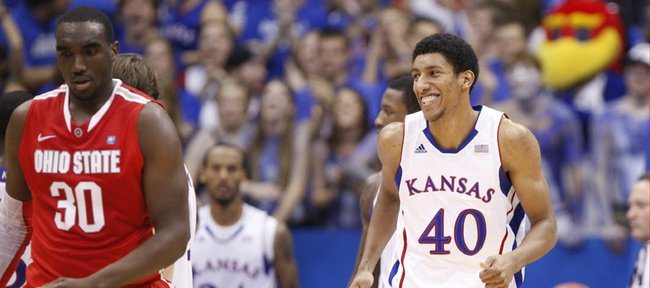 A road game against Ohio State, neutral site battle versus Michigan State and home contests against Temple and Colorado highlight Kansas University's 2012-13 nonconference basketball schedule announced Thursday.
Oct. 30 - Emporia State, Lawrence
Nov. 5 - Washburn, Lawrence
Nov. 9 - Southeast Missouri State, Lawrence
Nov. 13 - Michigan State, Atlanta (Champions Classic)
Nov. 16 - UT Chattanooga, Lawrence
Nov. 19 - Washington State, Kansas City, Mo. (Sprint Center CBE)
Nov. 20 - St. Louis/Texas A&M;, Kansas City, Mo. (Sprint Center CBE)
Nov. 26 - San Jose State, Lawrence
Nov. 30 - Oregon State, Kansas City, Mo. (Sprint Center)
Dec. 8 - Colorado, Lawrence
Dec. 15 - Belmont, Lawrence
Dec. 18 - Richmond, Lawrence
Dec. 22 - at Ohio State, Columbus, Ohio
Dec. 29 - American University, Lawrence
Jan. 6. - Temple, Lawrence
The Jayhawks also will play Belmont, Richmond, American, UT Chattanooga, San Jose State and SE Missouri State in Allen Fieldhouse, as well as Oregon State in Sprint Center. KU will also meet Washington State in Sprint Center in the CBE Classic with another Classic game against either Saint Louis or Texas A&M.;
"I think it is going to be a really good RPI schedule," KU coach Bill Self said. "I don't think there are as many traditional names on it as we have had the last couple of years. Ohio State (Dec. 22) and Michigan State (Nov. 13 in Atlanta) will be two of the best teams in the country. Then you throw in the Temples (Jan. 6) and the Colorados (Dec. 8), the Washington States (Nov. 19), Oregon States (Nov. 30), Richmonds (Dec. 18), Belmonts (Dec. 15), American (Dec. 29), there are some good teams in there that will have really good RPIs that should probably help our RPI.
"It's probably a schedule that was done knowing that we also have eight freshmen," Self added. "This is probably the youngest team we have had. (The schedule is) by no means easy, but we certainly didn't load up like we did last year with traditional names."
Temple won the Atlantic 10 last season, its final year in the league before heading to the Big East. Belmont, which has moved from the Atlantic Sun to the Ohio Valley, reached the NCAAs for the fifth time in seven years. Colorado, coached by former KU guard Tad Boyle, won the Pac-12 Tournament. American, one of the Patriot League favorites, reached the CollegeInsider.com Postseason Tournament.
"We got Richmond to come back. I'm excited about that," Self joked of a team that beat KU in Allen in the 2003-04 season. "I can't believe we couldn't get Bucknell and Bradley to come back as well as Nevada (some other losses). It seems to me our worst performances since I've come here have been against the better mid-majors obviously. Richmond was in the Sweet 16 (losing to KU two seasons ago). We know they are good."
KU can play in Sprint in NCAAs: NCAA rules allow a team to play no more than three regular-season games in one venue and still play in the same venue for the NCAA Tournament. With the two CBE games and the Oregon State game, this criteria would allow KU to play in Sprint Center for the 2013 NCAA Tournament. The Big 12 Championship is considered a postseason event.
Danny and Larry to return?: Self said he would love to schedule games against Tulsa and SMU in the future.
"We welcome bringing Danny back to the fieldhouse. I think that would be great," Self said of KU All-American Danny Manning's Tulsa Golden Hurricane. "I think it'd be great to get coach Brown back," he added of former KU coach Larry Brown leading SMU. "I think it'd add a lot of interest to our game and to our schedule, so it also will be done in time (when) they feel confident and comfortable in doing so. They are both taking over situations they really haven't had much control over since they got there with their roster. I would think in the next year or two those are definite possibilities."
This, that: KU will return trips to Temple and Colorado in the 2013-14 season. ... Former KU player Royce Woolridge will be a red-shirt sophomore at Washington State. ... Oregon State is coached by President Barack Obama's brother-in-law, Craig Robinson. ... The Big 12 will release its slate later this month. ... KU's Self will play in the all-star game celebrity softball game on Sunday at Kauffman Stadium. "I thought about (asking to play) third base, but (George) Brett is playing third. I thought about short. Some guy named Ernie Banks may play short. Catcher is out. (Mike) Piazza is playing. Center is out. Bo (Jackson) is playing," Self cracked. "I've got a feeling they will put me in right field no matter what I request. I'll be happy just to get out there or they could just DH me. I'd be happy if they just DH me," added Self, who hasn't batted in a softball game in 20 years. ... Future KU guard Brannen Greene of the Florida Rams has to find a new AAU team to play for, CBSsports.com reports. The NCAA has ruled that the director of the Rams and three other AAU teams have a relationship with ASM Sports, a professional sports agency. The players will be allowed to continue competing in AAU ball as long as they find new teams. ... Former KU guard Jacque Vaughn will interview with the NBA's Orlando Magic for its head coaching vacancy, the Orlando Sentinel reports. Vaughn is an assistant with the San Antonio Spurs.